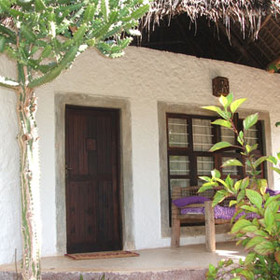 The garden rooms are fairly small...
Garden View Cottage
The three Garden View rooms sit in one long stone and thatch cottage, bordering the lodge's central area. All have double or twin beds, a mosquito net and an en-suite bathroom. They're fairly small, but the white bed linen, walls, terrazzo floor and colourful rugs mean they feel quite bright. There's a chest, full length mirror and a separate luggage area and although there is air-conditioning, the rooms also have a standalone fan.
There is a small veranda outside with a day bed - although these are not very private and don't have great sea views.
(As many of our readers will know, "terrazzo" floors were originally created by Venetian construction workers – who used set marble chips from top-end jobs into clay surfaces of patios around their own living quarters. These days it still means incorporating various chips of different stones into the finish. )
The bathroom is small and simple but very clean. There's one sink a shower and a flush toilet.
Garden View Cottage | Kusi-Kaskazi suites | Sea-view Cottage |