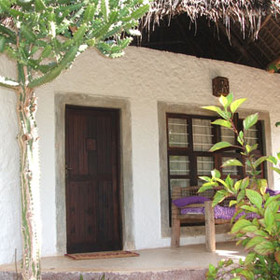 The garden rooms are fairly small...
Garden View Cottage
The three Garden View rooms sit in one long stone and thatch cottage, bordering the lodge's central area. All have double or twin beds, a mosquito net and an en-suite bathroom. They're fairly small, but the white bed linen, walls, terrazzo floor and colourful rugs mean they feel quite bright. There's a lockable chest, full-length mirror and a separate luggage area and although there is air-conditioning, the rooms also have a ceiling fan.
There is a small veranda outside with a day bed - although these are not very private and don't have much in the way of a sea view.
The bathroom is small and simple but very clean. There's a washbasin, a shower and a flush toilet.
Garden View Cottage | Kusi and Kaskazi suites | Sea-view Cottage |