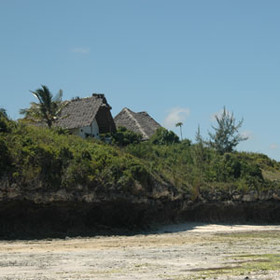 The sea view rooms are on the cliff…
Sea-view Cottage
The sea-view cottages are spacious, bright, airy stone and thatch cottages. The rooms have large Zanzibar beds and chests, colourful 'tinga tinga' pictures and purple bed-sheets with matching mosquito nets – and we liked them a lot for their charm and character. Beach towels and kangas are provided for your comfort.
The terrazzo floors and whitewashed walls make the cottages feel cool – and all of the rooms are equipped with air-conditioning and fans for really hot days. To enjoy the sea breeze and views over the lush gardens onto the sea, relax in a comfortable chair or sofa in front of your room on your private veranda.
The rooms have a separate luggage room with space to hang your clothes.
Four of the cottages, all along the seafront cliff, have been designed for families. These have a double bedroom on the lower level, and separate twin-bedded room upstairs. These split-level cottages have lots of space and are very comfortable indeed, with an outdoor sandy 'deck' area, with sun loungers.
The bathrooms in the single level cottages are en-suite, with a flush toilet, hot-and-cold shower and a sink. Though the bathrooms are not big, they are functional, clean and nicely decorated.
In the split-level Sea-view cottages there is an en-suite shower and toilet. Toiletries are provided. The wash basin is in an open-plan area behind the bedroom, adjacent to a separate toilet.
Garden View Cottage | Kusi and Kaskazi suites | Sea-view Cottage |