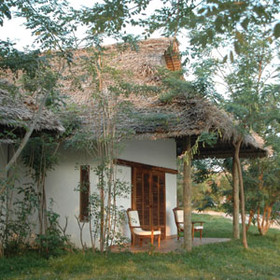 There are two rows of Deluxe Rooms, one behind the other
Deluxe Rooms
There are 20 Deluxe Rooms at Fumba Beach Lodge, which are all exactly the same in size and style. Most occupy a free-standing cottage, though six are housed in three semi-detached cottages with interconnecting doors – perfect for families.
The rooms also differ slightly, in that some are set slightly back from the sea front. However, clever planning means that every room still has a sea view.
All of the rooms are extremely spacious with cool white-washed walls and polished stone floors. Huge, louvered sliding doors open up onto a private patio where you will find a few comfortable lounge chairs – the perfect place to relax in peace and quiet.
Inside is a canopied king-size bed with a huge mosquito net, adorned with brightly-coloured throws made from kikoi material. Each room has a fan, as well as plenty of space for hanging clothes in an open wardrobe. The wardrobe also contains a safe and lockup box.
The en-suite bathroom is small, yet it is spotlessly clean and has polished stone floors and brightly painted walls, giving it a warm feel. There is a hot-and-cold shower, sink and toilet.
Baobab Suite | Deluxe Rooms | Luxury Suite |