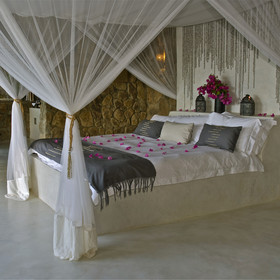 Madimba is a one bedroom 'honeymoon' house …
Madimba House
Unlike Kaya Mawa's other houses, Madimba House – the 'Honeymoon House' – only has one bedroom. Reached by steps to the back and front, Madimba has a very large, split-level bedroom where a king-size bed is clad in high-quality linen and surrounded by a walk-in mosquito net.
Unusually for Kaya Mawa' there's the addition of a bar-fridge in this room – which is particularly welcome as Madimba is at the north end of the beach, and so a reasonable walk from lodge's central bar and lounge areas.
Beside the bedroom is a large, en suite bathroom with his & hers sinks, a shower and a bath.
Outside is a decking area with relaxed seating and a kidney-shaped infinity plunge-pool in the deck, and relatively close access, down steps between boulders, to the sea and beach. Up steps is an open upper-level viewpoint platform and chairs for admiring the view.
Khuyu Room | Madimba House | Mainja House | Makengulu | Mbamba | Mbungu Room | Msekwa Room | Ngani Room | Nkwhazi | Ullisa House | Yofu House |