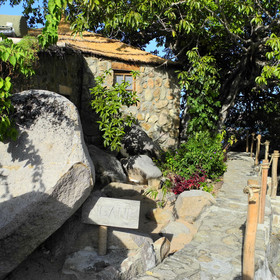 Ngani Room is set away from most of the other chalets …
Ngani Room
Set away from most of the other chalets, in rocks beside the lodge's second beach, Ngani beach, Ngani room is about 100m away from the lodge's main lounge-dining areas. Being away from the lodge, it seems even quieter than most, and has some much character that it's a real favourite.
Inside the bedroom is quite small; it's dominated by a large, king-sized bed which is raised high on a stone plinth – and accessed by a few steps. With a light beige floor, white walls and moulded wardrobe and shelves, and a thatched roof it's simple in concept and nicely done.
The long, narrow bathroom is down a step and dominated by a large granite boulder. There's a rain-drop shower; a deep, round bath; and a toilet and single wash basin.
We loved Ngani's outside space as it has a shaded seating area outside the chalet, and also a lovely wooden deck with sun-loungers – all looking out south towards Mozambique, far from the rest of the lodge. Steps lead down into the lake from the end of a small walkway over the water.
General room comments
The rooms at Kaya Mawa are all different – and most incorporate some of the surrounding granite boulders into the design of the rooms. Central to each room is usually an enormous double bed, swathed in mosquito netting and clad with soft, high-quality cotton bedding. Most of the floors are a light colour and polished smooth, so very cool in the heat. Whilst these 'standard' rooms don't have a massive amount of inside space, all of them have significant outside spaces.
All Kaya Mawa's rooms have electric power points, bed-side lamps and showers and baths with hot water. One or two bathrooms are partly open-air – although all are private and not overlooked. Do let us know if you have any preferences about your bathroom!
Each room has plenty of windows, and we don't think there's a significant security risk in leaving these open at night for the breeze – which is lovely off the lake. Each room also has a fan – although these are often of the table-top variety.
Khuyu Room | Madimba House | Mainja House | Makengulu | Mbamba | Mbungu Room | Msekwa Room | Ngani Room | Nkwhazi | Ullisa House | Yofu House |