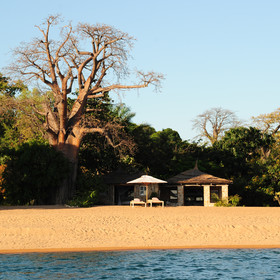 Ullisa House is right on the beach …
Ullisa House
With a similar situation to
Yofu House
, right on the beach, Ullisa House has a more open aspect, with more sun and less shade – or so it seemed when we visited in May, and the adjacent baobab was leafless! It does, however, have a very large, covered veranda at the front, and some sun-loungers on the sand beyond that.
Inside the master bedroom is a king-sized bed with Kaya Mawa's trademark high-quality linen, swathed in mosquito netting. It's a good-sized room with plenty of space, although not vast like the suites, beige polished floor and walls of local stones painted a uniform white. A fan is attached to the wall, and wide double-doors open up onto the beach.
Adjacent to this, at the centre of the house, is an almost-conventional bathroom – with a shower, toilet and wash-basin all together, near a small section of the ceiling left open to the sky. Through a small arch, there's a slightly separate room housing a rectangular bath, with views through the windows looking out through trees over the beach,
Also next to the bathroom, on its other side, the bedroom has twin beds, plus a small 'swinging bed' – which is sized for children up to about the age of six. This floats gently in one corner, suspended from the ceiling by four stout ropes; it moves easily at the slightest touch!
This twin room also has large double-doors which lead directly onto the covered veranda and thence to the main beach.
Ullisa House shares the same style and design principles as the rest of the lodge. All have mosquito netted beds; soft, high-quality cotton bedding; electric power points and showers and baths with hot water.
Like
Yofu House
, Ullisa House is a great for immediate beach access. The twin room here does have direct beach access – and note that it's not quite as separate from the master bedroom as the twin room at
Yofu House
.
Khuyu Room | Madimba House | Mainja House | Makengulu | Mbamba | Mbungu Room | Msekwa Room | Ngani Room | Nkwhazi | Ullisa House | Yofu House |