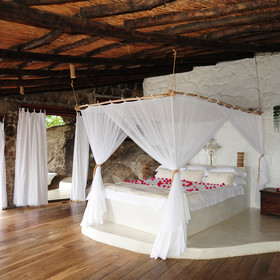 Nkwhazi is a very large, airy bedroom …
Nkwhazi
Converted from what used to be the lodge's bar, Nkwhazi is a very large, airy room set around a lovely king-size bed – with oodles of outside space.
Inside there's little furniture apart from the bed, a large, puffy white sofa and an antique-looking wardrobe. The bathroom is immediately adjacent and on the outside deck, but entirely under cover. There's a toilet, a large bath, twin basins and a rain shower – which is particularly convenient for when you hop out of the deep, cool plunge circular plunge-pool.
Also outside on the split-level deck is a table for two, and a cushioned circular sitting area under a parasol – with a great view out over the lake towards Mozambique. It's the kind of room that you feel you could entertain friends in!
The 'premium rooms at Kaya Mawa: general comments
Like the 'standard' chalets at Kaya Mawa, the 'premium rooms' are all different – and most also make a feature of the area's natural granite boulders. All have an enormous double bed, wrapped in mosquito netting, and furnished with soft, high-quality cotton bedding. The big difference with this room is really the space: Nkwhazi may be called 'premium' by the lodge, but it really does have a lot of space – and hence we'd think of it as a 'suite'!
Like the other rooms, Nkwhazi has electric power points, a fan, bed-side lamps and showers and baths with hot water. Its bathroom is partly open-air – although all are private and not overlooked.
It has lots of large windows, and we don't feel there's a significant security risk in leaving these open at night for the breeze – which is lovely off the lake. The room also has a fan on one wall.
Khuyu Room | Madimba House | Mainja House | Makengulu | Mbamba | Mbungu Room | Msekwa Room | Ngani Room | Nkwhazi | Ullisa House | Yofu House |