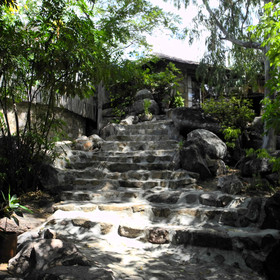 Mbamba sits on the crest of the rocky kopjie.
Mbamba
Above
Nkwhazi
, on the crest of the rocky kopjie, Mbamba is another massive room; it used to be lodge's bar-with-a-view. Here the king-size bed is in the centre of the room, surrounded by expanses of cream polished floor. The matching moulded wardrobe stands out against the rocks inset into the walls, and there's a small, curved couch on one side.
The bathroom is open to the bush on one side, giving bathers in the rectangular bath a vegetal view.
Although Mbamba has even more inside space than
Nkwhazi
, its decked area outside is less extensive – although this still manages to incorporate a couple of loungers and a deep rectangular plunge-pool.
The 'premium rooms at Kaya Mawa: general comments
Like the 'standard' chalets at Kaya Mawa, the suites are all different – and most also make a feature of the area's natural granite boulders. All have an enormous double bed, wrapped in mosquito netting, and furnished with soft, high-quality cotton bedding. The big difference with this room is really the space: Mbamba may be called 'premium' by the lodge, but it really does have a lot of space – and hence we think of it as a 'suite'!
Like the other rooms, Mbamba has electric power points, a fan, bed-side lamps and showers and baths with hot water. Its bathroom is partly open-air – although all are private and not overlooked.
It has lots of large windows, and we don't feel there's a significant security risk in leaving these open at night for the breeze – which is lovely off the lake. The room also has a fan on one wall.
Khuyu Room | Madimba House | Mainja House | Makengulu | Mbamba | Mbungu Room | Msekwa Room | Ngani Room | Nkwhazi | Ullisa House | Yofu House |