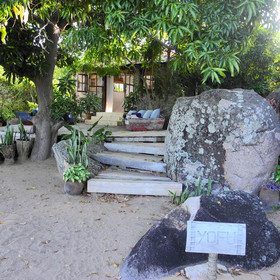 Yofu House is right on Kaya Mawa's main beach …
Yofu House
Yofu House is built right on Kaya Mawa's main beach, like
Ullisa House
, only it sits between two baobab trees and a magnificent mango tree. This evergreen provides lovely cool shade over its large front decking area, where two comfy sofas have been made out of old fishing boats.
Step through large double-doors into the main double bedroom and you'll find a king-sized bed, with high-quality bed-linen, swathed in mosquito netting – and surrounded by plenty of space. Also on the polished beige floor are some wicker chairs and a white wardrobe.
Through a door, a few steps lead up into the split-level bathroom which is central to this house. Downstairs, under-cover, are the toilet and shower, whilst upstairs, and out in the open, the stand-alone bath looks up to one of the baobabs and an open sky. It's a really lovely bathroom!
On the other side of this, across a veranda, the houses' other room has twin beds on a polished, coffee-brown floor, some simple white furniture, and its own access to the beach.
Yofu House is lovely, open house which would probably suit families with older children – who would appreciate the autonomy of their own access to Kaya Mawa's beach, and a room slightly away from their parents.
Like Kaya Mawa's other family house,
Ullisa House
, Yofu House shares the same style and design principles of the rooms and suites. All have mosquito netted beds; soft, high-quality cotton bedding; electric power points and showers and baths with hot water.
Khuyu Room | Madimba House | Mainja House | Makengulu | Mbamba | Mbungu Room | Msekwa Room | Ngani Room | Nkwhazi | Ullisa House | Yofu House |