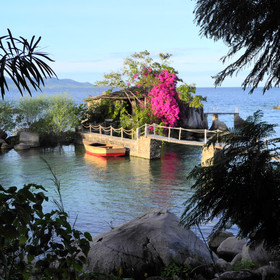 Makengulu is on its own small island.
Makengulu
On a small island reached via a wooden walkway, this 'honeymoon island' may not have the sheer space of
Nkwhazi
or
Mbamba
– but it does have great character and we think that it's terrific fun!
Getting to Makengulu is part solid causeway, and part a fairly substantial walkway – all of which is raised a few metres above a shallow neck of the lake, with fish particularly close and visible as we walked over. The island it's on is tiny, and partly covered with bright vermillion bougainvillea.
Inside is a king-size bed (with a welcome fan inside its mosquito net) on a low, solid base – and around the walls are built-in granite boulders, with a cushioned seat built into one of the windowsills. Makengulu's en suite bathroom is small but perfectly formed, and the bath has windows on two sides looking out over the lake. Note that this room doesn't have a shower.
On a stone, shaded veranda outside is a table for two and a curved, cushioned corner-seat – and a few metres away two loungers stand on an additional level of wooden decking, over the water. From the deck a short jetty leads a few steps across the lake, and down into it via some stone steps. There's an even smaller island a very short swim away.
This is a magical, very private, funky little room with a great feel and aspect. It's probably more susceptible to wind than most of the lodge's rooms – and would probably feel a little exposed during bad weather – but this wouldn't stop us staying here!
The 'premium rooms at Kaya Mawa: general comments
Like the 'standard' chalets at Kaya Mawa, the suites are all different – and most also make a feature of the area's natural granite boulders. All have an enormous double bed, wrapped in mosquito netting, and furnished with soft, high-quality cotton bedding.
The big difference with this room is really its location and its character: Makungulu is one of the most original and magical rooms that we know of anywhere on the continent. It's also got some highly useable outdoor space, and so may be called 'premium' by the lodge, but we think of it very much as a 'suite'.
Like the other rooms, Makengulu has electric power points, a fan, bed-side lamps and showers and baths with hot water. Its bathroom is partly open-air – although all are private and not overlooked.
It has several windows, and we don't feel there's a significant security risk in leaving these open at night for the breeze – which is usually lovely off the lake.
Khuyu Room | Madimba House | Mainja House | Makengulu | Mbamba | Mbungu Room | Msekwa Room | Ngani Room | Nkwhazi | Ullisa House | Yofu House |