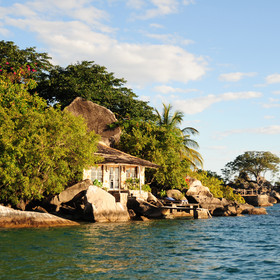 Msekwa Room is on the tip of the south-eastern headland.
Msekwa Room
On the same side of the beach as
Mbungu
, but a little further away, Msekwa's entrance door leads shortly to set of steep steps down to the room, making this room immediately unsuitable for less agile travellers. At the top is a small stone room housing the toilet, and half-way down there's an open-air shower with a view, and a separate bath which is almost carved into the rock; both are open-air.
Once down in the room, it's very secluded and private. The king-size bed probably has more space around it than
Ngani
and
Mbungu
, rooms, as well as a small shaded seating area and a deck above the water for the sun-loungers, and a short jetty leading to a ladder into the lake.
General room comments
The rooms at Kaya Mawa are all different – and most incorporate some of the surrounding granite boulders into the design of the rooms. Central to each room is usually an enormous double bed, swathed in mosquito netting and clad with soft, high-quality cotton bedding. Most of the floors are a light colour and polished smooth, so very cool in the heat. Whilst these 'standard' rooms don't have a massive amount of inside space, all of them have significant outside spaces.
All Kaya Mawa's rooms have electric power points, bed-side lamps and showers and baths with hot water. One or two bathrooms are partly open-air – although all are private and not overlooked. Do let us know if you have any preferences about your bathroom!
Each room has plenty of windows, and we don't think there's a significant security risk in leaving these open at night for the breeze – which is lovely off the lake. Each room also has a fan – although these are often of the table-top variety.
Khuyu Room | Madimba House | Mainja House | Makengulu | Mbamba | Mbungu Room | Msekwa Room | Ngani Room | Nkwhazi | Ullisa House | Yofu House |