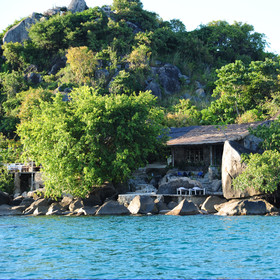 Mainja House sits on the northern side of Kaya Mawa beach.
Mainja House
In a granite outcrop on the northern side Kaya Mawa's beach, Mainja House is Kaya Mawa at its most original and inspired. Unlike the other houses, this one has two bathrooms, as well as two large, double bedrooms, and so would work very well for two couples travelling together.
With rocks and vegetation to your right, and sand and sea to your left, it's quite a long wander along a board-walk and concrete causeway– to get from the north end of Kaya Mawa's beach to Mainja House.
But once at the house, you'll find several different outside levels, dotted between massive rounded boulders: one a deck with loungers, another a circular cushioned sitting area, and a third dominated by a large, kidney-shaped plunge pool. All within view of the lake, which is easy to reach for a swim via the boulders at the bottom.
Stepping up into the first bedroom is quite a revelation; it's a large and very spectacular room with a high thatched ceiling and walls which incorporate massive granite boulders. Up a few steps is the king-size bed – complete with the high-quality fabrics which are the norm at Kaya Mawa – surrounded by a walk-in mosquito net.
To one side of the room, a gap between two large boulders opens out into a partially-open, split-level bathroom – containing a built-in bath, and steps up to a very open shower and a covered toilet. It all feel very like an 'Indiana Jones' film set and is terrific fun!
In the centre of this spread-out 'house' is a large, open-sided lounge – with a few shelves and built-in fridge. Head outside and there's (another) decking area with a large table for private dinners.
The second bedroom is also very large and impressive, with a sloping bounder on one side of it – and a rectangular moulded bath and wash basin on the other. Step outside on the veranda and you find a toilet, in its own slight-separate room, and … a little further around … a shower made out of an old boat which is very open to the lake and sky.
Khuyu Room | Madimba House | Mainja House | Makengulu | Mbamba | Mbungu Room | Msekwa Room | Ngani Room | Nkwhazi | Ullisa House | Yofu House |