Mahe Island: in detail
Mahe Island trips: the full story
At 155km², Mahé is the largest island in Seychelles and home to the bijou capital city, Victoria, as well as the international airport and around 80,000 people: some 90% of the country's total population. It's a lush, mountainous place with towering granite peaks, up to 905m high at Morne Seychellois. Dense cloudforest covers large parts of the interior, and drops down to a coastline strung with sweeping sandy beaches and picture-perfect coves.

Whether hiking or in search of beach solitude, it's not difficult to find space and privacy. Self-driving is easy, with relatively short distances, good maps, easy signposting and a good network of tarmac roads on the island. As a direct result of its dramatic topography, Mahé has more rain than the low-lying private islands, but this also accounts for its rich vegetation – and a tropical downpour is often a spectacular event.

Places to stay on Mahé Island
Victoria and Around
Sandwiched between soaring granite mountains and a busy maritime harbour, Victoria is one of the world's smallest capitals. It's a pleasant provincial place with neat, tree-lined streets, a colourful local market, a few simple souvenir stores and a handful of bars and restaurants. First established as the seat of British colonial government, it retains remnants of the UK in curiosities such as the roundabout clocktower, modelled on Little Ben in London's Victoria. There's enough to merit a few hours' exploration here, including the Botanical Gardens, the National Museum of History and the Victoria Natural History Museum. Given the ease with which the town can be accessed, we suggest that, wherever you stay, you consider dropping in one afternoon.
Most places to stay on Mahé stand beside a beach, but one lovely place stands out for its totally different outlook –
Le Sans Souci
. In a spectacular location, high in the mountains above Victoria, it's a thoroughly refreshing place: small, quiet and very well run.
On a more conventional note, the 15 pleasant, en-suite rooms at
The Wharf Hotel & Marina
are perfect for early morning and late-night connections – beside the sea and only five minutes' drive from the airport.
West Mahé
In a fantastic location between two of Mahé's most beautiful beaches, the stylish
Ephélia Resort
overlooks Port Launay Marine National Park. One of the newest and largest of Mahé's hotels, its 267 rooms range from modest Junior and Senior suites, to substantial Family, Beach, Hillside and Spa villas.
Beau Vallon Beach
Beau Vallon may well be Mahé's most popular beach, and with almost 2km of golden, palm-fringed sand, a curved mountain backdrop and shallow sparkling waters, it is easy to understand why. Along with a good number of local-style and smarter hotel restaurants and bars, there are aquatic activities aplenty and several places to stay. Although it's relatively busy by Seychellois standards, there is enough beach space to ensure that finding a nice quiet spot is easy.
On the southern stretch of Beau Vallon beach,
Le Meridien Fisherman's Cove
has 68 stylish, contemporary rooms, some lovely public areas and an Elemis spa. It remains one of the best-value of Mahé's smart larger resort hotels, with two good quality restaurants, a free-form swimming pool, floodlit tennis court and gym.
The world's smallest Hilton Hotel, the 40-room
Hilton Seychelles Northolme Resort and Spa
, is a far cry from business-hotel stereotypes. Perched on a rocky promontory at the very end of Beau Vallon beach, it's an elegant resort offering stylish accommodation, great service and a panoramic ocean outlook.
Neighbouring the popular Baobab Pizzeria, right on the beach,
Clef des Iles
is a relaxed self-catering property with four two bedroom duplex flats. Owned and managed by a friendly couple, the flats are simple but very tastefully decorated, and are hard to beat for a great value, sun, sea and sand holiday.
North of Beau Vallon bay, the 28-room
Sunset Beach Resort
has idyllic sea views from its peninsular bar, and a perfect sandy cove for swimming.
Further north still, just a short walk from the beach of Glacis, two charming sister hotels,
Bliss Hill
and
Bliss Hotel Sea Side
stand either side of the road, overlooking their own private, little strip of beach.
Southern Mahé
Mahé's southern sector offers some stunning beaches, and relatively few hotels. At the foot of a steep, winding road, flanked by massive bamboos,
Anse Soleil Beachcomber
is a laid-back hideaway on a beautiful crescent of sandy beach. With only 14 good-value rooms, it's perennially popular for its casual atmosphere, simple accommodation, and the terrific Creole restaurant next door.
Just next to Anse Soleil, overlooking the stunning Petite Anse, the
Four Seasons'
is perched on a hillside, with 67 luxurious, spacious villas raised on stilts.
At the other end of the scale,
Banyan Tree Seychelles
delivers the polished, professional service and stylish surroundings for which it's rightly famous. The 60 luxury villas here are scattered from the sandy curve of Anse Intendance up through the steep, rocky jungle to ensure privacy. There's an extensive central watersports centre, but for most, the excellent Thai therapists at the idyllic hillside spa remain the highlight.
At the southernmost navigable point of Mahé's east coast,
Chalets d'Anse Forbans
is a long-established, family-run complex of self-catering cottages. On a former coconut plantation, these 14 chalets are simple but neat, reliable and well equipped, with plenty of space for families with children and a quiet stretch of palm-lined beach. Rates are reasonable, making this a good and affordable option.
Set in lush tropical vegetation on a hillside above the sweeping curve of Anse à la Mouche, in southwest Mahé,
Le Jardin des Palmes
is a small hotel with a French vibe, plenty of character and stunning sea views. Hidden amid the palms, its 10 spacious suites are in cantilevered timber chalets along the hillside, and all have picturesque views from ocean-facing terraces.
The most exclusive and expensive of Mahé's accommodation options is the stunning
Maia Luxury Resort & Spa
. Its 30 contemporary, Balinese-style pool villas stretch from Anse Louis beach to dizzying cliff-top heights, and offer 24-hour butler service, stupendous ocean outlooks, stunning interiors and the highest quality mod-cons. The resort boasts top-end cuisine, customised activities and arguably Seychelles' most magical outdoor spa – but it does all come at a cost.
In the southwest's verdant Takamaka Valley,
South Point Chalets
has six well-equipped self-catering chalets, a small swimming pool and a shaded breakfast pavilion. Whilst the hillside location makes car hire essential, it's only five minutes' drive to the closest beach.
Also worth considering on this side of Mahé Island, above the sweeping curve of Takamaka beach, is the offbeat hotel
Lazare Picault
. Set over numerous, rocky levels, it has 16 stone chalets, an enthusiastic owner and plenty of individuality.
Things to do on Mahé Island
Organised activities are fairly limited here, as most come to enjoy the lovely beach and do very little – but diving, fishing and boat excursions can be arranged. If you are there in the right season (best August - October) book a trip out to snorkel with the whale sharks with the professionally run Underwater Dive Centre situated on Beau Vallon beach.
For some gentle land-based distraction, there are a number of small artists studios (ask for directions to see Michael Adams, Pineapple Studios or Tom Bowers) and some pleasant gardens to explore at Le Jardin du Roi in the mountains.
Getting around Mahé Island
Driving around the island is straightforward and island maps are easily available, free of charge, from car hire companies (Air Seychelles usually provide a handy, compact map to arriving international passengers too). There are several trans-island roads which cross from the east to west coast and offer a pleasant glimpse of the lush, hilly interior.
Where to stay in Mahe Island
Our suggestions for places to stay in Mahe Island
---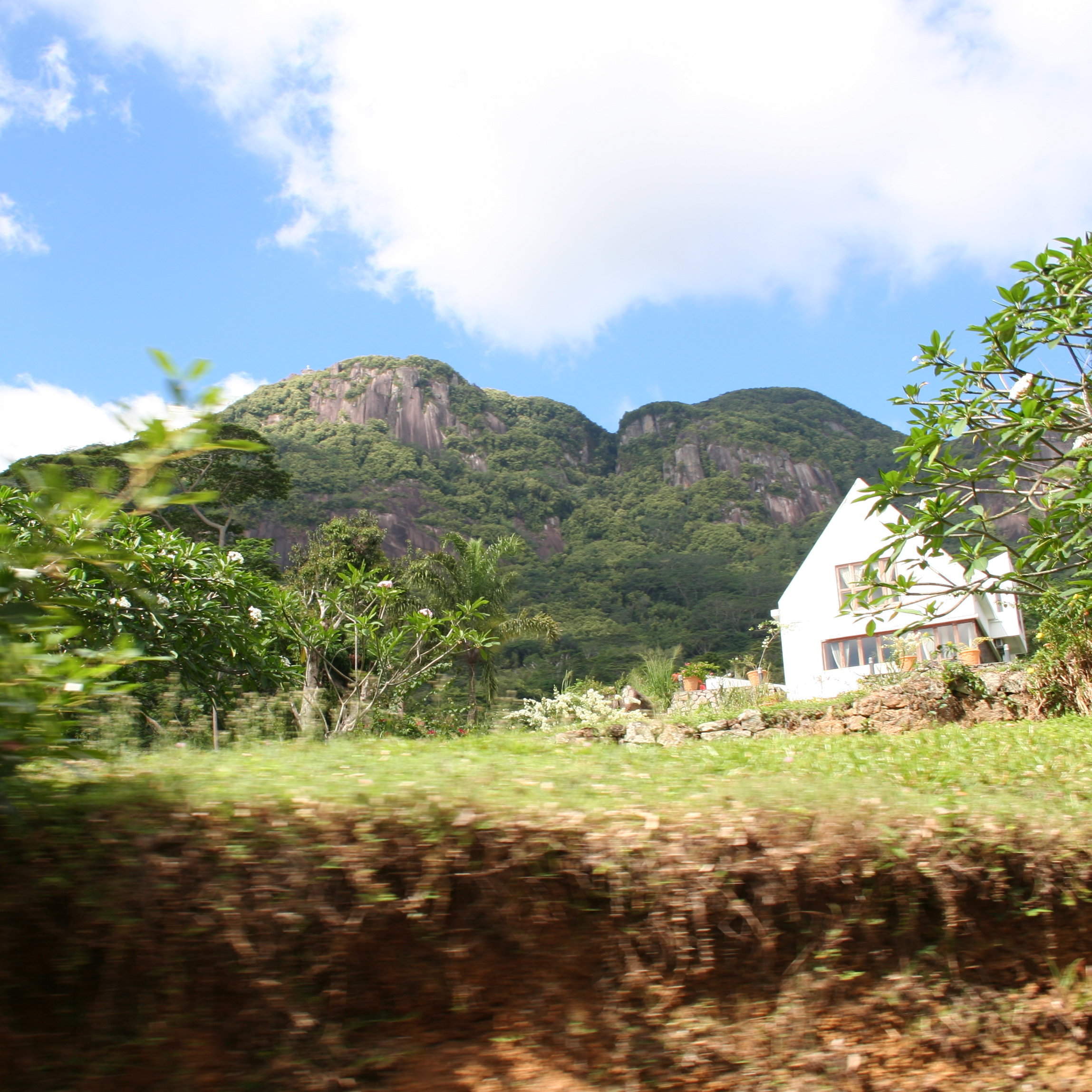 Le Sans Souci
A gem set on the mountainside above Victoria; Le Sans Souci is ideally located for exploring the walking trails in the forests and mountains of Mahé's interior.
---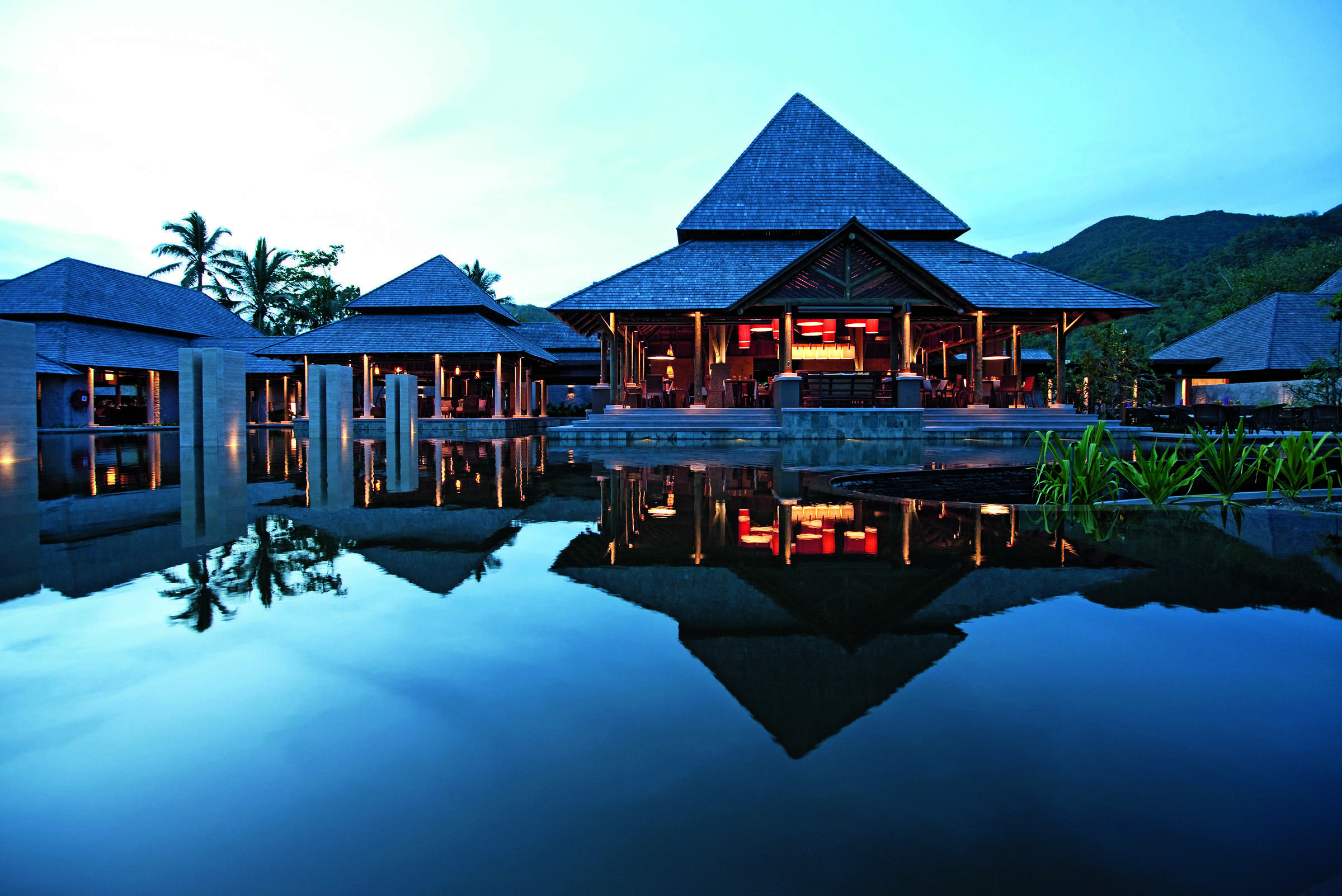 Ephelia Resort
The luxurious Constance Ephelia Resort is set on the quiet western coast of Mahé, overlooking Port Launay Marine National Park.
---
Other areas in Seychelles
---