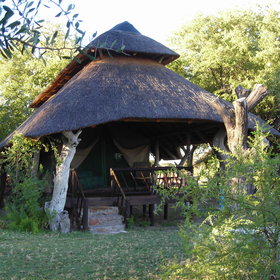 Edos Camp, in the northwest Kalahari, has 4 tents.
Edo's Camp: Our full report
Rooms
4 spacious meru tents.
Traveller's rating

(91%) From
7 reviews
Open
Seasonal
Edo's Camp is a small tented camp situated on a 1,200km2 game conservancy in the northwest Kalahari. The original farmland was bought by an Italian gentleman with the idea of having his own place in Africa where he could invite his friends on holiday. Around eight years ago the camp was built as private accommodation for the Italian gentleman with the help of an old-time Botswana guide, Stephan Lewis. Around 18 months ago the camp was opened to visitors.

The most idyllic spot in the camp is around the campfire under the cover of an old leadwood tree. This position offers 180-degree views of the waterhole and the wildlife that regularly comes to drink here.

Set a little back from the campfire is a thatched dining area, whose open sides offer views of the waterhole in case something exciting comes for a drink during mealtimes! Meals are eaten as a group around a long table here.

A small thatched lounge is surrounded on three sides by a stone wall to keep out the cold southerly wind during the winter months, whilst retaining a view over the waterhole. A leather couch and various Malawi chairs offer comfortable seating under cover during the hotter hours of the day.

The camp's swimming pool is less well placed, at the back of the camp and surrounded by a stone wall. Despite the lack of enticing views, the pool is nice and large (you can swim laps in it) which makes a change from the usual small plunge pools found at other camps in Botswana.

Edo's Camp has offered a local Bushman community initiative the use of a thatched rondavel to set up a curio shop. At the time of our last visit, the room was being donated to the group at no charge, but in return the stock and curio sales will be their sole responsibility.

Edo's Camp has four spacious en-suite Meru tents, and so takes a maximum of eight guests. Each of the tents is built up on raised wooden platforms. High thatched roofs mean that the tent interiors are quite cool throughout the day. A covered wooden deck, complete with canvas loungers, camp chairs and a table, offer great views over the waterhole.

The canvas door to the tent can be unzipped and opened for the view whilst an inner mosquito netting remains zipped up to keep out any small intruders. The tent interior has two beds separated by a bedside table. Duvet covers and pillow cases are made up of African print material and this theme is carried through batique wall panels and curtains through to the bathroom.

Rugs cover dark stained wooden floorboards that match the dark wood furniture. A dresser and small wardrobe allow for ample clothing storage. A torch, insect repellent, bug spray, tea and coffee are provided in each room.

The bedside lamps operate on solar power which is available 24 hours a day. Each tent has a 220V plug point which can be used for charging or hairdryers. There's also a large free standing fan.

Most tents have a wooden door which leads from the bedroom to the en-suite bathroom, but two of the tents have curtains which separate the rooms. Although the bathroom is an addition to the tent it is enclosed by reed walls and covered by a net ceiling.

Two of the tents have both a shower and a bath. One tent has a shower only and the last tent, a bath only. The showers are large and spacious and the baths are fitted with brass taps and a hand held shower. Water is heated by a donkey (a drum with a wood burning fire underneath) and lit each morning and evening.

The toilet is a flush toilet. There is a plug point by the bathroom sink and a large mirror, alongside a smaller shaving mirror, hangs over the sink. Soaps, shampoo, a shower cap and face cloth are available in each bathroom.

The main light is dimmed so as not to attract insects and runs off solar power. Towels are provided and there is a laundry bag in each bathroom.

The camp's main attraction is its permanent floodlit waterhole. This uses a natural pan, Edo's Pan, is filled each rainy season and then the lodge pumps additional water into it during the drier months. In fact, this is part of an ancient river system between Botswana and Namibia, within the Kalahari's fossil dunes.

In the past, this has been one of a chain of pans which have played an important part as water points along the old trek routes. These days, an almost continuous parade of wildlife visits Edo's Pan, including kudu, wildebeest, waterbuck, impala and occasionally, rhino and eland. We recommend that you spend at least one evening here, beside the pan, watching the sunset during your stay.

Edo's Camp differs from many of the more 'traditional' safari camps of northern Botswana, most of which are found in the riverine and Delta areas. Instead Edo's stands in a classic Kalahari landscape.

Its linear sand dunes have a thin covering of bushes and trees, and all of its game and wildlife are adapted to survive without access to permanent water. Here you'll find typical Kalahari game species like gemsbok (oryx), springbok, brown hyena and meerkats.

Stephan has remained the camp's manager and he, and his staff, offer a relaxed, personal and friendly service during your stay here. Stephan, is an experienced safari guide and has lived and guided on this area for some time. He has quite an extensive knowledge of the area and is always keen to point out the plants and animals that are special to these drier regions of Botswana. He is busy training his up nephew, also called Stephan, to follow in his footsteps as a guide.

A real highlight of Edo's Camp is white rhino tracking. There are now twelve rhino and tracking them on foot is an optional morning activity. You'll start by driving out with the guide and trackers until you find fresh rhino spoor, and then you'll follow on foot – sometimes getting as close at 25-30m from the rhino. We found this exhilarating, and this is the only place in northern Botswana where you have a really good chance of even seeing rhino, let along tracking them.

(Other than the white rhino, Edo's has no other big game which is likely to be dangerous to walkers. Hence, as is often the practice in areas where rhino are tracked on foot, the guides here do not carry rifles when they walk.)

Other activities include 4WD safari drives and night drives guided by Stephan, and accompanied by two bushman trackers. A visit to the nearby Bushman village is a real highlight. The family here love visitors and are keen to share their knowledge with you whilst on a morning's walk, gathering herbs, tubas and fruit.

Near the entrance to the conservancy is the The Puolo Zanichellis Preschool and Day Care Centre, set up by the conservancy's owners for orphans and disadvantaged children. This now cares for approximately 80 children, all under the age of eight, from the surrounding area. The children live and learn here before they go on to boarding school. 10% of each night's accommodation cost is donated to the orphanage. A visit to the orphanage is possible on request and if you would like to bring any gifts, please contact us and we will help you find out in advance what is needed.
Geographics
Location: Central Kalahari Game Reserve, Botswana
Ideal length of stay: 2 to 3 nights.
Directions: Edo's Camp can be reached by 2WD or by air. If you are driving yourself on a 2WD self-drive safari through Botswana or Namibia, then you will be met at the conservancy gate for a 20-minute 4WD safari to camp. The gate is 2½-hours from Maun, 5-hours from Nxamaseri, or 30 minutes north of Ghanzi. If you have a fly-in safari around Botswana, then you can transfer here by light aircraft, or fly to Maun to catch a 3-hour road transfer to camp. In this case, we recommend that you take the road transfer at least one way, to see more of Botswana's rural areas, and then perhaps fly back.
Accessible by: Self-drive or Fly-and-Transfer
Key personnel
Owner: Land is owned by Italian gentleman. Ker & Downey market and manage Edo's Camp reservations.
Staff: Camp Manager: Stephan Lewis. He helped to build the Edo's Camp 8 years ago and has pride in the camp, the look, and maintenance. The personal love of the property is noticeable and the stories of the camp's history are interesting. Guide: Stephan (Stephan Lewis' nephew). Grew up in Ghanzi and can speak the local bushman dialect known as Moloko. Trackers: China and Ivan. China is bushman who has family at the local bushman village. Ivan is Tsetswana and in training. Chef: Tshepo
Food & drink
Usual board basis: Full Board
Food quality: During our visit in 2007, the food served at Edo's Camp was simple, plentiful and well cooked.

Breakfast timings are flexible depending on which morning activity. Before an early morning departure, you will probably have a choice of cereal, juice and rusks with tea / coffee to drink. If your departure is later in the morning, then brunch might include a buffet of cereals, juice, toast, sausages, bacon, beans, cooked tomatoes and your choice of eggs.

Lunch is usually buffet-style, and included for us a main dish like bobotie (a traditional South African farmer's beef pie), quiche or fish pie and a selection of salads (bean, potato, rice and green) with freshly baked bread. This was rounded off with a cheese and fruit platter.

The 3-course dinner was a set menu beginning with a light starter or soup. Main courses included beef schnitzel served with a variety of fresh vegetables and potatoes, and a tasty chicken casserole with rice. This was followed by a desert along the lines of fruit salad, home-made amarula ice cream or a freshly baked cake.

Before your afternoon activity, a selection of biscuits and a cake is served with tea and coffee. Sundowner snacks typically included sausage rolls, cheese pastries, nuts and biltong.

Although the meals at Edo's were not carefully-crafted haut cuisine, which you will find at some of Botswana's camps, they reminded us of hearty, wholesome farm fare – and were all tasty and plentiful. In fact, they reflected well the relaxed and homely nature of the camp.

Edo's can cater well to most dietary requirements, provided they are aware of these well in advance.
Dining style: Group Meals
Dining locations: Indoor Dining
Cost of meal e.g. lunch: Included
Drinks included: All drinks are included. There is a good selection of basic spirits (vodka, gin and whisky). All soft drinks, wine, beer, juices and bottled water are included. The tap water comes from a bore hole and is filtered so it is fine to drink.
Further dining info: Only drinks are available to take to the tent. There is also tea and coffee supplied in each tent. No other room service.
Special interests
Wildlife safaris: Edo's Camp is one of the only places in Botswana where you can see rhino at an economical price. The conservancy is home to 6 white rhino and the population is growing. The rhino can be seen whilst on a 4WD safari drive or tracked on foot during a guided walk.
See more ideas for
Wildlife safaris in Botswana
Children
Attitude towards children: Children over 7 years are welcome; all ages are if you take the whole camp.
Property's age restrictions: Minimum age is 7 years - unless you book the whole camp.
Equipment: One of the tents can be made up into a triple room.
Generally recommended for children: Edo's camp is recommended for children over the age of 7.
Infrastructure
Power supply: Mains Electricity
Communications: The camp is reachable by phone, email and fax. The camp's office computer is available to guests for internet use on request.
Health & safety
Malarial protection recommended: Yes
Medical care: The nearby town of Ghanzi has a hospital. The guides are trained in first aid. Med rescue and emergency evacuation insurance (to nearest medical facility) is included in the accommodation cost. Please note that it is only possible to fly out of camp during daylight hours as the bush airstrips do not have any lighting at night.
Dangerous animals: High Risk
Security measures: The camp is in a remote area so on-site security is not necessary. The management can lock away any valuables in office on request.
Fire safety: Fire extinguishers are placed throughout the camp and are checked regularly. All tents and main areas open directly to the outside.
Extras
Disabled access: On Request
Laundry facilities: Included. Generally collected in the morning during the room service and returned to you dry and ironed for when you return from your afternoon activity.
Money: The camp will help with currency exchange on request. This is dependent on what cash is available at the camp.
Accepted payment on location: Everything is included during your stay at Edo's Camp so no payment necessary. The curio shop will accept payment in Botswana Pula or by credit card (MasterCard or Visa). If the shop isn't able to accept payment in US Dollars, pounds or Euro, the camp will assist in currency exchange if they can.
The information on this page is our report, of what we saw, felt and experienced personally on our visits.
See Info from the owner for the standard information written by the owner about this property.