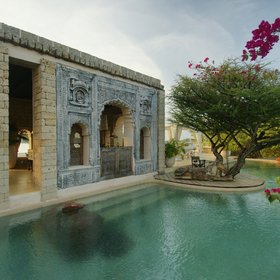 The Majlis is a beachfront resort hotel on a quiet stretch of shore on Manda island.
The Majlis: Our full report
Rooms
27 rooms in 3 villas
Children
Fine for all ages.
Open
All year
The Majlis, Manda island's biggest-ever building project, opened in 2009. Privately owned by an Italian family with a long association with Africa, it started life as a family holiday home and became a hotel almost by accident. Located on the west-facing shore of Manda island, it faces the village of Shela across the Lamu Channel.

Most people arrive in a lodge motorboat from the jetty at Lamu airport a few kilometres away. Be prepared with the right footwear to wade ashore once the boat has beached, or go in bare feet – athough depending on the time of day the sand can be scorching hot. You walk for a few metres through scattered palms and bushes up to the rooms, partly on paths of crazy paving laid onto the sand. There is no reception as such.

Apart from the palm-scattered sandy gardens at the front, which merge seamlessly into the beach, the main public areas consist of the big ground floor restaurant-dining room, with open sides, where all meals are served. This is a reasonably pleasant place to eat, but the sea views you'd expect are screened by the sandy palm gardens in front. The floor above the dining room is a very large bar-lounge area, with large-screen TVs and decent views across the Lamu Channel to Lamu island and the village of Shela. This huge, open sided lounge, under a roof of makuti palm leaf tiles said to number more than a million, is a good place to sit at sunset, though note that depending on the season it isn't open throughout the day.

The rooms are located in three villas, two of which are similar ("Kusi" to the north, "Kaskasi" to the south), share a swimming pool outside the Kusi villa, and contain the superior and deluxe rooms. The third, larger villa ("Majlis Villa"), on the southern side of the plot, is the original building, complete with spacious interiors, faux tribal detailing and a large temple-like pavilion – a majlis (an Arabic word that means assembly ) – that graces the hotel's second swimming pool and looks as if it has come from the set of Raiders of the Lost Ark. This is where the hotel's rather spectacular suites are located.

The superior and deluxe rooms are accessed via a shared lounge area, lined with art and ephemera, at the front of each villa. From the lounge, a short corridor leads into each villa, giving access to the superior rooms facing onto the gardens at the rear and the deluxe rooms with verandas facing onto the beach.

The Majlis' rooms – both superior and deluxe – are a good size and smartly decorated, with narrow black beams striping the ceilings, in emulation of traditional, Swahili mangrove-pole architecture. Some rooms have extra ante-rooms that might originally have been intended as living rooms or even dressing rooms.

We found the beds to be super-comfortable – always a great joy when hard, lumpy or foam mattress beds are so common in coastal hotels. And they have lovely cotton sheets and really good pillows. Their mosquito nets are for show rather than defence against mosquitos, as they don't close properly at the top. In any case, the air-conditioning units are so effective that self-respecting mosquitos will stay well clear. Even so, with no shutters on the huge windows, we had to keep the AC powering away to maintain a low temperature during the day as the sun beat onto the glass. Some rooms are nicely furnished, while others include inappropriately fussy and formal chairs and tables and nowhere to really relax apart from the bed itself. There are recliners on the verandas.

The large bathrooms are well finished, with some Swahili plaster-work, and furnished with oversized shower heads, Italian-style bidets and toilets, and single hand basins. They are provided with anonymous toiletries in glass flasks. We found the showers in our two rooms inconsistent – one very powerful, the other giving a dribble.

The suites in the main house are much larger than the superior and deluxe rooms, furnished to a much higher standard and sumptuously decorated.

Both of the free-form swimming pools - the one on the north side, shared by the two villas containing the deluxe and superior rooms and the one on the south side by the main house, where the suites are located – are large and well maintained. There is a bar inside the majlis pavillion by the south pool, but no pool bar at the north pool. You can order drinks to be brought to the tables near the north pool, though we found the wait staff inattentive in this area. There is no beach bar.

Activities at The Majlis include all the usual water sports. The hotel has a shack on the beach where you can borrow or rent equipment, and friendly instructors on hand. Kayaking, Laser sailing and windsurfing are all free of charge (the latter two only available if you have experience), as is paddle-surfing.

Activities available for an extra charge include:

Jogging, mountain biking, and accompanied swims across the channel (700m): US$14 per person;
Tubing, and double-, mono, wake- and knee-boarding: US$55 per 25 minutes per person;
Dhow sailing in Lamu Channel: US$85, for up to 8 people;
Snorkeling trips to Manda Toto or Kinyika Rock: US$210 for up to 6 people;
Rod and line fishing in the creek and over the reef: US$210 for up to 4 people;
Half-day game-fishing trips (in season, from November to April): US$700 for up to 4 people;
Trips around Lamu island or Manda island: US$250 for up to 6 people;
The hotel offers free use of the indoor gym and jungle gym, and there's a massage chalet, with treatments costing from US$35-70.
Early in 2014, shortly after we last visited, The Majlis opened a
kite-surfing school
, with a full-time experienced teacher. You're transferred a short distance by boat from the hotel to the kite-surfing spot.
If you want to explore Lamu town, or the ruins of Takwa on Manda island, you can go with a guide for some cultural insights (US$70 for each trip, for up to 6 people). Simple one-way pickups or drops to/from Shela village cost US$7 and to/from Lamu town US$20.
Most guests will be delighted to find that
the beach
in this part of Manda, which stretches on the north side for half a kilometre or so to where mangroves begin, and to the south for more than a kilometre towards the ocean, is perfect for strolling on – safe and always worth beachcombing. You won't be accosted by beach boys, as there aren't any, and a stroll along the shoreline makes the perfect start to the day as the sun illuminates the dunes across the channel. Or for that matter the perfect end to the day, as it dips behind Lamu island's silhouetted palm trees.
The one major fly in the ointment on the beach is the 250-metre-long
sea wall
and landfill area being built by the hotel. This appears to be a direct response to the possibility that The Majlis has put up large buildings much too close to the sea, on a tidal channel (the Lamu Channel) subject to constantly changing patterns of erosion and deposition. Their defensive, 2-metre sea wall – a major feat of construction in its own right – is already standing and causing its own problems for properties along the Manda coastline as it blocks the normal movement of the tides. And filling in the deep trough behind it, with sand dragged by a bulldozer from further up the beach, is proving to be a never-ending task. All of which makes the immediate beachfront area in front of the hotel less than ideal, compared for example with the completely natural beach just 500m down the channel at Diamond Beach Village.
If you're staying at The Majlis, it's worth knowing what your nearby options are for a drink or meal somewhere else. Calling in at
Diamond Beach Village
for drinks, seafood, pizza and a movie (on Saturdays), or just for a change of atmosphere, is always a nice idea and a good excuse for a walk.
Equally, taking a boat across the channel to Shela village on Lamu island (a five-minute hop) gives you the chance to eat or have a drink at a number of spots, notably the fifty-year old
Peponi Hotel
.
Our view
If you want air-conditioning, comfy beds, satellite TV, shiny surfaces and a glittering pool on your doorstep, then The Majlis might perfectly match your needs. After the major build-up of its reputation, however (and there is no question that many guests love the hotel) we were disappointed by the ho-hum food and the incoherence of the public areas.
Geographics
Location: Kenya Coast, Kenya
Ideal length of stay: 3 days-plus
Directions: Lamu's airstrip is 15 minutes away by boat.
Accessible by: Fly-and-Transfer
Key personnel
Owner: Stefano and Frederico Moccia
Food & drink
Usual board basis: Full Board
Food quality: The food at The Majlis is not its strongest suit: our four-course dinner, with choices, started unimaginatively with a tempura calamari that consisted of four battered rings, mayonnaise and a scratch of salad. For the second course one of us had chickpea and rosemary soup based on a fish stock (not bad but not much of it) and one of us had a slightly over-salted vegetarian risotto, though the rice still had some nutty texture. Choices for the third course included a basic chicken biriani and rice and we also sampled an expressionless fish pizzaiola, with boiled potatoes and steamed veg. The puds available were a fruit salad, an insipid crème brulée, chocolate ice cream – very obviously melted and re-frozen – and watery sorbets. Despite "tea or coffee" being on the menu neither was offered.

Breakfast the next morning felt limited, and this despite there being a number of other guests, as there had been for dinner. The mango juice on the menu was finished, and the pawpaw juice was more of a purée.

We were shown around the kitchens – which are modern and clean – so they are certainly not an explanation for why such feeble fare is produced here.
Dining style: Individual Tables
Dining locations: Indoor and Outdoor Dining
Cost of meal e.g. lunch: Included
Drinks included: Drinks are extra, and expensive by Kenyan standards. Sodas cost around U$3, beers U$5, house wine from U$5 a glass and non-premium spirits with a mixer from U$5-9. Wines from the wine list start at U$27 for a bottle of Soave or U$25 for Chianti.
Further dining info: We were told there is no charge for room service, though notes in the rooms refer to a Ksh100 charge per order – just over U$1.
Children
Attitude towards children: Children are welcome
Property's age restrictions: None
Special activities & services: There is a jungle gym, although we didn't see it. Babysitting in rooms could be arranged through housekeeping, but there are no qualified child carers at the hotel.
Equipment: High chairs and baby cots are available.
Generally recommended for children: Although their pools are probably the best in Lamu, we think most children would be a bit bored at The Majlis, unless other kids are around to play with.
Infrastructure
Communications: There is reasonable mobile phone network from Safaricom, Airtel and Orange. There are two Wi-fi networks, one of which supposedly works in a very wide radius, though we found them both a bit patchy.
TV & radio: There is satellite TV throughout, with all the channels, and big sports screens in the bar-restaurant and in the shared lounges of each villa.
Water supply: Transported in
Water supply notes: The Majlis laid a pipe across the Lamu Channel to bring water from a borehole in Shela. This water is filtered and then distributed to a water tank beneath each villa. All the drinking water is bottled Keringet brand.
Health & safety
Malarial protection recommended: Yes
Medical care: There are three first aid kits. A private doctor (Dr Nureen) can always be called over from Lamu town's Spanish hospital. A helicopter could land on the beach in an emergency.
Dangerous animals: Moderate Risk
Security measures: There are Maasai askaris on duty around the hotel during the day. There is a barbed wire fence through the mangroves behind the hotel and the beach and sea are to the front, where three security posts are staffed by security staff at night.
Fire safety: Fire extinguishers are scatttered around the hotel and staff fire-training is done regularly.
Extras
Disabled access: On Request
Laundry facilities: Laundry is available daily at an extra charge. It is machine-washed, line-dried or cold-tumble-dried and ironed.
Money: There are safes in the rooms. Foreign exchange can usually be offered at the rate of the day.
Accepted payment on location: All major currencies (US dollars, Kenya shillings, euros and pounds sterling) are accepted for cash payments at the day's rate. MasterCard, Visa and Amex cards can all be accepted for payment with a surcharge of 5%.
The information on this page is our report, of what we saw, felt and experienced personally on our visits.
See Info from the owner for the standard information written by the owner about this property.