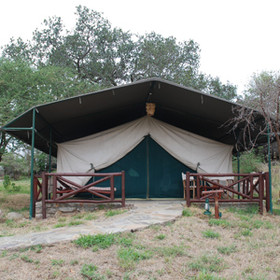 The tents are set among the kopjes and are spacious and comfortable.
Tent
All the 16 tents at Mbuzi Mawe Tented Camp are substantial canvas rooms, measuring approximately 5m wide by 6.5m long (about 16ft x 21ft). They are positioned rather close together and close to the paths that run between them, so you can sometimes hear other guests moving around nearby. All the tents are similarly set up, with two mosquito-netted, queen-size beds in each. Tents #7 or #16 at the far ends of the camp are usually used for honeymooners.

Each tent has its own outside deck area, looking out into the bush. Like the main lodge, much of the tents' furniture has been constructed from dhow-wood, including the dressing table, chairs and beds. The décor won't win any style awards, but the interiors are bright enough, with soft furnishings that include cheerful animal print cushions, and rugs on the terracotta-tiled floors.

The tents at Mbuzi Mawe are en-suite, each with a bathroom at the back, separated from the bedroom by a canvas curtain. Each bathroom has a large wood-framed mirror, a double basin, flush toilet, towels and bath robes, and complimentary toiletries. The shower's water is heated by Solahart water heaters, so expect it to be piping hot in sunny weather.

The electricity is normally on 24 hours a day and all the tents have power points for charging cameras and other gadgets, a ceiling fan and tea/coffee making facilities. Torches are provided for the evenings. When walking to and from your tent after dark, you will be accompanied by an askari – typically an experienced Maasai guide armed with a spear. The askaris are also adept at scaring off the local baboons – a necessary skill as the baboons have learnt how to open tents.