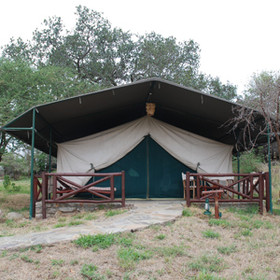 The tents are set amongst the kopjes and are spacious and comfortable
Tent
All of the 16 tents at Mbuzi Mawe Tented Camp are actually quite substantial canvas rooms. They are qyite close together and close to the path between them, so you can sometimes hear other guests moving around. All have been designed in the same way; they are large and have two queen-size beds.

Like the main lodge, much of their furniture has been constructed from dhow-wood, including the dressing table, chairs and even the beds Despite being under canvas, the accommodation is very comfortable – the beds are big, and surrounded by a mosquito net.

These tents have been generally very well designed; the interiors are bright; expect animal print cushions and cream blankets. All of the tents have power points for charging cameras etc, and a ceiling fan for when it's hot; the electricity (from a generator) normally runs 24 hours a day.

All of the tents at Mbuzi Mawe also have their own outside deck area which looks out into the bush.

There are also torches in the tents for the evenings. When walking to and from your tent when it's dark, you will be accompanied by an Askari - usually a Maasai guide armed with a spear and a lot of experience in the bush.

All of the tents at Mbuzi Mawe are en-suite – with bathrooms at the back of the tents, separated from the bedroom by green, canvas curtains for privacy. Each bathroom has a large wooden mirror, complimentary small bottles of water, a double sink, a flush toilet, clean towels and a couple of bath robes. There is also a small selection of complimentary toiletries for guests use!
The hot water for the shower is heated by solar panels, so expect it to be piping hot when it's sunny.