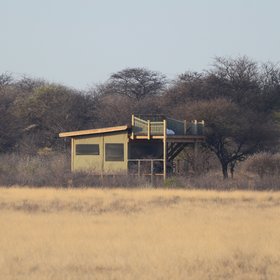 Kalahari Plains Camp is a permanent camp set in the Central Kalahari Game Reserve.
Kalahari Plains Camp: Our full report
Rooms
10 tented chalets
Traveller's rating

(91%) From
13 reviews
Children
Best for aged 12+
Open
All year
Kalahari Plains Camp sits on the edge of an enormous pan, south-east of Deception Valley in the Central Kalahari Game Reserve (also known as the CKGR), which offers some of Botswana's best summer game viewing. It is one of just two camps in a reserve approximately the size of Switzerland, and the views from across the pan are immense. The camp was moved here from its original location in 2009, taking it away from the more accessible public roads in the reserve.

The lodge is located on the edge of the aptly named Big Pan, and affords great views across this vast (often sparsely vegetated) expanse. There is a waterhole a fair distance away, but with the help of the viewing scope in the main area, you can take a closer look at its visitors.

The main area of Kalahari Plains Camp is a wooden building with a new thatched roof, built on a raised deck and open on three sides to allow the air to flow freely. At one end is the dining area, with views out to the separate pool deck and the pan. The small saltwater pool offers welcome relief from the Kalahari heat, and the shaded deck with comfortable sunloungers some respite from the sun. This deck leads out to a separate toilet with the most fantastic views over Big Pan – so worth trying at least once!

A large proportion of the main area is taken up by an inviting lounge area, an eclectic gathering of comfortable chairs, tea- and coffee-making facilities with freshly baked biscuits in a jar, and a small reference library. At the heart of the building, the bar is the venue for pre-dinner drinks. The curio shop is well stocked and we liked the fact that they sell a good selection of locally made items. There is a star-gazing deck on the roof above the bar, and an open campfire area in front where dinner is usually served if the weather allows. Unlike most camps in Botswana the fire is not lit every night due to the scarcity of wood here.

Accommodation at Kalahari Plains Camp is in ten comfortable tented chalets, linked to the main area by sandy pathways. These chalets are of a good size, built on wooden decks raised off the ground to keep them cool in the very hot summer months. The innovative insulated canvas walls and roof of each tent, together with a ceiling fan and large mesh windows, also help to keep the interior relatively cool. We loved the airy feel that these large windows give to the chalets, but were pleased to see roll-down canvas and clear plastic blinds in case of inclement weather (which we experienced on a previous visit in March).

The chalets are decorated in neutral tones and simply, but comfortably, furnished, with lots of wood, soft suede and leather. The beds, which can be made up as twin or double, face out towards the veranda with fantastic views of the plains. You'll also find a writing desk with a lamp and universal plug points for charging camera batteries, a beautifully carved wooden chest with a tray of tea and coffee, a flask of hot water (which is topped up with boiling water every morning and evening), coffee mugs, glasses and a jug of iced water. A comfortable armchair looks through the enormous mesh window, while outside are deckchairs and a table.

A door to one side of the chalet leads to the en-suite bathroom, complete with a flush toilet, twin handbasins with copper taps, a full-length mirror and walk-in shower. You'll also find plenty of wooden shelves and hanging space for clothes, extra blankets for the very chilly winter nights, a digital safe, insect repellent and environment-friendly shower gel, shampoo and conditioner. Another thoughtful touch in the hot summer months is the provision of a sarong. Take it with you on a game drive and your guide will wet it in cold water for you to drape over your shoulders to keep cool. 'Kalahari air-conditioning' at its best!

One of the coolest features of each chalet at Kalahari Plains – and a real highlight for us on our last visit – is the sleep-out deck above. Accessed up wooden steps from the bottom deck, your bed can be made up for you to sleep under the stars. If you get a little nervous, or chilly during the night, you can quite easily pop back downstairs into the comfort of your bed inside. But we loved lying tucked up and cosy, gazing up at the star-filled sky (and desperate to see just one shooting star!): all the best bits of camping, but a lot more comfortable and without the associated work!

Two of the tented chalets have a second en-suite bedroom sleeping up to two children, so are ideal for families, or friends travelling together. The main bedroom tent offers exactly the same facilities as the standard chalets, whereas the second bedroom, while en suite, doesn't have a veranda or the sleep-out deck. It's important to note that there is no inter-leading door between the two tents; to access one from the other you have to go outside and walk across your deck.

Guided morning and afternoon game drives in open 4WD vehicles are the mainstay of activities at Kalahari Plains Camp, but what you see will depend largely on the season, and the timing of the rains. For much of the year the Central Kalahari Game Reserve is a dry, unrelenting landscape dotted with a relatively low density of wildlife, which includes springbok, gemsbok (or oryx), black-backed jackals, bat-eared foxes and, occasionally, wild dog, cheetah and lion. Between May and October, when the Okavango Delta is awash with the annual floodwaters, the contrast is quite stark. It's the perfect time to see first hand just how well these animals have adapted to survive in these harsh conditions.

However, during the summer months, from late November through to April in times of good rainfall (with December, January and February being the best), the valleys and pans of the CKGR turn green with nutritious grasses. Antelope, blue wildebeest and giraffe arrive here to feed on these sweet grasses and they can attract predators to the area - including cheetah, Kalahari black-maned lion and black-backed jackals. This is when the Central Kalahari offers its best game-viewing.

On our most recent visit in early December 2015, there had been a few rain showers but no heavy rain so it was a transitional time for wildlife viewing but a productive one. Shortly into our afternoon drive we encountered a lioness and her sub-adult daughter walking with full bellies down the road we were driving on. Driving off in the direction that the lions had come from, we discovered their oryx kill – reduced to a heap of bones. A black-backed jackal was quick to move in for the scraps but was soon elbowed out the way by a mass of vultures that seemed to seethe and boil over the carcass. It was a fascinating if somewhat gruesome spectacle. The next morning we spent some time watching an ever opportunist jackal follow a couple of honey badgers. It was hoping to grab prey – insects or rodents - that might've escaped the honey badgers, which are apparently messy eaters – but was disappointed on this occasion. Our guide was excellent and we found our brief time with him very informative.

On a general note, the afternoon safari at Kalahari Plains does tend to be quite short – starting at 5pm and returning at around 7pm. The late start is to avoid the heat of the day, a time when predators are most likely to be inactive, and due to park rules vehicles must return to camp before dark.

Full-day trips to Deception Valley or further afield can be arranged on request, though as Kalahari Plains is within the national park, no off-road driving or night drives are allowed. This can be particularly frustrating when the animals you've spotted are in the far distance, so remember to bring along a good pair of binoculars!

Back at base, Kalahari Plains also offers an educational walk in the immediate vicinity of the camp, led by a Bushman member of staff. Our guide explained that his people no longer live traditionally, but we found the glimpse into his culture and history interesting, and his sense of humour quite entertaining.

The camp operates in constantly challenging conditions, so on a previous visit we found their unusual 'behind the scenes' tour especially interesting. We were proudly shown the impressive state-of-the-art solar system, which runs off 72 solar panels and provides all the electricity and hot water in camp. Water is life in this dry environment, and we learned about the water storage and distribution. The water from the borehole is saltier than seawater, so is used for such things as the showers and the pool. Drinking water, which was once trucked in over a distance of 100km, is now produced by a reverse osmosis machine kept at camp, which purifies the water by removing the salt. We particularly enjoyed meeting the people behind the scenes, who keep everything ticking over smoothly.

That said, because 'behind the scenes' areas – like the kitchens and staff village – are relatively close to the chalets, on a previous visit we found that we could often hear snippets of noise from them during our stay.



Our view
Kalahari Plains Camp is well situated close to the CKGR's most famous area, Deception Valley. We loved the big gauze windows in the tented chalets and the sleep-out decks on the roofs. We were surprisingly impressed by the 'behind the scenes tour' and the camp's eco-credentials. The guiding was good and we felt that the camp offers a relatively unexplored wilderness with the potential for great game sightings between about December and March. However, we'd be less enthusiastic when the park is drier, and the game less visible, between about June and November.
Geographics
Location: Central Kalahari Game Reserve, Botswana
Ideal length of stay: Stay two nights during the largely dry season of April to November and three nights during the Kalahari's most productive season, between about December and March.
Directions: Access to Kalahari Plains Camp is usually by air. It is approximately a 1¼ -hour light-aircraft flight from Maun, followed by a 30-minute drive to the camp. Alternatively, the camp can be reached by 4WD on a self-drive itinerary but you still need to pre-book.
Accessible by: Self-drive or Fly-and-Transfer
Food & drink
Usual board basis: Full Board
Food quality: On our last few visits to Kalahari Plains we found the food to be wholesome and very tasty with plenty of choice.

A light breakfast is served before heading out on activities. This is usually a buffet of cereals, toast, fruit, yoghurts, salami and cheeses, and freshly made muffins and pancakes.

Brunch, is served after the morning activity. We didn't have the opportunity to try it on our last visit, but when we stayed in March 2015 it was delicious. It included beef fillet, roasted vegetables, mixed salad, Thai noodles, fresh cornbread, and eggs and bacon to order.

We are constantly amazed at the wonderful creations the chefs come up with for afternoon tea. Who doesn't enjoy an ice-cream on a hot summer's day? Kalahari Plains Camp home-made ice-cream with chocolate brownies did not disappoint. The mini mushroom bruschetta, sticky chicken wings and fruit pots were also scrummy. Guests help themselves to tea, coffee, iced-tea and homemade lemonade – which was incredible: it seemed to fizz in the mouth!

Dinner is, more often than not, taken as a group around one long table but individual tables can be arranged on request – or if there are children in camp. During our stay in December 2015 we started with a fresh tasting tomato and basil soup. The main course was a buffet with a choice of beef or ostrich kebabs served with hasselback potatoes, cauliflower cheese, and sautéed baby marrow. The vegetarian dish was stuffed peppers with quinoa and black beans. The dessert was a rich but divine dark chocolate mousse.
Dining style: Group Meals
Dining locations: Indoor and Outdoor Dining
Cost of meal e.g. lunch: Included
Drinks included: Bottled water, soft drinks, local beers, spirits and red and white wines are included. Each guest is given an aluminum water bottle on arrival with cold filtered water, which they are encouraged to top up from the filtered supply in the camp's main area. Premier champagne and premium imported brands will cost extra and must be requested well in advance.
Further dining info: Private dinners can be arranged for special occasions and families with young children.
Special interests
Family holidays: Kalahari Plains Camp has two family units with a sleep-out deck, and can be booked for exclusive use, so is a good option for a family safari. A dedicated 'bush buddy' keeps children entertained with a range of activities.
See more ideas for
Family holidays in Botswana
Children
Attitude towards children: Children over the age of six years are welcome at Kalahari Plains Camp, but families with children 6 – 12 years of age must book private activities, at an extra cost. Children younger than six are accepted only if the entire camp is reserved for exclusive use.
Property's age restrictions: Children need to be a minimum of 13 years for walking activities and sleep-outs.
Special activities & services: Kalahari Plains Camp has a new and complimentary 'bush buddy' programme that offers families with children a dedicated member of staff for the duration of their stay. This should be requested prior to arrival. There is a wide range of entertaining and educational activities, tailor-made to suit the children's ages and interests. Activities include arts and crafts, short nature walks around the camp, tracking lessons, bird and animal call identification, treasure hunts, baking biscuits and cooking lessons in the bush, for example pizza-making in termite mounds, dancing and drumming, star-gazing and storytelling. Children can also participate in the 'behind the scenes tours' learning about how the camp functions. For older children, the Bushman walks give an informative and entertaining recital of their traditions and culture. Children are also given a safari bag with age-appropriate gifts.
Equipment: There are two family units at Kalahari Plains Camp. The camp will arrange separate meal times and menus for families with children.
Generally recommended for children: The 'bush buddy' programme is a wonderful addition for families with children, and we witnessed this first hand. When one child in a family didn't want to go on a game drive, they remained in camp with their bush buddy to play football, paint paper plates, make grass bracelets and catch insects in a bug viewer. Do bear in mind that in summer, because of the heat, the activities start very early – around 5.00am – and tend to be shorter than at Delta camps, returning to camp at around 9.00am, so there are long periods of free time during the middle of the day.
Notes: The camp is unfenced and dangerous wildlife can wander through the camp at any time. There is no fence around the pool. There is a small gate at the top of the stairs to the 'star-bed' deck but there is no lock and there is nothing to stop children climbing the stairs. Children need to be closely supervised by their parents/guardians at all times.
Infrastructure
Power supply: Solar Power
Power supply notes: Plug points are available in each room for charging of batteries and for the use of sleep apnoea machines only. Guests should bring their own adaptors and charging units.
Communications: Kalahari Plains Camp is in radio contact with the guides whilst on activities and with the main office in Maun. There is a satellite phone available for emergencies, but no internet or cellphone access.
Water supply: Borehole
Water supply notes: All the tented chalets have plumbed hot and cold running water for showers, basins and flushing toilets. Guests are given an aluminium water bottle on arrival with cold filtered water, which they are encouraged to top up from the filtered supply in the camp's main area. Each room is also provided with glasses and a flask of filtered drinking water. The water from the taps is very salty, and not suitable for drinking.
Health & safety
Malarial protection recommended: Yes
Medical care: The manager and guides at camp are first aid qualified. Anyone with serious medical issues will usually be flown from camp to the nearest hospital for treatment. Please note that it is only possible to fly out of camp during daylight hours as the bush airstrips do not have any lighting at night.
Dangerous animals: High Risk
Security measures: Guests are escorted to their chalets after dark in case of animals wandering through the camp.
Fire safety: Fire extinguishers are situated outside each tent and the main area. Kalahari Plains Camp also has a 'fire station' with buckets, fire beaters and other equipment needed to help put out a fire.
Extras
Disabled access: Not Possible
Laundry facilities: A laundry service is included at Kalahari Plains Camp. For cultural reasons, the staff cannot wash underwear, but a small pot of soap powder is included in each tent for guests who wish to do a little handwashing.
Money: Each tent has a small safe to store any travel documents or cash. No foreign exchange facilities are offered. No additional payment is needed in camp.
Accepted payment on location: MasterCard and Visa credit cards are accepted. Cash payments may be made in South African rand, British pounds, US dollars, euros and Botswana pula. We recommend US dollars in small denominations for any tips.
The information on this page is our report, of what we saw, felt and experienced personally on our visits.
See Info from the owner for the standard information written by the owner about this property.