Mumbo Island: Our full report
Mumbo Island Camp is a small sustainable eco-camp located on Mumbo Island - ten kilometres off Cape Maclear ...
... on Lake Malawi. It is located within the Lake Malawi National Park and is reached by a gentle 45-minute boat ride in a traditional wooden fishing boat. The island is small, only one kilometre in diameter, and uninhabited so is in its natural state. The camp is hand built with timber, thatch and canvas and perched high on large boulders overlooking the lake.

The boat departs from Mumbo Island's base camp at Cape Maclear, which is also where guests check in for their stay on Mumbo Island. There is a comfortable lounge area here for guests to relax whilst waiting for the boat. On arrival on Mumbo Island guests are lead from the jetty to the main area of the camp. This is an open-sided thatched wooden structure, overlooking the little beach, set in a cove in front of the camp. Here you will find the bar and dining area, as well as a small little curio shop selling locally hand crafted curios and jewellery. Most of the meals are served here, although there is a separate deck to the side, shaded by trees, where private meals are occasionally served for honeymooners, or those wanting a bit of privacy. The camp also has a fire pit, on another deck overlooking the beach. Down a few steps from the dining area is comfortable seating area with cane furniture covered in local fabrics. Here you will find a few games and some books.

Just offshore from this is a tiny satellite island – it's really more of a peninsula separated by a strip of water– which is reached by a wooden walkway. Here you find 5 tents and chalets, each with lovely views of the lake. Three of the rooms are reed and thatch chalets and two of them are tented, set on wooden decks under thatched roofs. Out front is a private deck, with a couple of comfortable cane chairs as well as a hammock. Inside the fairly small rooms, there are twin beds (one tent can be converted into a double) covered with bright local fabrics and surrounded by a mosquito net. Beside the bed is a bedside table on which stands a glass carafe of filtered drinking water and glasses, a torch, and insect repellent. To the side is another low carved table on which is information about the camp, a mirror and some matches. In the corner is hanging storage for clothes and the wooden floors are covered in reed matting. At night the tents are lit by paraffin lamps and you will also find one in the bathroom.

Each room has its own separate bathroom, reached by a wooden walkway. There is a compost toilet, beside which is a basket of wood shavings, to drop down the toilet after use, as an aid to the composting process. There is also a bucket shower and a basin. Hot water for the shower will need to be requested about 15 minutes in advance. Soap and shampoo are provided.

There is a separate family chalet, on the main island, tucked within the forest off the main beach. It has two separate tents on a large platform and a shared bathroom at the back. There is no view of the lake from here.

Mumbo Island tries hard to minimise its impact on the environment by using solar water heaters and paraffin lamps. All the rubbish is removed by boat back to the mainland for disposal.

Mumbo Island is a perfect place for those who like a wide variety of activities. On the main beach there is a watersports "gazebo" stocked with snorkelling equipment. There is also some diving kit here, including wet-suits, however it may be necessary to prebook diving in order for the necessary equipment to be brought over to Mumbo from the mainland.

Massive underwater boulders, lots of colourful cichlid fish and beautifully clear water make Mumbo Island one of the best freshwater snorkelling spots in the world – and the diving is good here as well.

Kayaking is also popular on Mumbo Island, and they have a selection of colourful double and single kayaks lying on the beach for guests to use, either to venture out exploring on their own, or accompanied by a guide. There are also marked walking trails around the island for those who wish to explore on foot. These can be taken unguided and maps are provided. There is a good variety of birdlife on the island – most noticeably the African fish-eagle, trumpeter hornbill, African paradise-flycatcher, white-breasted cormorant, water thick-knee (water dikkop) and many others.

However Mumbo is also a lovely place to completely relax and unwind – either on the beach in a hammock or on one of the sun loungers there, or on your private deck overlooking the lake.
Our view
Mumbo Island is a lovely simple little eco camp. Its is a good spot to come for a few days relaxing on the little beach, kayaking around the island, snorkelling or following one of the short walking trails around the island. It is also affordable which makes it one of the cheaper beach locations on Lake Malawi.

Geographics
Location

Ideal length of stay

We would recommend about three, or possibly four, nights here.

Directions

The lodge is a 3½ hour drive from Lilongwe to Cape Maclear, followed a 45-minute boat trip out to the island.

Accessible by

Self-drive or Fly-and-Transfer
Food & drink
Usual board basis

Full Board & Activities

Food quality

When we last visited in October 2014, we just visited Mumbo Island for the day, however we did stay for lunch. The meals served here are simple and wholesome and are served in the main dining area.


Breakfast is usually a selection of cereals, yoghurt and fruit salad. A cooked breakfast (eggs, bacon, sausage and tomato) is also available along with tea, coffee and toast.
Lunch is generally a two-course buffet where guests are able to help themselves from a table on the side. We had a choice of beef or vegetable lasagna with a green salad and some freshly baked herb bread. This was followed by lemon muffins for desert.
Dinner is usually three courses and that evening they were going to serve a starter of butternut pate served with cheese straws. This would then be followed by chambo (a local fish) served with chips and vegetables and finished off with chocolate brownies for desert.
Special interests
Birdwatching

Nature walks and kayak trips around Mumbo Island are great addition to a birdwatching break in Malawi. From the tiny and colourful paradise flycatcher to the large African harrier hawk there is a great range of birds to be seen here.
See ideas for Birdwatching

Walking

Mumbo Island is fantastic for waking in Malawi, with lots of well-marked nature trails around the huge granite boulders that cover the island. Some walks lead through heavily forested areas, others to places of interest, or panoramic viewpoints.
See ideas for Walking
Children
Attitude towards children

The camp welcomes children of all ages.

Property's age restrictions

The lodge doesn't have an age limit, but Expert Africa doesn't recommend Mumbo Island for children under the age of about ten due to the uneven pathways and high drops from the rooms.

Special activities & services

A child minder is available for U$20 a day, however parents must note that this is a member of staff and is not a qualified child-minder.
Children are welcome to go on a nature trail with a guide.

Equipment

None available

Generally recommended for children

We recommend Mumbo Island for children over the age of ten years.

Notes

The island is surrounded by water and has uneven wooden walkways and high drops from the rooms. Children will need to be sensible, and closely supervised by their parents at all times.
Communications
Power supply notes

It is not possible to charge batteries on Mumbo. They need to be sent back to the base camp on the mainland to be charged and will be returned the following day.

Communications

There is patchy mobile reception on the island and no Wi-Fi.

TV & radio

There is no TV at Mumbo Island Lodge.

Water supply

Other

Water supply notes

Water is filtered directly from the lake using a filtration system.
Mumbo Island Lodge has bucket showers and compost toilets.
Sustainability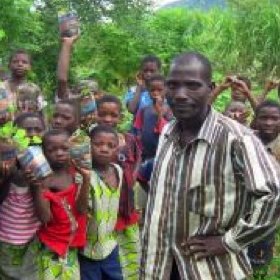 Recycling old cushion covers
Featured among 'Africa's Finest' TOP 50 Sustainable Lodges in Southern Africa for its on-site responsible practices, Mumbo Island is pioneering a mutually beneficial relationship with the local community.
A few years ago, the camp came up with an innovative idea – one which brought a huge smile on the faces of many children in the nearby village. As part of their recycling initiative, the camp donated all old cushion covers to a local tailor which transformed them into charming outfits for the children who are looked after by Vision – a local orphanage in Cape Maclear. The recurring project was given a significant twist in 2014 when the management at Mumbo Island raised money to buy proper clothes for the little ones and cushion covers were instead donated to the sixty employees to use in their homes.

Monthly donations to the orphanage at Cape Maclear help funding a feeding programme for children who are also involved in harvesting fresh crops, which are then sold back to the camp. This way, at least one meal a day is secured for underprivileged children and the decision to get them involved in everyday activities has been effective in instilling a sense of conservation and protection of the natural environment.

Guests are welcome to contribute to the project and some have been sending donations from abroad including toys, school supplies or educational materials.
See more great sustainability projects in Malawi
Health & safety
Malarial protection recommended

Yes

Medical care

There is a clinic at Cape Maclear, a 45-minute boat ride away. There is also a pharmacy at Monkey Bay which is a short boat ride away, as well as a district hospital.

Dangerous animals

Low Risk

Security measures

There is always staff in camp and a member of staff stays on duty at night.

Fire safety

There are fire extinguishers in all the rooms and in the main areas.
Activities
Birdwatching

Boat trip

Cultural excursion

Fishing

Scuba-diving

Snorkelling

Watersports
Extras
Disabled access

Not Possible

Laundry facilities

Laundry is sent to the mainland, and attracts an extra charge of U$10 per bag. Underwear should not be included and soap is provided in the bathrooms for this.

Money

No money is handled on the island, so no currency exchange can be offered on the island. There is a safe at the Basecamp which is on the mainland, so people leave their valuables there.

Accepted payment on location

All payments must be made at the base camp on the mainland. Visa and Mastercard are accepted and there is no fee for this. US dollars, Euros, UK Pounds, SA Rands and Malawi Kwacha cash are accepted.
Room types at Mumbo Island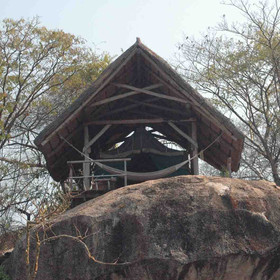 Tented Room
The rooms at Mumbo Island Lodge are all tents set on wooden decks under thatched roofs – and each tent is set on its own individual boulder!

The tents are en-suite and each is decked at the front with a hammock, a small table and a Lloyd Loom-style chair. Inside the tents, which are quite small, there are twin beds (one tent can be changed to have a double bed) with a bedside table with goblets, drinking water, a torch and a selection of toiletries including sunscreen, insect repellent and moisturizer.

In the corner of each tent at Mumbo Island Lodge there is another Lloyd Loom chair, and a small low carved table on which there is information about the camp, a mirror, an ashtray, matches and filtered water in a flask. All the furniture in the rooms is wooden and carved, and the floor is covered in soft woven rugs. The bed has white cotton sheets, a duvet and pillows.

The private bathrooms at Mumbo Island Lodge are separate from the tents, and reached by a long wooden walkway. The toilet stands in its own enclosed, thatched room and consists of a wooden throne with a lid, below which is a long-drop toilet. Beside this is a basket of wood-shavings, to drop down the toilet after its use, as an aid to the composting process.

The shower has its own separate reed-walled cubicle, with a great view over the lake. This is a bucket shower, and so about twenty minutes notice will need to be given before showering, to give the staff time to heat the water and bring it up to you. The bathrooms are lit by spirit lamps at night.

Other lodges in Shore of Lake Malawi
Alternative places to stay in this same area.
---