Nuarro Mozambique: Our full report
Just north of Nacala and set within a marine reserve, Nuarro Mozambique is a lodge with a strong focus on ...
... responsible and eco-tourism. Opened in June 2009 with just one restaurant-bar area and six chalets, it has since grown to incorporate a total of 12 chalets, a beach bar and a separate restaurant area. The design is rustic, with traditionally built structures using lots of natural materials and solar lighting, yet it is also very comfortable.

Nuarro in the local language means 'hole', and the lodge takes its name from the holes formed in the surrounding coral rock. At low tide, water exploding through these holes looks almost like a geyser.

Almost everything at Nuarro is made locally so as to support the communities in the surrounding areas. Each of the lodge buildings was constructed by local craftsman, working without nails and using the traditional technique of erecting wooden poles, packing them with rock, and plastering this with mud and clay; the roofs were then made of thatch. The same system is employed to build many of the houses in the surrounding villages, but at Nuarro they have achieved a very high-quality finish. A lot of the tables and chairs were also built locally, and uniforms are made from Mozambican fabrics by a local tailor.

Nuarro also tries to assist the community by funding various development projects. Five dollars for every bed night and two dollars for every activity provide assistance from international NGOs to run a sanitation and hygiene programme, coordinated by a volunteer nurse based at the lodge. Nuarro is involved in education, too: already they have built two school rooms for children in grades one and two, and they plan to add further classrooms when they can. Prior to this the nearest school was 25km away and many children didn't manage to go to school at all.

At Nuarro Mozambique itself, the main areas are situated well apart. The beach bar, set on a broad, open-sided deck and painted with a beach scene, has a traditional fishing boat hanging above it. Alongside various tables and chairs are a couple of comfortable cream sofas around a low coffee table. Adjacent are a small shop stocked with locally made crafts, a simple massage room where treatments can be arranged, and an activities centre.

On the other side of lodge, on a small coral-rock peninsula about a ten-minute walk away, the restaurant is a large, open-plan room with polished stone floors and a high thatched roof. The views from either side are across open sea – where we could see passing humpback whales while we had lunch! There are a couple of cream sofas here, too, and an additional sunken lounge area made out of stone. The bar, made to look like a boat, is also sunk into the ground – like a ship half buried in the sand. A wooden deck extends to the front, set with tables and chairs for dining.

The beach at Nuarro is a short walk down the hill: a lovely long stretch of yellow sand which is great for beachcombing and rock-pooling at low tide. The sand is coarser than you will find on Mozambique's islands but it is still stunning. At low tide, when swimming is not particularly easy, parts of the beach are broken up by coral rock.

Paths cutting a natural path through the bush (making as little impact on the terrain as possible) lead you to each of Nuarro Mozambique's 12 spacious chalets. These are spread quite far apart and tucked into the surrounding bush, so are very private, yet still with sea views. All are built in the same traditional style with red mud walls inside and out, and thatched roofs.

Inside are polished stone floors, a writing desk and table, a small wicker sofa and a comfortable bed under mosquito netting. Most of the soft furnishings are made from local materials, including the quirky hand-crocheted floor rug and the sofa cushions. Though most of the chalets are the same, some also have a mezzanine floor which can house twin beds – perfect for families who want to be in one room together.

The chalets have lighting and a standing fan powered by 24-hour solar electricity, and you can also charge batteries in your room, but items such as hairdryers cannot be used as they require too much power.

Brightly painted bathrooms are at the back of the chalets, partially separated by a wall but with a view right through the room to create an open-plan layout. As well as a shower and a washbasin set into a stone surface, there is a dry composting toilet which has a proper seat – and does not smell at all!

All the chalets at Nuarro have a private veranda with a couple of wooden chairs and a hammock. All have direct access to the beach, too – where most have private sunloungers with shade; we were told that these would be supplied for all the chalets soon.

Activities at Nuarro are highly varied. Water-based activities include snorkelling from the shore – or by boat if guests wish to go a little further afield; kayaking into the mangroves; dhow sailing and diving. The house reef in front of the lodge offers excellent diving on four sites which can be accessed from the shore. Then there are another three sites within the bay, just a short boat ride away, and a further three outside the bay. For those keen to do a lot of diving there are also some sites further afield but conditions at these can be challenging so they are suitable only for experienced divers. Though the diving arguably lacks some of the larger pelagic fish, sharks and rays, we found an abundance of smaller fish and some of the most pristine hard coral we have seen in Mozambique.

Back on land, it is possible to venture into the local villages either on foot or by bicycle, accompanied by a member of staff who comes from the area. Thus you will receive a very warm welcome and numerous requests for photos – it's a lovely experience.

Non-motorised activities are included in the cost of your stay, but motorised activities such as diving and snorkelling from a boat are an extra cost. There is also a small extra charge of about US$5 if you want to take a guide on a village visit or snorkelling.

It is important to note that there is no fishing at Nuarro. The lodge has spent a long time working with the local community and protecting the bay in front of the lodge, and no fishing is allowed within this marine reserve whilst Nuarro tries to repopulate the area.
Our view
Nuarro Mozambique is perfect for those who love rustic simplicity twinned with good quality. The comfortable rooms, well-built main areas and friendly service are fantastic – although the fact that everything is sourced locally means that odd pieces of material or light fittings don't match perfectly. In addition, the solar power is limiting, so Nuarro is not for those who need minibars, hairdryers and air conditioning.

It is also worth remembering that a lot of the staff come from the local community and for them the concept of a lodge is an entirely new experience. Guests may need to be patient with their attempts at English – the team are very friendly and try hard but it can often take a few minutes to make yourself understood.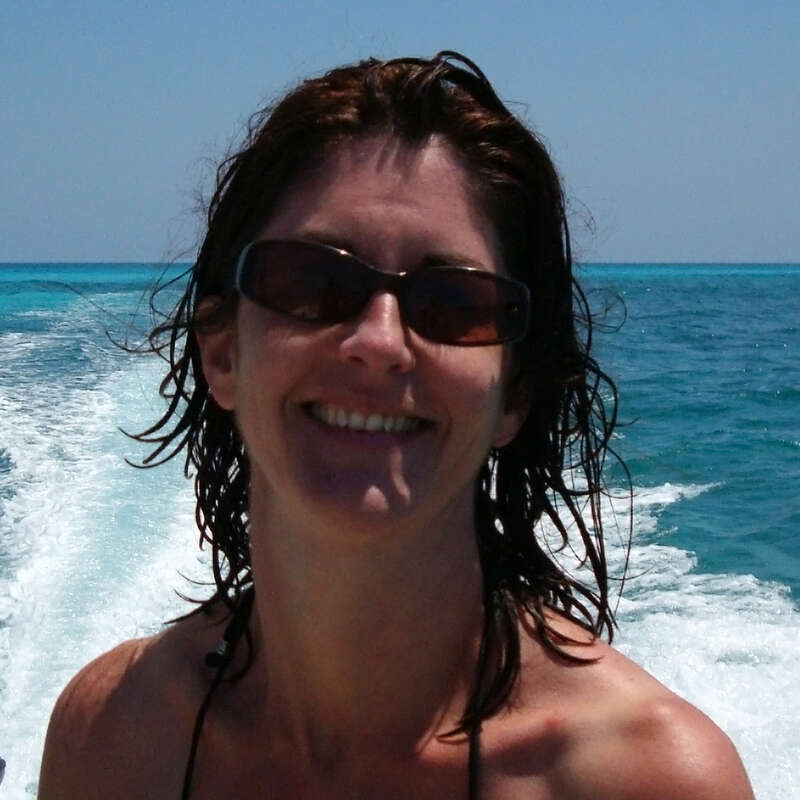 Country manager: Mozambique
Geographics
Location

Ideal length of stay

It is worth spending five–seven days at Nuarro Mozambique, as there is quite a lot to do here.

Directions

Nuarro is a four-hour drive from the nearest international airport at Nampula, which has scheduled flights by South African Airways, Kenya Airways and LAM. The drive consists of two hours on a tarmac road, and two on dirt. There is also an airstrip just a five-minute drive away but you would need a charter flight to access this which is more expensive.

Accessible by

Fly-and-Transfer
Food & drink
Usual board basis

Full Board

Food quality

As much of the food as possible at Nuarro Lodge is locally sourced – bought from nearby villages or from suppliers in Nampula or Nacala – and we found it to be fresh, tasty and hearty. Nuarro is able to accommodate dietary requests with prior warning.

For breakfast guests can expect freshly baked bread, cereals and a full English ordered from the waiter.

Lunch is a light option with a set main course and a dessert. When we stayed we had a very tasty prawn salad followed by chocolate mousse.

For dinner we had three courses, with a choice of sweetcorn soup or fish carpaccio as a starter. The main course was steak cooked to order with mashed potato and stir-fried vegetables. A chocolate brownie with chocolate sauce rounded it all off.

Dining style

Individual Tables

Dining locations

Indoor and Outdoor Dining

Further dining info, including room service

Yes – but there are no phones in rooms so room service must be pre-arranged.

Drinks included

No drinks are included in the rate at Nuarro, apart from specific juices with meals and water on activities.
Special interests
Solo Travel

Nuarrro is probably the best place we feature for solo travellers in Mozambique.
See ideas for Solo Travel

Beach holidays

The yellow sand of Napula's beaches and beautiful reef in front of the Lodge are ideal for activities on the beach and the water. Get ready for one of the best beaches in east Africa.
See ideas for Beach holidays

Diving & snorkelling

There is good shore diving in Nanatha Bay in front of Nuarro Lodge, with four dives over lovely reefs. Then there are three sites by boat within the bay and three just outside. Divers will find lovely corals and lots of juvenile fish, though sharks are less in evidence.
See ideas for Diving & snorkelling
Children
Attitude towards children

Nuarro has a minimum age of eight years old, although younger children may be able to stay at the discretion of the management.

Property's age restrictions

Children under eight are not usually allowed to stay at Nuarro.

Special activities & services

Nuarro has no special services or facilities for children.

Generally recommended for children

Nuarro is suitable for older children and teenagers who are able to entertain themselves.
Communications
Communications

There is weak cellphone reception at Nuarro, but they do have satellite coverage which allows WiFi in the beach bar, which is complimentary for guests. The lodge has a laptop that guests can use.

TV & radio

The TV in the activities centre is out of use at the moment (it was broken by a gecko!) but they plan to replace it in due course.
Sustainability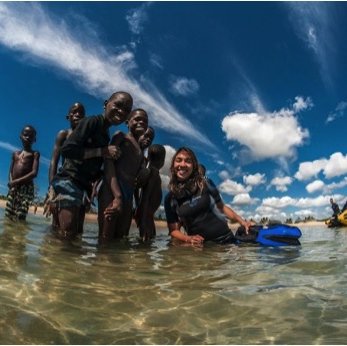 Nuarro's Community Spirit
Located on the shore of Nanatha Bay, Nuarro Lodge is committed to offer unique experiences for guests while placing the local community at the core of their operations. Built by locals with natural materials and powered by solar energy, the 12 chalets are placed along the dunes for privacy and minimum environmental impact. Nuarro works closely with the local community of Nanatha, ensuring that people benefit from the growth of eco-tourism. The lodge has employed 80 friendly locals and donates a percentage of their earnings to fund jobs, the Anan community centre and to develop agriculture. Locally-sourced products are sought after wherever possible, such as toiletries for guests or fresh coffee beans, thus generating more job opportunities for the community of Anan.
Recently, a new and exciting agriculture initiative has kept the whole team at Nuarro's on their toes, looking at developing a partnership with local farmers to buy fresh crops.

Additionally, Nuarro has facilitated the construction of a community centre where 450 children now go to school as well as the Anan Clinic, with the aim to increase awareness of hygiene and sanitation issues. Guests are invited to partake in village visits and engage with locals, or even make symbolic donations such as school supplies or toys for children.
See more great sustainability projects in Mozambique
Health & safety
Malarial protection recommended

Yes

Medical care

The dive team at Nuarro are fist aid trained and have a first-aid kit on site. For more serious issues there is a hospital in Nacala, which is two hours by car. Nuarro has no links to flying doctors but they can call a local flight charter company if necessary.

Dangerous animals

Low Risk

Security measures

Nuarro has security on the beach, at the back of the lodge and in various positions elsewhere. There are usually nine guards on duty at any one time and the reception has a safe for valuables.

Fire safety

Fire extinguishers are dotted around the main areas and there is one in every chalet. Several members of the team are trained to use them
Extras
Disabled access

Not Possible

Laundry facilities

Full Laundry Service - Extra Charge

Money

Nuarro will exchange very small amounts of British pounds, US dollars, euros and South African rands into meticais.

Accepted payment on location

Guests can pay for extras at Nuarro in cash (US dollars, euros, British pounds, South African rands and meticais) or by Visa card, but not by Amex or MasterCard.
Other lodges in Nampula Province
Alternative places to stay in this same area.
---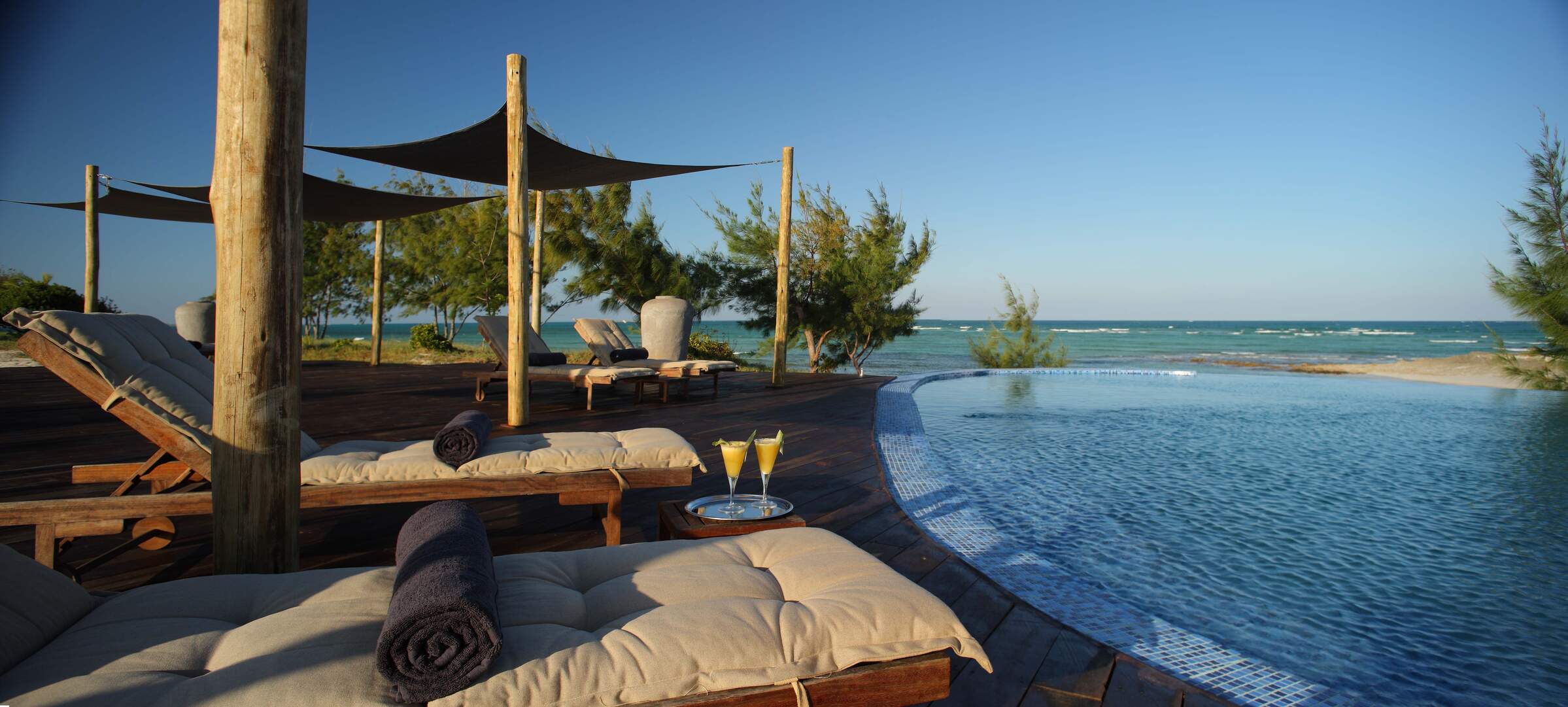 Coral Lodge
Coral Lodge 15.41 is a luxury lodge in a remote part of central Mozambique and is a great base from which to explore the historical Ilha do Mozambique
---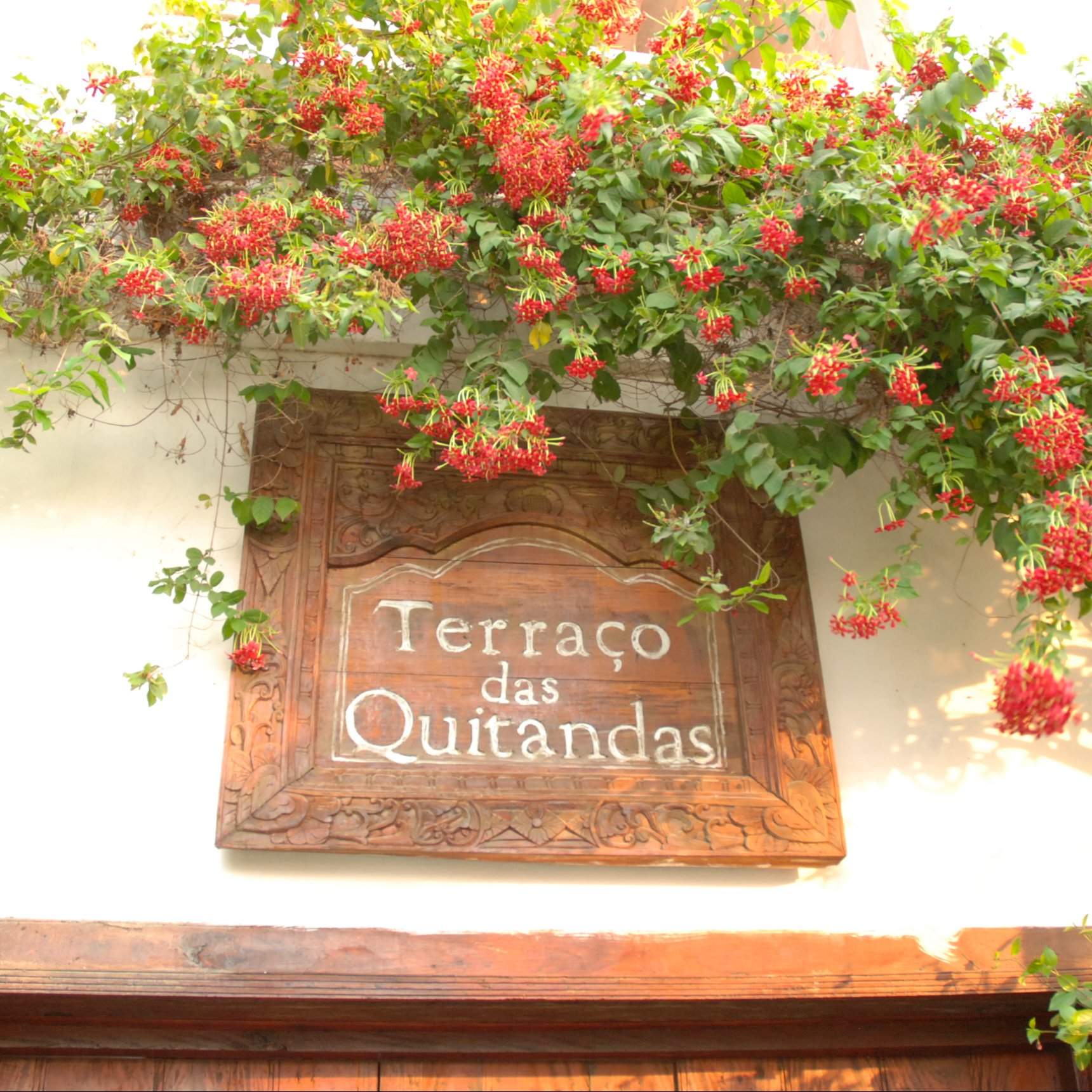 Terraco das Quitandas
Terraço das Quitandas is a small idiosyncratic boutique hotel, stuffed to the ceiling with beautiful antiques and perfectly located to explore Ilha do Moçambique.

---
Other areas in Mozambique
---