Nxai Pan Camp: Our full report
Nxai Pan Camp was opened in February 2009 and is still the only permanent camp within Nxai Pan National Park.
It faces east over the open plains of Nxai Pan, a grass-covered fossil lake-bed that was once part of the great lake that covered central Botswana. In the 'green season', between about late November and April, this area attracts large numbers of plains game, especially zebra.

Nxai Pan Camp is built in a semi-circle, with all the chalets and the main area facing towards an active waterhole. The main area is a solid, crescent-shaped structure under a tall thatched roof, completely open to the front and slightly raised on a wooden deck. It's a fairly similar design to its sister camp, Tau Pan Camp, in the Central Kalahari Game Reserve. There are canvas blinds which can be rolled down in case of cold or inclement weather, something which we really appreciated on one particularly cold night in May, during the southern hemisphere winter.

The dining area, with an exceptionally long communal table, plays host to brunch and dinner. This flows seamlessly through a simple little lounge area to the well-stocked bar at the other end of the building. Here you'll find a 'help-yourself' drinks fridge, as well as tea- and coffee-making facilities. White-washed floors blend in with the lighter-coloured earth around the camp, and add to the overall light and airy feel.

Outside, the wide, wooden viewing deck at Nxai Pan Camp leads down to an open, sandy firepit area. Guests often enjoy pre- and post-dinner drinks around the fire, and an early breakfast is usually served here too, before the morning activity.

Off to one side of the deck is a small plunge pool, with sunloungers offering front row seats to the action at the permanent waterhole in front of the camp. On one of our visits, we were quite entertained watching herds of bull elephants vying for prime position in the water.

The curio shop was well stocked when we visited, with a good range of items available. We were particularly grateful for our complimentary fleeces on a chilly morning game drive during one visit in March.

The nine chalets at Nxai Pan Camp, including one family unit, flank the main area, and are linked by raised wooden walkways. Inside, the chalets are wide, airy and spacious. Thick walls constructed of polystyrene with chicken wire and plaster afford good insulation, and these, together with an overhead fan, help to keep the chalets cool in summer and warm in winter. Although the lighting is quite poor at night, this is offset a little by light-coloured wood and white-washed floorboards.

At one end of each chalet is a sitting area and writing desk. In the centre, oversize twin beds, or a big double, face out through sliding doors with full-length gauze screens onto a wooden deck, most with good views of the permanent waterhole in front of the camp. At the opposite end, hidden behind a wall, is a very spacious en-suite bathroom complete with twin basins on a polished wooden counter, a large mirror, plenty of shelving and hanging space for clothes, an electronic safe, indoor and outdoor showers and a separate flush toilet. You'll also find shampoo, conditioner, bodywash, dressing gowns and a little pot of washing powder for your smalls.

The family unit has exactly the same facilities as the other chalets but with the addition of a second, twin-bedded room leading off the main bedroom. Note that there is only one shared bathroom for the whole family.

Game viewing in Nxai Pan National Park can be erratic, but is often exceptional in the so-called 'green season', usually from November to April. This is when the area receives the annual rains, and the pans become covered in lush, sweet grass. The abundance of nutritious food attracts swathes of plains game, including zebra, springbok, wildebeest and gemsbok: a veritable buffet for predators – including lion, cheetah, black-backed jackals and (because of the woodlands dotted around the pans) even leopard.

Of note are the unusually large herds of giraffe that have been spotted here, sometimes more than 30 in any one group. It was interesting to us that, because of the mixed vegetation, this is one of the few places in Botswana, and probably the most northern part of the country, where you are likely to encounter impala and springbok together.

Activities at Nxai Pan Camp centre around morning and afternoon game drives in 4WD vehicles. Game drives here feature a guide and tracker team which can really help to maximise possible game sightings. Because the camp is in a national park, however, no off-road driving or night drives are allowed.

On our most recent visit in April 2016, we were treated to plenty of great game. As well as countless elephant, both at the permanent waterhole in camp and on our game drive, we saw cheetah, a pride of 19 lions, leopard, zebra, jackal, wildebeest, giraffe, both impala and springbok, oryx, and the elusive nocturnal porcupine.

The birding at Nxai Pan was exceptional! During our two days here we saw red-billed quelea, blacksmith lapwing, black-chested snake eagle, African hoopoe, pale chanting goshawk, western cattle egret, lilac-breasted roller, fork-tailed drongo, crimson-breasted shrike, Montagu's harrier, greater kestrel, Kalahari scrub robin, shaft-tailed whydah, southern masked weaver, rufous-naped lark, tawny eagle and secretary bird.

In the southern section of Nxai Pan park is an unusual group of giant baobab trees. Known as Baines' Baobabs, they were immortalised by the Victorian artist Thomas Baines, who painted them in 1861. If you were to look at his picture today, you'd note that they remain almost exactly as he painted them around 150 years ago. They are quite a drive from the camp, so are usually best visited on a full-day trip – though it's worth noting that the long and bumpy drive is not a game-drive route. Of considerable note on this trip was our epic sighting of a 2.5m black mamba crossing the road on our way to Baines' Baobabs!
Our view
Nxai Pan Camp is modern and spacious, run by a fantastic, cohesive team who are passionate about the area they work in and offer a genuinely warm welcome. Although the game can be erratic, game drives from camp can yield great summer game-viewing and birdwatching opportunities – and the camp is also well situated to visit the renowned Baines' Baobabs.

Do be prepared to cut your communications off from the outside world for the duration of your stay: the camp's "digital detox" policy means it's a real immersion in the wildlife and wilderness experience – with no digital distractions.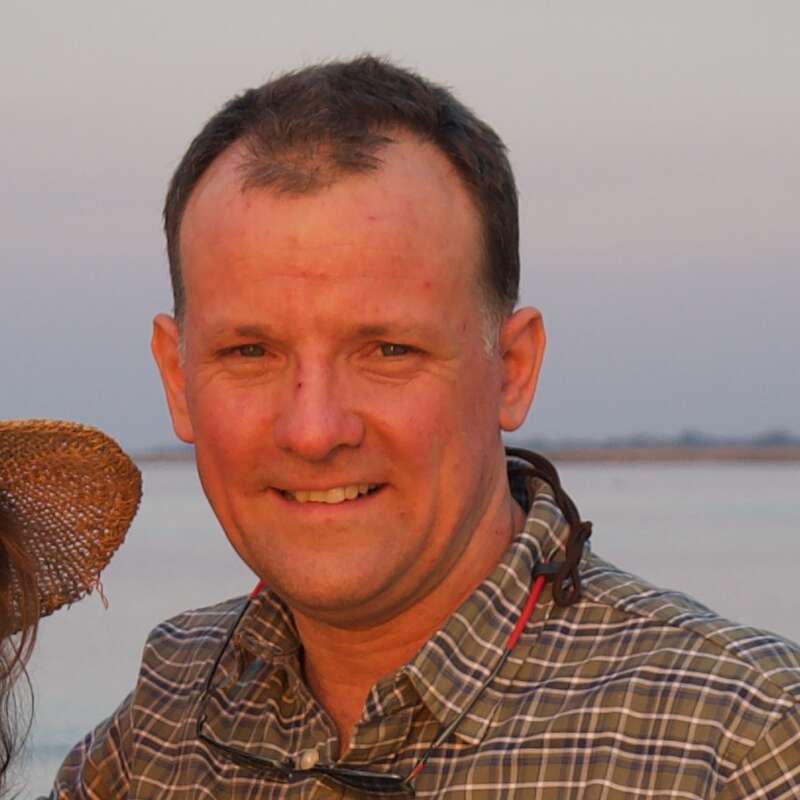 Geographics
Location

Ideal length of stay

Two nights at Nxai Pan is usually ideal, but during the summer months when summer game-viewing opportunities are potentially very good, we might suggest three nights.

Directions

Access is usually by air. It is approximately a one-hour light aircraft flight from Maun Airport to the airstrip for Nxai Pan Camp, followed by a 15-minute game drive to the camp.

Accessible by

Fly-and-Transfer
Food & drink
Usual board basis

Full Board & Activities

Food quality

A light breakfast is served around the campfire before your morning activity. Breakfast usually consists of freshly baked muffins, homemade muesli, fresh fruit, a pot of porridge bubbling on the fire, tea, coffee and fruit juice.

Brunch is served on return from your morning excursion and always consists of salad, freshly baked bread, a hot dish and eggs cooked to order.

Afternoon tea generally comprises both a savoury and a sweet dish. On previous visits, the homemade spicy chutney served with chicken and vegetarian pizza slices was delicious and, along with pineapple cake, very satisfying. Tea, coffee, refreshing homemade lemonade and iced tea re also on offer.

Dinner is three courses, usually served a little earlier than at camps in private concessions as you'll arrive back in camp within about 30 minutes of sunset. In the past we have enjoyed tasty spinach and feta filo pastries for a starter, followed by a buffet of mixed venison and vegetable stew, a vegetarian lentil bake, steamed carrots and baby marrows. It wasn't haute cuisine, but it was homemade and flavoursome. Dessert was a simple baked apple with a drizzle of custard.


Dining style

Group Meals

Dining locations

Indoor and Outdoor Dining

Further dining info, including room service

There is no room service at Nxai Pan Camp.

Drinks included

Bottled water, soft drinks, local beers and spirits and a limited selection of (usually) South African red and white wines are included. Champagne and imported wines and spirits cost extra and may need to be requested in advance. Each guest is given a labelled plastic water bottle to keep, and is encouraged to top it up with filtered water from the camp's main area, generated by reverse osmosis machine. Each chalet is also provided with glasses and a flask of filtered drinking water, which is replenished daily.
Special interests
Family holidays

Nxai Pan Camp has a family unit and is a good option for a family safari in Botswana for those with older children who are enthusiastic about wildlife. It is also possible to book a private 'family safari', guided by a child-friendly guide and tracker.
See ideas for Family holidays
Children
Attitude towards children

Nxai Pan Camp has a positive approach to children on safari and, generally, children are welcome. However, please take into account the restrictions below.

Property's age restrictions

Families with children of 6–12 years are required to take a private vehicle on game drives. Depending on the size of the family group, there may be an additional charge for this vehicle.

Children younger than six are accepted only if the entire camp is reserved for exclusive use.


Special activities & services

The lodge can arrange special activities for children, such as kite-flying and marshmallow-roasting. The staff try to be flexible with children's mealtimes, and to cook favourites such as macaroni cheese.

Guests travelling with children have the option of booking a specialist 'family safari' (at extra cost). The family will explore with a specialist guide, inspiring children to learn and love the wilderness. They will also benefit from a private vehicle with their own guide and tracker who will look after them both on game drives and in camp.


Equipment

There is a two-bedroom family unit at Nxai Pan Camp, but no special equipment is available.

Generally recommended for children

We recommend Nxai Pan Camp for more mature children over the age of 6, who are genuinely interested in different aspects of nature.

Notes

Nxai Pan Camp has an electric fence to prevent elephants from drinking out of the pool and damaging their water pipes, but other dangerous wildlife can wander through the camp at any time. There is also no fence around the pool. Parents must supervise their children at all times.
Our travellers' wildlife sightings from Nxai Pan Camp
Since mid-2018, many of our travellers who stayed at Nxai Pan Camp have kindly recorded their wildlife sightings and shared them with us. The results are below. Click an animal to see more, and here to see more on our methodology.















Communications
Power supply notes

Nxai Pan Camp uses solar power to generate electricity for the camp, and to heat the water. Generally the solar system is reliable although it can take several minutes for the hot water to make its way to the tap. The generator is run for three hours morning and evening – both times when guests are out on activities.

Electrical equipment can be charged in the main office; the camp has a range of adaptors which should work for the majority of appliances. Power is available in the chalets at all times.


Communications

There is no cellphone reception, no direct phone or fax - and no email or internet thanks to a company policy of 'digital detox'. Communication is maintained with head office in Maun via radio.

TV & radio

There is no TV or radio at Nxai Pan Camp.

Water supply

Borehole

Water supply notes

All the chalets have plumbed hot and cold running water for showers, basins and flushing toilets. Guests are given a water bottle on arrival which they are encouraged to top up from the filtered supply in the camp's main area. Each room is also provided with glasses and a flask of filtered drinking water, which is replenished daily.
Health & safety
Malarial protection recommended

Yes

Medical care

Camp managers are first-aid trained and a first-aid kit is kept at camp. In an emergency, the camp can arrange for clients to be flown out. Please note that it is only possible to fly out of camp during daylight hours as the bush airstrips do not have any lighting at night.

Dangerous animals

High Risk

Security measures

The walkways are slightly raised off the ground but dangerous wildlife is known to move through camp. Therefore guests are escorted to their chalets after dark. A safety talk is given on arrival and 'fog-horns' are provided in the chalets to raise the alarm in case of emergency.

Fire safety

There are fire extinguishers in the communal areas of the camp and in each chalet.
Activities
4WD Safari

Birdwatching

Cultural excursion

Guided walking safari
Extras
Disabled access

On Request

Laundry facilities

A laundry service is included (excluding underwear). Laundry is collected in the morning and usually returned the same day, weather permitting. Washing powder is provided in the room for guests to wash their 'smalls'.

Money

There is a safe in each room. Please note that no exchange facilities are offered.

Accepted payment on location

MasterCard and Visa credit cards are accepted; Diners and Amex are not. No commission is charged on credit card transactions, but there is a 3% surcharge on curios if a card is used in payment. Cash in the form of South African rand, GB sterling, US dollars, euros and Botswana pula is accepted.
Room types at Nxai Pan Camp
Chalet
The chalets at Nxai Pan Camp are linked to the main area by low raised walkways. Thick walls and specially selected building materials, together with an overhead fan, help to keep them cool in summer and warm in winter.

Inside, the chalets are wide, airy and spacious. Although the lighting is quite poor, this is offset a little by light-coloured wood and white-washed floor boards.

At one end of each chalet is a sitting area and writing desk. The oversize double or twin beds face out through sliding doors with full-length gauze screens onto a wooden deck, most with good views of the permanent waterhole in front of the camp.

On the opposite end is an en-suite bathroom with a separate flushing toilet, double hand basins, and both indoor and outdoor showers.

Separating the bathroom from the bedroom area is a wall which incorporates shelves and hanging space for clothes, as well as a safe.

One of the chalets is a family unit, with an additional twin-bedded room leading off the main bedroom. The unit features the same facilities as the other chalets but note that there is one shared bathroom for the whole family.
Other lodges in Kalahari's Salt Pans
Alternative places to stay in this same area.
---