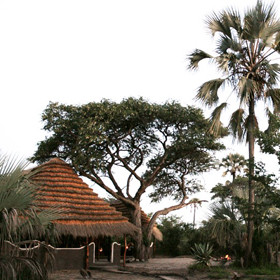 Camp Kalahari is nestled amongst acacia and palm trees, on the edge of the Makgadikgadi Salt Pans.
Camp Kalahari: Our full report
Rooms
11 Meru en-suite tents
Traveller's rating

(94%) From
38 reviews
Children
Best for older children 8+
Open
All year
Camp Kalahari sits on the edge of the Makgadikgadi Salt Pans on a shrubby outcrop known as Hyena Island. It's the simplest of the three camps in this region, but still makes a good location from which to explore the salt pans in the dry season, or witness southern Africa's largest migration of zebra and wildebeest when the rains arrive.

The V-shaped, thatched main area at Camp Kalahari has two 'arms' – one the dining room and the other the lounge. Both are on very slightly raised, polished concrete bases covered with a combination of sisal matting and oriental rugs. Like the rest of the camp, they are decorated with local crafts and furniture, as well as some campaign furniture, indicative of a bygone era of exploration. Old glass cabinets house artifacts and the walls are adorned with interesting old maps and pictures. The dining room has one long table and directors chairs for convivial meal times, a help yourself bar and water cooler (both housed in old wooden chests), plus a dark wood side board with a permanent tea/coffee station. Opposite the small lounge has a couple of cosy seating areas with comfy sofas with red/cream fabric and cushions plus a small library housed in an old glass cabinet. There is also a multi-adaptor charging station here for camera batteries etc..

A short distance from the main area is the new swimming pool, with a thatched, shady area covering a set of deck chairs and a couple of day beds. This has been sited on the outskirts of the camp – partly because it provides a more open feel away from the thicker foliage and partly because it keeps thirsty elephants out of camp. Although small, it's certainly big enough for a cooling dip in the heat of the day. When we popped in for a visit in October 2017 we were informed that the pool is going to be enlarged during 2018.

Sandy pathways lead to Camp Kalahari's eleven Meru-style canvas tents. Six of these are twin, four are double and one – designed with families in mind – is effectively one twin and one double tent linked by a large bathroom. At present most of these are on low wooden decks, however on our last visit (October 2017) we were informed that they it is likely that they will all gradually be rebuilt on raised decks – two have been completed already. The steel framed, four-poster canopy beds have mattresses elevated high off the ground , which gives plenty of storage space for luggage underneath. When the evening temperatures really drop in the winter months, we are pleased to say that a hot water bottle is placed in the beds on returning from dinner each night. There is also an old fashioned desk with some glasses and a flask with cold drinking water, plus a standing fan for the hot summer months. The electricity in the rooms is for lighting and the fan only – charging of batteries must be done in the main area.

All of the tents at Camp Kalahari are en suite with outdoor bathrooms through the back of the tent housing a toilet and shower; though they have wooden palisade screen walls and are mainly covered by gauze netting and flysheets (with the exception of the family tent which has an open top shower area).

Activities from Camp Kalahari include morning and evening 4WD safaris in and around the Makgadikgadi Pans National Park, often with spotlit night drives on the return to camp in the evenings. They are also keen to offer a designated night drive after supper, especially in the warm summer months as it takes a bit of time for the temperature to drop and all the nocturnal animals to come out. On our last stay we spent a fascinating evening watching brown hyena, bat-eared foxes and aardwolf as they emerged for their nocturnal activities.

Note that Camp Kalahari's vehicles have three rows of seats, and take up to nine guests per drive. If the vehicle is full, it can feel overcrowded and those at the back may find it difficult to hear everything that the guide says. Unusually for a Botswana camp, there is no stipulation by Camp Kalahari that travellers with young children must hire their own private vehicle. That's good news for families who can enjoy the activities with their children; it may be viewed as bad news by adults looking for peace and quiet.

A real highlight of both Camp Kalahari, and its sister camps, Jacks Camp and San Camp, is a visit to one of the four resident families of meerkats. These have been semi-habituated to humans: while they are wild animals, they more or less ignore visitors. Spending a morning following the meerkats as they foraged across the Kalahari for grubs and scorpions was fascinating; they're exceptionally cute and very inquisitive and we stood or sat just a few metres from them for several hours. The meerkat family visit was one, amongst many, of the wildlife highlights of our recent trip to Botswana.

Quadbiking excursions onto the huge Ntwetwe Pan (which covers about 6,500 km2) are a real feature of visits to Camp Kalahari in the dry season, from around May to October. Because of the fragility of the pans, quadbiking is possible only during this period, sticking strictly to set tracks, so ask us if this is something that appeals to you and we'll do our best to advise you accordingly. (NB: It's essential that you read the Quadbike warning in the 'Health & Safety' section below for our comments bike helmets on this activity.)

Horseback riding is also available here. You can choose between rides of a few hours or a whole trip of up to five nights, which is for experienced riders only!

The 'Bushman experience' at Camp Kalahari is very good too – the best of all the similar activities we have taken part in during our visits to Botswana. There's nothing fake about this experience; it's simply a group of men and women of varying ages sharing some of the knowledge passed down to them by their forefathers on how they have traditionally survived in this wild and harsh environment and enjoying some games too.

In the past, guests visited Chapman's Baobab relatively frequently – it's estimated to be about 4,500 to 5,000 years old. Historically, a hole in this great tree was used as a postbox, with mail left to be collected by those passing. Although the ancient tree tragically collapsed in June 2016, you can still see the enormous fallen trunk, which is split into two relatively even masses, though naturally the appeal to see this is now not so high.

Our view
Camp Kalahari doesn't have the prestige or the refinements of its sister camps, but it offers similar activities for a cut-down price. The wide range of activities means that no one, young or old, should become bored – but you should expect simpler facilities and meals, and probably more companions on your drives, than you would have had at its sister-camps. It's a good option for travellers with children, but also delivers a relaxed and peaceful experience.
Geographics
Location: Kalahari's Salt Pans, Botswana
Ideal length of stay: 3 nights if possible
Directions: Camp Kalahari is approximately a 50-minute light aircraft flight from Maun, followed by a 4WD transfer to camp of roughly 15-20 minutes. Alternatively it's approximately four hours' drive from Maun, with the last part of the journey requiring a 4WD. Note that getting there by road doesn't end up being a cheaper option, even if you've got a hired car!
Accessible by: Fly-and-Transfer
Key personnel
Owner: Ralph Bousfield - Uncharted Africa
Food & drink
Usual board basis: Full Board
Food quality: Meals at Camp Kalahari were good on our last stay here.
Breakfast is varied, with fruit, cereals and savoury products available as well as a cooked option.
Dinner during our stay was a leek soup followed by chicken curry and rice, with banoffee pudding for dessert.
The camp produces its own 'Pilli-Pilli Ho-Ho' which is bottled and on hand at mealtimes. This blend of chillies, sherry and gin is very fiery but very tasty too. It's a great example of the little personal touches which make Camp Kalahari and its sister camps special.
Dining style: Group Meals
Dining locations: Indoor and Outdoor Dining
Cost of meal e.g. lunch: Included
Drinks included: Included
Further dining info: No
Special interests
Family holidays: Adventurous quad biking across the Kalahari saltpans and fascinating bushman experiences make for memorable, hands-on family safari holidays at Botswana's Camp Kalahari. The semi-habituated family of meerkats here is another highlight for children and adults alike.
See more ideas for
Family holidays in Botswana
Riding holidays: Camp Kalahari offers two sorts of riding activities. As well as the quad biking experience, which is identical to the one at its sister camps (Jack's and San), you can also explore the exceptional scenery on horseback with trips lasting up to five nights.
See more ideas for
Riding holidays in Botswana
Cultural experiences: Camp Kalahari offers a fascinating and authentic walk with Bushmen. Our team has done this and said it is one of the best on offer. You'll go out with Bushmen guides, looking at the surrounding flora and fauna, and hearing about their culture.
See more ideas for
Cultural experiences in Botswana
Wildlife safaris: Visiting Camp Kalahari's family of meerkats is an exceptional experience. Lions, brown hyena and other species frequent this area, although the wildlife densities are low in the dry season. During the rainy season, zebra can sometimes be seen here in their thousands.
See more ideas for
Wildlife safaris in Botswana
Walking: Our team rate the Bushman walks at Camp Kalahari as some of the best on offer. The Bushmen explain how they survive using knowledge passed down to them through the generations. We found this fascinating.
See more ideas for
Walking in Botswana
Children
Attitude towards children: Camp Kalahari welcomes children of all ages. Note that children under the age of 12 years are not allowed to drive the quadbikes but younger children may accompany an adult.
Property's age restrictions: There are no age restrictions at Camp Kalahari.
Generally recommended for children: Camp Kalahari makes a fantastic family safari destination, and children love the meerkats. Unlike at Jack's and San camps, families with younger children are not required to take a private vehicle. This camp caters well for children.
Notes: The salt pans is not an area of prolific game, but lion, elephant and other dangerous game (like honey badgers) do sometimes pass through the camp despite an electric fence surrounding the camp being put in up 2015. So children should always be closely supervised.
Infrastructure
Power supply: Generator
Communications: There is no internet or cellphone reception at Camp Kalahari.
TV & radio: No
Water supply: Borehole
Health & safety
Malarial protection recommended: Yes
Medical care: All of the senior camp staff are first aid trained. The nearest doctors are a short flight away in Maun or Francistown. In a serious emergency, guests would be flown to Johannesburg by Medivac. Please note that it is only possible to fly out of camp during daylight hours as the bush airstrips do not have any lighting at night.

Quadbike warning: with an abundance of caution, we feel that it's important to let prospective visitors know that although safety helmets are provided for the quadbike activities here at Camp Kalahari and at its sister camps, San Camp or Jack's Camp, there is scant mention of them by staff. They are left hanging up on a post at the side with the guides just demonstrating how to use the khikoi as a head wrap. We would very much recommend that you ask to use one of the helmets for your personal safety.

We understand that the camps have operated quadbikes regularly here since 1992, and that at time of writing (October 2017) there has never been a serious accident. The camp's team comments that they regard this activity to be safe, even without helmets, especially as they generally keep to specific tracks and don't speed; and that the area is largely flat and free of other traffic. We're not aware of any of our travellers having any problems over the years prior to the helmets being introduced in 2016, and all of our team members who have visited there have enjoyed quadbiking activities in the past without any problems or concerns.

If you are concerned about the safety aspects of this activity per se, please tell us very clearly and specifically in writing, before you travel; request that we confirm to you in writing that we have arranged for you to be driven across the pans in a vehicle instead of using a quadbike. If you leave this decision until you're at camp, and then choose that you don't want to do this quadbike activity, then alternative arrangements may not be possible. Although, of course, you can always omit this activity, and relax around the camp and swimming pool instead! (Sadly, refunds aren't possible if you choose to miss activities like this at a camp.)

As with any activity, please check the details of your travel insurance to ensure that you are fully covered in the case of quad-biking accident. Be aware that some insurances will provide cover for bikes up to a certain engine power, but not beyond - so you need to check such clauses particularly carefully.
Dangerous animals: High Risk
Security measures: Guests are escorted to their rooms after dark.
Fire safety: There are fire extinguishers in all of the rooms and in the main area.
Extras
Disabled access: Not Possible
Laundry facilities: A laundry service is included – excluding underwear for which washing liquid is provided in each tent.
Money: There is a digital safe in each tent. Currency exchange is not available.
Accepted payment on location: MasterCard and Visa credit cards are accepted; Amex and Diners are not. Cash payments may be made in GB pounds, US dollars, euros, South African rand and Botswana pula.
The information on this page is our report, of what we saw, felt and experienced personally on our visits.
See Info from the owner for the standard information written by the owner about this property.