With ideas from Expert Africa for tailor-made safaris.
The Samburu National Resrerve is one of Kenya's best-loved wildlife sanctuaries. In complete contrast to the rolling savannahs of the Maasai Mara, Samburu is arid country, its appeal to wildlife (and visitors) deriving from the Ewaso Nyiro river that runs through it - meandering past groves of forked doum palms with their science fiction appearance. Samburu has a wealth of wildlife in a relatively small area - elephants are legion and there are plenty of lions, leopards and cheetahs picking on the grazing antelope, zebra and other species drawn here for water and grazing. Our camps include several with riverside locations and an open-air tented lodge standing on solid rock in the dramatic Kalama Conservancy, just north of the reserve.
Sort by:
Name


|
Duration


|
Group or individual trip


|
Cost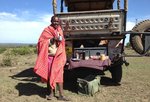 Lanner Falcon Fly-In Safari
|
8 days
|
Individual trip

US$5,135-6,789
Dramatic landscapes and superb guiding are the hallmarks of this thrilling 9-night safari, taking in semi-arid northern Kenya and the wildlife-rich Maasai Mara ecostyem. You'll start the safari in the spectacular Kalama Conservancy neigbouring the Samburu National ...
More about Lanner Falcon Fly-In Safari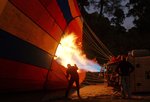 Steppe Eagle Fly-in Safari
|
8 days
|
Individual trip

US$4,030-6,063
For a wildlife holiday combining the remote beauty of the Samburu National Reserve's unusual, palm-fringed riverine landscape with the intense animal action usually experienced in the Maasai Mara, this 7-night safari has few equals. You start the trip on the ...
More about Steppe Eagle Fly-in Safari