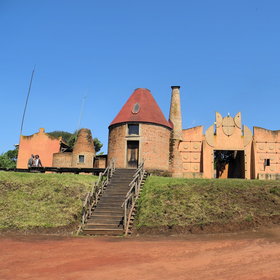 Ngorongoro Crater Lodge stands in an amazing location...
Manyattas
The individual Maasai-inspired manyattas at Ngorongoro Crater Lodge are dotted along the hillside, all looking out over the Ngorongoro Crater. From the outside the rooms look delightfully rustic, with red mud-packed walls, thatched roofs, and chunky wooden poles raising them about a metre off the ground.

Inside, though, rustic charm gives way to sheer indulgence and luxury. The rooms have plenty of space, yet feel very warm and cosy due to the dark wood floors and walls, and deep-coloured soft furnishings. At their centre is a vast (and incredibly comfortable) four-poster bed, with an electric blanket for each side of the bed; on cool evenings this will usually be turned on by your butler.

Each room has a lounge area, with two leather chairs placed beside a fire, which is lit at your request. We particularly enjoyed relaxing here, sipping on a glass of sherry after a long day on safari – and nibbling on the sweets that were placed out on the coffee table (the fudge was delicious!). Or you can make use of the gin and tonic minibar, as you take in the views from your day bed on the balcony.

Beautifully carved wooden doors divide the bedroom from the bathroom area, which is also delightfully over-the-top. A chandelier hangs above a free-standing bath, which will (on request) be filled to the brim with warm bubbles. A wonderful array of soaps is set beside the bath, and in the evenings, there is plenty of time to enjoy a relaxing soak.

The bathrooms also have a spacious shower, two basins and a flush toilet that sits behind a door for privacy, but has a window in front so that even from here you can look out over the Crater.

Between the bathroom and the bedroom is a small vestibule area with space for storing your clothes, a little vanity table, a mirror and a hairdryer.

All the rooms at Ngorongoro Crater Lodge have phones from which you can call room service, and access an outside line (international calls cost US$10 a minute). There is also a safe for any valuables.

The rooms don't have air conditioning or fans, which are largely unnecessary since the lodge sits at a high altitude, where the air is usually quite cool. In fact, the fire and electric blanket are much more appropriate for the cool evening temperatures here.

What really struck us about the rooms at Ngorongoro Lodge was that no matter where you are – be it lying in bed, having a bath, or even in the toilet! -– you will always have a view of the Crater.