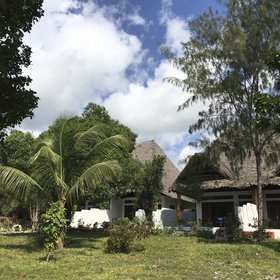 The four seaview suites…
Seaview Suites
The relatively new
seaview suites
are much fancier than Pongwe's standard rooms, incorporating Zanzibari double beds (they can only be set up as doubles) with full-height mosquito netting fans, very spacious wardrobes and slick en-suite bathrooms. Though it's as well to reminder that the water supply is briny: while it's treated and fine for washing, it requires a bit of vigorous towelling to remove the slightly sticky residue. On the other hand, this is almost paradise, so why worry about salty water?
Outside, each suite has a sizable, private plunge pool and there are recliners and hammocks on the private terrace.
These suites are the rooms at Pongwe that we normally recommend to honeymooners, and while they might not have quite as much character as some of the older rooms close to the lounge and dining area, we think the extra luxury and great value they offer more than compensate for that.
Cottage rooms | Seaview Suites |