Chief's Camp: Our full report
Chief's Camp lies within the Moremi Game Reserve's exclusive Mombo Concession, on the north-western side ...
... of Chief's Island – the largest land mass in the Okavango Delta. The island is renowned for some of the best game viewing in Botswana. Between January and May 2016, Chief's Camp underwent extensive renovations, reopening on 1 June.

We were fortunate enough to stay at Chief's Camp in September 2018, when we were greeted by a welcoming choir and managers. It was quite nice having a rolling safety ladder wheeled directly to our 4WD vehicle, helping guests to get in and out of the back rows. A large raised wooden boardwalk leads into both the camp's main area and an orientation room with a television, couches and library. The latter room, whose walls are covered in beautiful old maps of Africa, can be used for lectures and screening wildlife films, but the large flat-screen TV is not connected to international television. There is also a laptop computer connected to the internet for guest use.

The main area itself features a very nicely stocked curio shop, with local crafts, scarves, clothes, CDs and books, and a reception desk where guests can discuss what activities they would like to do during their stay. The lounge is separated from the reception area by a unique 'wall', whose top section consists of numerous vertical strands of white rock – an impressive feature, creating a very open, airy atmosphere. In the lounge, white upholstered couches sit on either side of a wooden coffee table, with additional seating provided by both leather and thatched chairs. There are stools round the bar, too, which during our visit was a very lively spot for pre-dinner drinks.

Behind the bar is a large swimming pool, with a massive wooden deck set with sunloungers, chairs and tables, all shaded by big canvas umbrellas. Conveniently, there are both men's and women's restrooms here too.

Overlooking the floodplain is a nice seating area with large thatched cushioned chairs and tables. This is where guests typically enjoy high tea with their guides before their afternoon activity.

Steps from the seating area lead down to an outdoor boma with numerous folding canvas chairs and a small open firepit. On weekly 'traditional' nights, guests dine under the stars at the boma – an experience that we were treated to on our last visit.

Most meals, however, are taken in the dining room, against the backdrop of a beautiful black-and-white photograph of a leopard, and an old-fashioned clay pizza oven. Guests are served at individual wooden tables

Beyond the main area, Chief's Camp is divided in two. To the west are the spa, six rooms, and a children's retreat, while to the east are the fitness centre, a further four rooms, and the Geoffrey Kent Suite. Accommodation options total 10 bush pavilions and one two-bedroom suite.

The camp's ten newly renovated luxury bush pavilions are indeed quite chic. Each is set on a raised wooden platform reached by two steps. Two wooden doors open up to a foyer where a wooden wall with a big open window features the camp's hallmark vertical strands of white rocks. Here you'll find a set of shelves with a coffee maker, kettle, biscuits, and several different teas and coffees, as well as a tray with an ice bucket and small bottles of gin, vodka and brandy, a bottle of red wine, a decanter of sherry, and both cocktail and wine glasses. There's also a stocked minibar.

Inside the bedroom, the large double bed is topped with tasteful cushions and beige throw blankets. Two wooden cushioned chairs with a small table form a sitting area that faces the deck, and the adjacent writing desk, set beneath a screened window, has a charging station with multiple international plugs and a USB wire), and a lamp. A massive vanity desk with enormous mirror, and a large walk-in closet, complete the picture, the latter incorporating a large safe, bug spray, and insect repellant – and a door that leads into the outdoor shower.

Separated from the bedroom by a sliding wooden door, the bathrooms are bright and open, lit by both natural light and an oval-shaped chandelier made up of the iconic Chief's Camp hanging white rock strands. The centrepiece of each bathroom is a big white free-standing bathtub complete with Africology toiletries. A wooden counter with dual white washbasins separates the bathroom from a large stone-walled indoor rain shower. A glass door opens up to reveal a large wooden deck and a marble slab surrounded by white rocks, which serves as an outside shower, with privacy provided by thatched walls.

Glass doors from both the bathroom and the bedroom lead out onto a substantial outdoor deck, with three sitting areas: one where private meals can be arranged; a second with chairs overlooking the floodplain and a circular plunge pool; and a third where there's a daybed with throw pillows where guests can relax and enjoy lovely views of the floodplains.

At the furthest eastern point of the camp lies the massive two-bedroom Geoffrey Kent Suite, whose interconnected rooms can be booked for up to six people or – in the case of the 'Mini Suite' – as a stand-alone option.

The bedrooms and bathrooms here are more or less identical to those in the luxury bush suites, each with a plunge pool , a daybed, seating area, and a table for private dining. The big difference is that the 'Mini Suite' has a private prep kitchen, a large bar with four bar stools, and an indoor lounge that opens up to a covered deck and on to a sand boma and firepit. It's this that makes the Geoffrey Kent Suite special, especially for entertaining a small group of people, whether it be a family or two couples.

Photos of safari pioneer Geoffrey Kent posing with various celebrities feature on one side of each room, and floor-to-ceiling glass windows overlook a large deck on the other. This deck is used only when both rooms are booked as access is from a canvas screen wall.

The suite is reached from the main area via the same dirt path as the fitness centre and four of the rooms, but towards the end the path turns into a raised wooden boardwalk, giving a feeling of exclusivity. It has its own private entrance and its own staff – guide, chef, butler and housekeeper –,as well as a private guide and vehicle, and can be considered a separate entity from the camp itself. That said, guests here are welcome to use the main area of Chief's Camp as well as its various amenities.

In the fitness centre, we were impressed by the layout and equipment: two treadmills, a spin bike, an extensive rack of dumbbells and an adjustable exercise bench. There are good storage and shower facilities here, too.

At the far end of the path from the main area in the opposite direction is the spa. Treatments, which use Africology amenities and products, can be arranged either in one of the spa's treatment rooms or pool side, subject to availability.

An enormous hit with youngsters is the children's retreat, kitted out with table football table, colouring books, shelves of puzzles, games and books and a small teepee. In keeping with the location, there are also several microscopes with samples of bugs and leaves to observe. Arguably top of the attractions for children are a black light room where they can draw on the walls with glow-in-the-dark markers, and a TV connected to a PlayStation 4 surrounded by five comfortable bean bags!

Activities at Chief's Camp focus on 4WD game drives and, subject to water levels, mokoro excursions. Game drives allow guests to experience the island's varied terrain and generally prolific wildlife – including an array of bird species – although Chief's Camp's location within the Moremi Game Reserve means that game drives are restricted by national-park regulations, which prohibit off-roading, night drives and walking.

A maximum of six guests on the open-sided vehicles affords everyone an outside seat, though groups of up to nine travelling together and wanting to be in one vehicle can be accommodated. The vehicles have good legroom and comfortable armrests, and the guiding is good. On our last visit we noticed that the seat covers were brand new with smart Chief's Camp logos embroidered on each one.

Regular sightings on game drives include elephant, lion, giraffe, vervet monkey, leopard, spotted hyena, a variety of antelope, zebra, baboon, buffalo and wild dog. We enjoyed very good game viewing on out last visit, including a small pride of lions consisting of 3 females and 4 cubs, and a very playful group of wild dog puppies which were being looked after by 2 adults whilst the rest of the pack were out hunting. As well as these two predator sightings the general game was plentiful and the birdlife was great.

Chief's Island was the location for the release of most of the rhino that have been reintroduced into Botswana in the last decade or so. Although a fair number have stayed around this area (with the rest having spread out over central and northern Botswana), and the island still offers one of Botswana's best chances of spotting rhino, they remain elusive and rarely seen. This was borne out on our last visit, when we did spot black rhino tracks but none of the resident rhino population.

The peak season for mokoro trips at Chief's Camp is between approximately May and October. Mokoros are not available in January and February, while at other times, water levels are dependent on the rains and the timing of the annual flood. On past visits, water levels prevented us taking out a mokoro, and although during a previous stay in October mokoro activities were available, we chose to focus on game drives due to the superb quality of big game in the area! When the water is high, mokoro trips start from in front of the lodge and offer a slightly later start than game drives, ideal for those wanting a bit of a lie-in.

At extra cost are helicopter flights soaring above the heart of the Delta and Chief's Island.
Our view
The newly renovated Chief's Camp has a great new design and a fresh, luxurious look. The wildlife in the area definitely lives up to its reputation, and we find the guiding to be quite good. Chief's does come at a high price tag, but it is well worth it for guests looking for luxury and excellent wildlife.

Geographics
Location

Ideal length of stay

Most guests stay for two or three nights, though given the game-viewing opportunities on Chief's Island we'd ideally recommend three nights – particularly during the annual flood (June–October), when both game drives and mokoro trips are available.

Directions

Chief's Camp is reached by light aircraft into Piajio airstrip – a 25-minute flight from Maun or 1½ hours from Kasane. The airstrip is about 25 minutes' drive from camp, depending on what you see along the way.

Accessible by

Fly-and-Transfer
Food & drink
Usual board basis

Full Board & Activities

Food quality

The food has been very good on our many visits to Chief's Camp, and our last visit, in September 2018, was no exception. Meals were fresh, tasty, well presented and of a very high standard. With advance notice, the camp can cater for vegetarians and other dietary requirements.

Unlike most camps in Botswana, lunch and dinner are served at individual tables rather then at a communal dining table.

Breakfast is served before the morning activity. We helped ourselves from a continental buffet of cereals, yoghurt, fresh fruit, cold meats, cheeses and croissants. A cooked breakfast was made to order, with a variety of options.

We arrived in time for lunch on our last visit, along with a wide selection of salads from the buffet including lettuce, feta, chickpeas, cucumber, olives, tomatoes, as well as homemade bread. The head chef was standing by with a Moroccan themed seleciton of fillers including homemade hummous, falafels which could be combined with a chicken or beef filling for a home made wrap.

Afternoon tea was served at 3:30, half an hour before our gamedrive. In addition to a very tasty chocolate cake, there were small brushettas topped with brie, honey and nuts. Drinks included hot or iced tea, coffee and lemonade.

Dinner was a traditional local meal served buffet style to guests seated around private dining tables in the sand boma. Following a creamy parsnip soup we were offered a selection of pounded beef (seswaa), grilled chicken, Kudu sausage, local bream and goat chops which could be accompanied by pap (a local version of polenta), baked potato, stewed vegetables, rice, and corn on the cob. Dessert was a very rich chocolate cake.


Dining style

Mixture of group dining and individual tables

Dining locations

Indoor and Outdoor Dining

Further dining info, including room service

Private meals can be arranged by the pool or on your room deck.

Drinks included

Bottled water, soft drinks, local beers, spirits and a limited selection of (usually) South African red and white wines are included. Premier champagne and premium imported brands will cost extra and must be requested well in advance.

Each room is provided with glasses and a flask of filtered drinking water, which is replenished daily. We don't recommend that travellers drink from the tap.
Special interests
Birdwatching

The diverse habitats around Chief's Camp attract over 450 bird species, from waterbirds to woodland varieties. Mokoro excursions offer close appraoches to African jacana and pied kingfisher, whilst woodland species are seen on 4WD activities.
See ideas for Birdwatching

Wildlife safaris

Renowned as one of Botswana's premier game-viewing destinations, Chief's Island boasts a wide variety of wildlife – including the country's few rhino (although these are rarely seen).
See ideas for Wildlife safaris

Luxury

Located in an area renowned for superb game viewing, Chief's Camp was completely renovated in 2016. The enormous suites are opulent, with private plunge pool, air conditioning, and large bathtub. There is also a spa, for a little extra spoiling during your luxury safari holiday.
See ideas for Luxury
Children
Attitude towards children

Children aged six years and over are welcome at Chief's Camp, but note that children aged 6–11 years are permitted on activities only at the discretion of the camp managers. A private vehicle can be arranged for families (at extra cost and subject to availability).

Property's age restrictions

Minimum age 6 years

Special activities & services

The children's retreat will be a huge hit with families with small children.


Equipment

The Geoffrey Kent Suite can easily accommodate small children, especially if both rooms are booked. The main Chief's Camp has no family room, although a rollaway bed can be added to create a triple room (though note that the camp can accommodate only one triple room at a time). Families with two children could alternatively take two rooms with one adult and one child in each. No special equipment is provided for children.

Generally recommended for children

We would recommend Chief's Camp for children aged 12 and over who have a genuine interest in wildlife.

Notes

Chief's Camp is unfenced within a big-game area, so children must be under their parents' supervision at all times.
Our travellers' wildlife sightings from Chief's Camp
Since mid-2018, many of our travellers who stayed at Chief's Camp have kindly recorded their wildlife sightings and shared them with us. The results are below. Click an animal to see more, and here to see more on our methodology.




Spotted Hyena
100% success










Sable antelope
0% success

Communications
Power supply notes

Chief's Camp has a back-up generator. There are 220-volt power points in the rooms, with universal plug sockets and USB charging ports.


Communications

Complimentary WiFi access is available in each tented room (though don't expect high speeds). There is no direct telephone line or cellphone reception. A satellite phone is used in emergencies.

TV & radio

No

Water supply

Borehole

Water supply notes

All the chalets have plumbed hot and cold running water for showers and flushing toilets.
Sustainability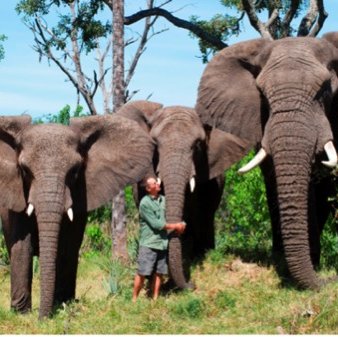 Sanctuary Elephant and Rhino Conservation Project
As a member of Sanctuary Retreats, Chief's Camp is involved in the promotion and implementation of the elephant and rhino conservation projects in Botswana, which are sponsored by the group. The project aims to build long lasting relationships with rural communities in order to encourage the protection of the indigenous wildlife.
The elephant conservation project offers a two-day workshop to local children where they can play games, learn about and discuss the importance of conservancy, and interact with elephants themselves. In doing so the project aims to mitigate the conflict between humans and elephants who are currently being hunted as a result of them affecting the local community's harvests. This information can then be passed down to future generations ensuring that the species continue to coexist.

The rhino conservation project in Botswana has been responsible for the relocation of a number of rhinos to the Botswana Moremi Reserve. Unfortunately, Rhinos are targeted by poachers for their horns and at current rates will be extinct by 2036. The project helps to locate and monitor rhinos and, when possible, relocate them to the reserve. Within the boundaries of the reserve the rhino population is able to thrive, protected from poaching. This work is especially important for the black rhino population whose numbers are dwindling. The project is taking a stand against poaching to protect the animals before it is too late.
See more great sustainability projects in Botswana
Health & safety
Malarial protection recommended

Yes

Medical care

The camp managers and guides are trained in first aid and a comprehensive first-aid kit is kept in camp. Sanctuary Retreats has an on-call nurse who can be flown in to provide medical treatment, or medical evacuation can be arranged in an emergency. Please note that it is only possible to fly out of camp during daylight hours as the bush airstrips do not have any lighting at night.

Dangerous animals

High Risk

Security measures

There is no fencing around Chief's Camp to prevent potentially dangerous wildlife passing through, so guests are escorted to their rooms after dark. An air-horn and two-way radio are provided in each room to summon attention in case of an emergency.

Fire safety

There are fire extinguishers in all the rooms and the common areas at Chief's Camp.
Activities
4WD Safari

Birdwatching

Mokoro
Extras
Disabled access

Not Possible

Laundry facilities

A full laundry service is included at Chief's Camp and usually takes less than 24 hours.

Money

There is a digital safe in each of the suites.

Accepted payment on location

All extras can be paid for with Visa and MasterCard, travellers' cheques or by cash (South African rand, British pounds, US dollars, euros and Botswana pula). Diners Card and American Express are not accepted.
Other lodges in Moremi Game Reserve
Alternative places to stay in this same area.
---