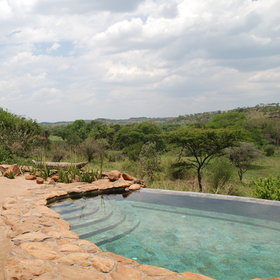 The exclusive Faru Faru Camp, in the Grumeti Reserve, overlooks the Serengeti plains.
Bedroom
The large double rooms at Faru Faru have a very modern feel to them. They are stylish, crisp and bright with thoughtful design touches to them. The furnishings are minimalist and contemporary. The botanist-inspired theme is further boosted – pictures of flowers and various botanical instruments decorate the walls.

The bedrooms are all very calming and are decorated with natural fibres and muted colours – stone-greys and creams. Wood and stone are used extensively, and canvas for the roofs, which makes the rooms feel spacious, bright and uncluttered. The light wood furniture is complimented by bamboo partitions and a polished stone floor. Walking into the room, there is a 'memory board' where guests are encouraged to pin up photos, pictures or any memories they choose to write down, adding character and history to the rooms, even though this lodge only opened recently.

Outside, each room also has its own private, wooden veranda overlooking the bush and its waterhole. However, to bring nature closer, and to appreciate the view from your bed, simply pick up the remote control and watch your room's wall of glass windows glide smoothly aside. Then, when night falls, put your private telescope to good use: star-gaze from the comfort of one of your armchairs.

We last visited Faru Faru when it was very new – just a few months old. As such, there were a couple of teething problems, which are likely to have been fixed by late 2007. For example, the rooms had only one large mosquito net – so when twin beds were under it, they had to be very close together.