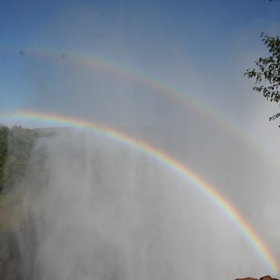 Tongabezi is perfectly located for visiting the Victoria Falls.
The Honeymoon House
Tongabezi's flagship house is
The Honeymoon House
, which is all about comfort, privacy and romance. Long ago, in the early 1990s, the Honeymoon House was the first of Tongabezi's spectacular houses; it caught the imagination and was famously described as 'worth getting married for'. It's only got better since then!
The Honeymoon House at Tongabezi stands high above the river, on the top of the bank, and is all on one level. It has a thatched roof and, apart from a few pillars, is completely open on one long side – which leads onto a grassy area and private balcony above the river with stunning views.
Inside the house split into three areas: a lounge with coffee table and comfortable seating; a bedroom with king-size bed; and an en-suite bathroom. An added bonus with Tongabezi's Honeymoon House is a secluded garden area with a central rock feature, a couple of verandas with chairs and an open-air, claw-foot bathtub.
River Cottage | The Bird House | The Dog House | The Garden House | The Honeymoon House | The Nut House | The Tree House |