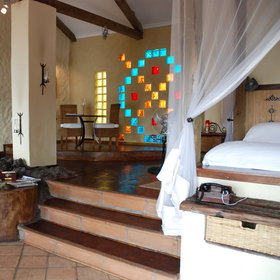 The Nut house's identifying features are the setting of a few glass tiles into the rear wall…
The Nut House
At the very western end of Tongabezi is
the Nut House
, on of the lodge's more recently built rooms.
It's elevated high upon the riverbank with a spectacular view. Indeed, you can watch the sun set across the Zambezi from your own private plunge pool, which is reached through two sets of glass patio doors either side of a fireplace.
At the centre of the split-level main room of the Nut House is a king-size bed under a ceiling fan within the mosquito net, while other fans are dotted around. On the lower level, a seating area shares the views from a more sheltered position.
One quirky feature of Tongabezi's Nut House is the setting of a few glass tiles into the rear wall which, because the sun rises behind the house, causes the morning light to refract a panel of colours across the floor.
River Cottage | The Bird House | The Dog House | The Garden House | The Honeymoon House | The Nut House | The Tree House |