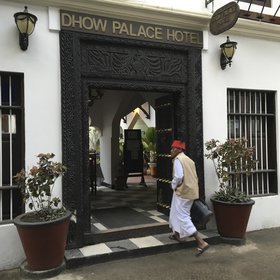 The Dhow Palace Hotel is 150 years old and some of the original features have been kept.
Presidential Suite
The Presidential Suite in the Dhow Palace Hotel is entered through a large vestibule room, where there's a small fridge, a few grand paisley-patterned chairs and a matching chaise longue – which all look strangely incongruous, as if they'd come straight from a country estate in England!
The polished stone floors then lead into the bedroom, where they are scatted with a few worn Persian rugs that enhance the antique character of the room. With walls painted a deep red, the bedroom has a beautifully carved four-poster bed draped with a mosquito net, an ornate dressing table, air-conditioning and a television. This room is wonderfully furnished, though the heavy furniture combined with deep red-painted walls, do make it feel a little small and dark.
A veranda overlooking the streets has a few chairs on to take in the views.
With individual pieces of interesting furniture and quirky, fun décor – we really liked this room!
The en-suite bathroom is a good size and is decorated with white and pink tiles on the floors and walls. The rooms are sparklingly clean, though the tiles might be a bit garish for some peoples taste.
The bathroom in the Presidential Suite has a flush-toilet and a sink – and also a blue-tiled Turkish bath/shower, complete with hot-and-cold water.
Presidential Suite | Standard Suite |