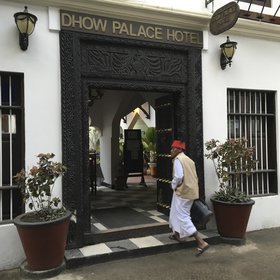 The Dhow Palace Hotel is 150 years old and some of the original features have been kept.
Standard Suite
The standard suites at the Dhow Palace Hotel are mostly compact rooms, though they do vary in size. They have lovely Zanzibari doors - some of the rooms are situated in the original part of the building, whilst some are in the newer 4-year old extension. The newer rooms tend to be a little larger, though none of the rooms are huge.
All are furnished with locally made Zanzibari furniture as well as some wooden pieces imported from India. Each also has a small balcony overlooking the pool, a mini-fridge, air-conditioning, a TV and a kettle.
These rooms are comfortably furnished, and even though they are a little small and dark - for a one or two night stop in Stone Town, they represent very good value.
The bathrooms in the Standard Suites are small, yet very clean and functional. Each has a hot-and-cold shower, a flush-toilet and a single sink and some have a sunken tiled bath.
Presidential Suite | Standard Suite |