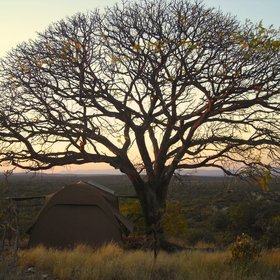 Situated within the Otavi Mountains...
Mundulea Reserve: Our full report
Rooms
4 tents
Traveller's rating

(99%) From
66 reviews
Children
Best for 8+
Open
Mid-Jan to mid-Dec
Set in some 120km2 of pristine bushland within the Otavi Mountains, Mundulea Nature Reserve is the result of 12 years work by Bruno and Kate Nebe, who established the reserve in 2001. Since then, the four former cattle ranches that comprise Mundulea have been gradually restored and the reserve is now home to thriving and diverse populations of game, including black rhino. Guests – limited to a maximum of eight – normally spend four days exploring the reserve on foot with expert guides, returning each evening to a comfortable tented camp.

Mundulea is named after a beautiful purple flowering bush, Mundulea sericea, favourite food of the rhino, eland and kudu – and said to be possessed of healing and magical powers. Certainly it seems to have benefited the reserve's black rhinos. These rare and endangered animals, which were once close to extinction, are doing particularly well at Mundulea. Other Namibian rarities here include roan antelope, tsessebe and black-faced impala, alongside more widely known species such as cheetah, leopard, brown and spotted hyena, kudu, oryx, eland, wildebeest, zebra and giraffe. In addition, you are likely to come across some of the smaller animals of the bush, which make walking, sitting quietly at the waterhole or simply being outside in the evening such a delight. Banded mongoose, bushbabies, aardvark and dik-dik are among the species you might see, while a sight of the rare and endangered pangolin – subject of an ongoing and ground-breaking research project at Mundulea – would be a memorable bonus.

Yet this is not a camp to visit exclusively for the wildlife – or indeed for the excellent birdlife. Rather, come for the walking, the environment, and most of all for the expert guiding. Bruno is one of the best guides in Africa, passionate about every aspect of nature and conservation, with a broad knowledge of topics that range from animal husbandry to rock art to geology to local politics – and much more. Add to this an extraordinary ability to enthuse and you have an experience that – for visitors of almost any age – is hard to match. So while game sightings are by no means guaranteed, the animals that you do see will be quietly going about their own business, not tracked purely for your benefit, and you will gain a unique insight into this area.

Walking among Mundulea's ancient hills riddled with caverns and deep gorges is the main activity here – and particularly welcome for those who may have been cooped up on safari in Etosha. Each day is geared to the interests and abilities of the guests, with trails that range from gentle ambles to more rigorous hikes: flexibility is the key. Usually, guests return from the early-morning walk in time for lunch, but those who wish can go out for a full day with a packed lunch. A shorter afternoon walk is an option, too (and this is usually how your trip starts, on your first afternoon). Back in camp, there are hides close to each tent overlooking a waterhole, offering plenty of scope for watching game and birdlife.

The camp itself is cosy and rustic, and is transformed at night by the flickering light of candles, thought there is solar-powered light if needed. Built like a traditional Ovambo homestead, it is surrounded by stick palings spaced to allow access at intervals. The focal point of the main sitting area is a large dining table built around a tree trunk, with beautiful leadwood chairs – hand crafted, like most of the camp's furniture, in Bruno's workshop. An old iron wheel decked with candles serves as a chandelier, and a wrought-iron firepit is an inviting spot for pre-dinner drinks. For background reading, there's a small library of books related to Namibia's fauna and flora.

With just four spacious walk-in tents, Mundulea feels intimate and personal. At the front of each tent is a large porch, but much more fun for watching wildlife is your own small hide overlooking the waterhole. Six large mesh windows provide light and air into your tent – or it can be zipped up if preferred. Twin beds are topped with goosedown duvets – light ones for the summer months, and thicker for wintertime, with hot-water bottles for good measure. Bottled water, insect spray and torches are provided, as well as solar-powered bedside lamps. Each tent also has a large, lockable wooden storage box.

The en-suite bathrooms are open air, built among the trees and totally private, each with a shower, flush toilet and handbasin. Water for showers is heated by a traditional energy-saving 'donkey' boiler, which burns only invasive bushwood.

Our view
Mundulea is perfectly positioned for travellers either driving from or heading to eastern Etosha. Relaxed and friendly, it's a place to explore and to discover by day, returning in the evening for in-depth discussions and storytelling around the campfire. It is best suited to those who are really into walking, and have a genuine interest in their environment. By all means come to find wildlife, but it's not a place to get up close and personal with animals; instead come for real insights into Namibian wildlife and to enjoy what we know is some of the continent's best guiding.
Geographics
Location: Central Highlands, Namibia
Ideal length of stay: Three nights/four days
Directions: Access to Mundulea is via the D2809, a turning off the B1 about 20km south of Otavi, or 98km north of Otjiwarongo. From here, it's 10km along a good gravel road to the signposted gates to Mundulea, then a further 9km along a slightly bumpy gravel road to the old farmhouse. Guests are asked to arrive at the farmhouse no later than 3.00pm, ready for a guide to drive you the last 30 minutes to camp. Guests arriving by small plane fly into a rudimentary landing strip just outside Otavi, about 30km from Mundulea. From here, you will be collected and transferred to the camp.
Accessible by: Self-drive or Fly-and-Transfer
Key personnel
Owner: Independent / Owner Run: Kate and Bruno Nebe
Food & drink
Usual board basis: Full Board
Food quality: Meals are a highlight of a visit to Mundulea, with dinner prepared over an open fire, and vegetarians catered for. Snacks of fruit and crisps are available throughout the day.

At breakfast you'll have a choice of muesli and yoghurt with fresh fruit, or a full cooked meal.

For lunch we were treated to a light salad ( reminiscent of a Greek salad, but with extra ingredients!), with home-baked bread, cold meat and cheese, and rounded off with fruit: perfect for a hot day.

Dinner is a hearty meal. Our first night we enjoyed chicken in spicy sauce with pumpkin, cauliflower and new potatoes, followed by a fresh fruit salad. The following evening, oryx mince was on the menu, with fresh seasonal veggies and rice noodles.
Dining style: Group Meals
Dining locations: Outdoor Dining
Drinks included: Included are juice, cola, mineral water, beer, wine and gin and tonic. Let us know if you would like any other drinks and we will cater for them.
Further dining info: No
Special interests
Family holidays: Mundulea offers child-friendly guiding and a hands-on approach towards family safari holidays in Namibia! It's a great reserve for inquisitive families with active children, ideally 8+, who like walking. For small groups, activities can usually be tailored to suit kids.
See more ideas for
Family holidays in Namibia
Birdwatching: Mundulea has excellent guiding and some first-class birding for those on a birdwatching holiday in Namibia. The environment ranges from kopjes to open plains, with a good variety of birds such as Rueppell's parrot, paradise flycatchers and raptors.
See more ideas for
Birdwatching in Namibia
Walking safaris: Mundulea is all about exploring on foot with one of the best guides in the business. The game includes unusual species like black rhino, roan and black-faced impala, but Mundulea is more about understanding the whole environment, from the rocks and soil, to the flora and fauna.
See more ideas for
Walking safaris in Namibia
Wildlife safaris: Mundulea has much greater wildlife diversity than most Namibian guest farms – including large herds of eland and recently re-introduced black rhino, roan, tsessebe, zebra, giraffe and black-faced impala. It's a centre for research into Namibia's endemic subspecies.
See more ideas for
Wildlife safaris in Namibia
Walking: The walks at Mundulea are led by Bruno, who we rate as one of the best guides in Africa – his passion for nature and conservation, broad knowledge of topics from geology to local politics, and ability to enthuse you, make for an experience hard to match.
See more ideas for
Walking in Namibia
Children
Attitude towards children: Mundulea views eight years old as a sensible minimum age for younger guests, since smaller children will get tired on longer walks. This is particularly so in summer when the grass can be quite high and temperatures more demanding. If families would like to come to Mundulea with children younger than eight, then ask us for a private booking, so that the activities can be arranged entirely around your family and children.
Equipment: None
Generally recommended for children: Yes, as long as the children can walk for at least two hours at a stretch. Small groups mean that activities can usually be tailored around children's needs, and guides will spend time helping children to understand 'how nature works'.
Notes: Children must be under the constant supervision of their parents, both for safety reasons and for the consideration of other guests in camp.
Infrastructure
Power supply: Solar Power
Communications: There is a satellite phone for emergencies, but otherwise you are effectively out of communication.
TV & radio: No
Sustainability
Mundulea Reserve: Pioneering pangolin research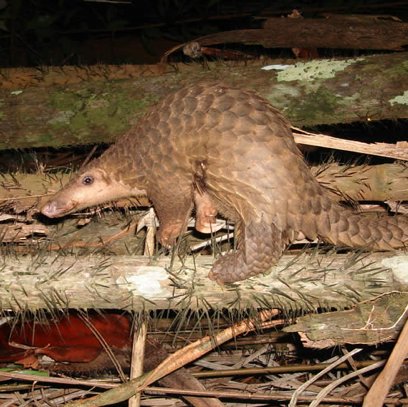 Established with one clear goal: to protect bio-diversity and provide breathing and breeding space to Namibia's rare sub-species, Mundulea Nature Reserve is a safe haven for over 260 species, having already re-introduced eleven species to this once game rich area.
Perhaps the most visible work towards achieving its sustainability goal is the reserve's efforts towards researching the behaviour of pangolins, one of the most endangered groups of mammals in the world as a result of illegal wildlife trade.

The reserve collaborates closely with Namibia Animal Rehabilitation Research and Education Centre to use the bushcamp to release rescued pangolins.

Following consistent attempts to design and test tracking methods, in August 2011 Mundulea Nature Reserve became the first Southern African conservation body to tag and release a pangolin into the wild. Since then, numerous partnerships have been formed to contribute to international research efforts. The reserve supports charities such as Save Pangolins, and is an honorary member of African Pangolin Working Group, constantly participating in international conferences.

Mundulea also provides books and articles in the main sitting areas to educate tourists on the conservation of pangolins and the challenges of tracking them in the Namibian bush. Moreover, all the tours are provided by the reserve's owner, Bruno Nebe, the initiator of the reserve's sustainability programmes, offering a chance to learn first-hand about the behaviour of pangolins. Outside the camp, in order to reduce pollution and minimise disturbance to animals, driving is prohibited and no activities are allowed at night.

While important progress was made towards researching the behaviour of pangolins, there are consistent efforts put into achieving the long-term objective of developing a national strategy for Namibia for better legislation to protect pangolins.

Health & safety
Malarial protection recommended: Yes
Medical care: Guides are trained to use both the first-aid kit in camp, and the emergency first-aid kit carried on walks. The nearest doctor is at Otavi , and can be contacted via sat phone. In the event of an emergency, guests could be airlifted from Mundulea.
Dangerous animals: High Risk
Security measures: The property is guarded day and night. Walks are conducted by discreetly armed guides.
Fire safety: There are fire extinguishers in all tents.
Extras
Disabled access: Not Possible
Laundry facilities: No laundry facilities
Money: Each tent has a lockable wooden box.
Accepted payment on location: None, although tips (shared among staff) are welcome in Namibian dollars
The information on this page is our report, of what we saw, felt and experienced personally on our visits.
See Info from the owner for the standard information written by the owner about this property.