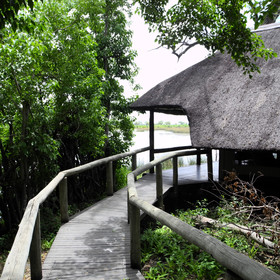 All of the tented chalets at Savuti Camp are reached along high wooden walkways
Tented Chalet
Wooden poles support a thatch roof forming the outer shell from where a canvas sided tent hangs. This canvas walled section has large mesh windows and is entered through sliding doors. The whole construction is positioned on stilts above the banks leading down towards the water. The whole chalet has wooden flooring.

Main bedroom:

At the centre of the bedroom is a large double, four-poster bed covered with a mosquito net. At its foot is a tea and coffee station and a few reference books for use on your own private balcony. There are a couple of very comfortable arm-chairs situated to the side with a table and foot rest. The rooms are also very well lit for reading at night with plenty of bed side lamps and good quality main lighting provided.

Temperature control:

There is a ceiling fan above the bed with a bedside control panel.

The mesh windowed tents also allow a cooling breeze to pass through; canvas flaps can be raised to halt this breeze on cooler evenings.

Bathroom:

The bathroom is situated behind a central wicker and wood partition which separates the bathroom from the bedroom. The bathroom is open plan with a walk in shower, his and hers sinks and a separate toilet reached through a door leading off the side of the building.

Outside areas & views:

At the front of the tent is a good-sized veranda with a couple of comfortable chairs providing views over the water. This is raised a couple of meters off of the ground and not only offers great views of the river as it passes by but also of any animals which frequently move through camp on their way to the water's edge.