Moremi Game Reserve: interactive map
This physical map of the Moremi Game Reserve – shows the rivers, islands, roads and settlements and adjacent private reserves. Click on the safari camps in the map for detailed camp descriptions, slide-shows and travellers' reviews.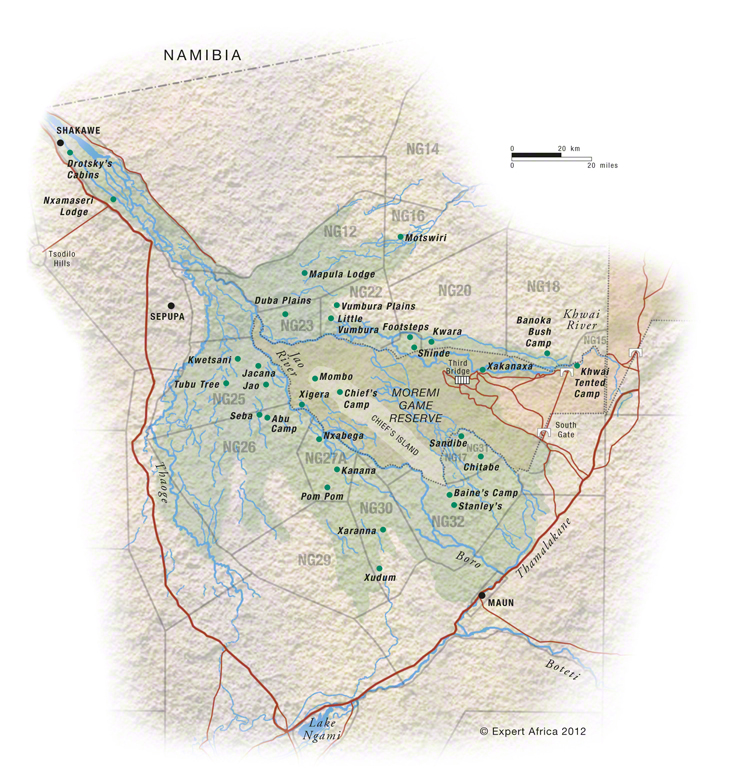 Points of interest on our map of the Moremi Game Reserve
We've drawn this map using original sources and our knowledge to highlight aspects of interest in Botswana's Moremi area:
Moremi Game Reserve
The proclamation of this reserve in 1962 was an example of a forward-thinking government. It was extended to include Chiefs Island in 1970 and so saved the area from the depletion of game and the encroachment of cattle. The area consists of a network of rivers and palm islands contrasting with the drier 'Mopane Tongue' in the south. Moremi protects a fantastic diversity of flora, game and birdlife.
Mopane Tongue
There is a triangle of mopane forest lined with riverine edges which forms the south-eastern corner of Moremi Game Reserve. This area of the park is open to self-drive visitors and is where the park's public campsites can be found. On this map it's roughly bounded by South Gate, Khwai Tented Camp and Third Bridge.
Chief's Island
Originally the hunting grounds of Chief Moremi, Chief's Island was incorporated into Moremi Game Reserve in 1970. It is the largest island in the delta and is considered to be part of the same panhandle fault lines being pushed up in the formative warping of the area. Chiefs Island now hosts just two premier safari camps – Mombo Camp and Chiefs Camp and affords some of the best game viewing in the delta.
Adjacent Private Concessions
The grey spiders-web of lines on this map divide northern Botswana into a series of private concessions, or reserves. The all have names, written in grey, like NG20, NG21, NG22 .. etc The concessions are awarded to safari operators by the land board for a defined period of time and include strict regulations with regards to the management of the areas.
Alternatively, click through to our
Google map of Moremi Game Reserve
, showing almost all of the safari camps and lodges, each plotted precisely on a satellite photograph.
This map of the Moremi Game Reserve is an original. It has been commissioned by and drawn up for Expert Africa. It is our copyright (2013). It must not be copied or reproduced without our written permission. If you wish to use it, please contact us. We generally look favourably on requests for educational or charity use, provided that clear acknowledgements and credits are given.
To deter unauthorised use, the map has been digitally watermarked and can be traced.