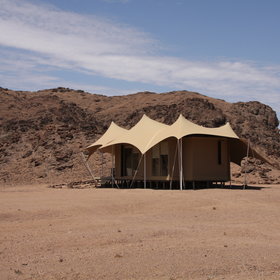 Hoanib is the 'successor camp' of Skeleton Coast Camp in Namibia,…
Hoanib Skeleton Coast Camp: Our full report
Rooms
8 rooms
Traveller's rating

(100%) From
18 reviews
Children
Best for 12+
Open
All year
Opened in August 2014, the Hoanib Skeleton Coast Camp is a beautiful camp in a very remote location. Built close to the Hoanib River, in northern Damaraland, it is surrounded by gravel plains, mountains and large yellow sand dunes. Although it's not actually on the coast, the camp is situated in a private concession area (similar to a reserve), which straddles the Palmwag area and Skeleton Coast National Park. Consequently this camp is viewed by name as a successor to the Skeleton Coast Camp, which closed a number of years ago.

Hoanib Skeleton Coast Camp (meaning 'place of elephants') is very different in design from any other camp in Namibia – it has a chic feel to it, which is quite removed from the traditional safari style camp. Having said that the main focus here is firmly on the experience and activities rather that the camp itself. In an area where striking, desert landscapes dominate and, on the whole, game densities are low, it is remarkable to see just how many species can survive here in these harsh conditions. Come here for the remoteness, unique environments and a scattering of really interesting desert-adapted wildlife rather than the camp itself.

There are eight modern, stylish suites, seven of them standard twin or double rooms, and one family unit. The suites have a distinctive and innovative design that makes use of natural light through floor to ceiling glass windows in the main bedroom space. Airflow is maximised by panels both large and small, within the canvas walls, that can be opened to allow a breeze to flow through the whole room. This really helps to cool things down and maintain a comfortable temperature when it is very hot outside. The suites are also constructed out of a double layer of canvas, which also helps to keep the rooms cool in the summer heat and provide insulation during the colder winter months.

Each of the seven en-suite standard suites sleeps up to two people. The décor oozes style and has a very modern feel (as does the whole lodge). The bedroom and bathroom are decorated in muted desert tones and have a minimalist, contemporary design, with polished concrete floors throughout, covered by a large neutral coloured sisal mat in the bedroom. Natural lightwood is the other material used widely within the rooms from walls to writing desks, the latter being large and also home to the tea/coffee station and water flask on request. The twin/double beds face out to the full-length windows, offering stunning views. There are modern, white bedside tables, reading lamps integrated into the headboard and a mosquito net hanging from a runner in the ceiling that pulls around the entire bed and bedside table unit making it feel spacious and roomy and not restricted like some can. There are two open sided closet areas which combined, have plenty of hanging space, a digital safe, insect repellant and bug sprays, small hanging canvas shelves, extra blankets etc. There are plenty of plug points around the room incorporating most pin styles.

Separating the bedroom from the bathroom is a massive floor to celling mirror. The bathroom itself has twin stone basins mounted on a large wooded unit with circular mirrors above, and a large 'rain shower' at one end, both boasting a full complement of toiletries including shampoo, conditioner, shower gel and body lotion. There is a separate toilet of the bathroom.

Outside, to one side of the suite, is a veranda with shaded lounge area incorporating comfortable seating, 'tree stump' coffee tables, plus a small table with chairs. There is also a fridge where you can help yourself to a cold drink and then relax and take in the great views.

The family unit is similar in construction and design, but has two bedrooms, separated by a shared lounge area and can accommodate a maximum of four guests.

The main areas at Hoanib Camp includes a dining room, inside and outside lounge areas, a bar and a long, narrow plunge pool. With the same double tent structure and comfortable yet stylish interior and furnishings, it exudes and air of luxury. The lounge extends from the inside to outside and has a several areas of large sofas where you can relax and unwind. The dining area could be viewed by some as minimalist, but by others as rather clinical and lacking in warmth and atmosphere. With only simple wooden tables and white 'nest' design chairs there is not a lot else to this space. Also they generally seat people individually, though are more than happy to provide group dining for those that wish. Having said all of this, when we last visited in 2015 we found the food to be delicious! There is also bar area, decorated with wovens baskets and ornamental plates, where afternoon tea is laid out and refreshing cool drinks in the evening are served.

Pre and post dinner drinks can be enjoyed around the campfire, but do note that the fire is not in use in the mornings in order to be more environmentally friendly in an area that lacks much firewood.

To the side of camp is a small, narrow pool with a few sun-loungers which offers much needed respite from the desert heat in the summer months.

The scenery in this area is impressive – stark, rugged beauty traversed by a linear oasis that is the ephemeral Hoanib River. Early morning fog created by the cold Benguela Current originating in the Antarctic, meeting with the hot Namib Desert air as it drifts inland, provides much needed water for the flora found here. Normally a sand river, the Hoanib flows only when heavy rains hit its catchment area. However there is always subterranean water, plus some springs, which ensure vegetation grows along the river course. This water and food supply, in turn, attracts the desert wildlife that live in this region. These include a relatively large number of desert adapted elephant, plus lion, giraffe, and plains game such as Hartmann's mountain zebra, gemsbok and springbok. We even got to see an elusive brown hyena one morning as it skulled away at sunrise for its day sleep. Hence Hoanib Camp offers a really special wildlife experience in this harsh environment of the Namib desert.

There is also some good birding in the area – including eagles, buzzards and flamingoes.

Its proximity to the Skeleton Coast National Park (only 1km away) affords those staying here great access to this remote and inhospitable part of Namibia. Very few people get to this area and its pretty unique – vast dunes fields, gravel plains with delicate lichen fields, wind-swept beaches, cape fur seals and remnants of shipwrecks – there is nowhere else like it. Hoanib Skeleton Coast Camp the very best base to explore this region.

Activities from Hoanib Skeleton Coast Camp include morning and afternoon 4WD game drives – either scenic or for wildlife viewing; nature walks where you can learn about the smaller animals and insects, as well as plants, in close up and full day trips to Klein Oase, and Auses and Mudorib springs (which attract the desert-elephant and plenty of birds).

Included in a stay of three nights or more is an excursion to the coast, which is a real highlight. You travel in a closed 4 x 4 through down the Hoanib River and then into the previously restricted area of the Hoanib floodplains (within the Skeleton Coast National Park). During this part of the journey we had two separate encounters with elephant and had a super time watching them go about their life in this extremely harsh environment. You then continue over the vast dune fields (and hopefully get to play around on the roaring dunes as we did), past Klein Oasis, and then hit the Skeleton Coast itself at Möwe Bay. Here you get to see the harsh rocky coastline and the Cape fur seal colony that is resident here. There is also the opportunity to visit the very small but interesting 'museum' which houses bones and skulls of many marine animals, and also investigate remnants of a shipwreck or two down by the sea. We then finished with a rather windswept but tasty lunch on the stony beach before taking the short (about 15 minutes) but spectacular scenic flight back to camp.

Typically harsh desert conditions prevail in this area with regards to heat, fog rolling in from the sea, high winds and flooding rivers. On occasion, these conditions may affect the duration and routing of the excursion with guests driven both ways or - as is the case when it rains and the floodplains fill with water - flown both ways. In this case, departure from camp will be at 10:00 (instead of about 06:00 when driving) to allow time for the fog to clear – you still get the same amount of time at the coast). The return to camp will remain as departure from Möwe Bay at 14:00. At the discretion of the camp manager and pilot, with safety and overall comfort being the major criteria, decisions on the format of the excursion on any given day will be finalised in camp.

Please note that the drive to the coast can take in the region of 4 – 6 hours, depending on what you see and do along the way. Although you usually are back in camp by mid afternoon it is quite a 'long' day due to the length of the drive there and even longer if you then have to drive back.

Overall we found the guiding here, when we visited in 2015, of a very high standard, the management very strong, and the staff friendly and helpful.

Please note that all activities at Hoanib Camp are conducted closed 8-seater 4 x 4 vehicles with pop top roof. It can get pretty cold here so open vehicles just aren't practical.

Much has been written about the desert lions found in this area (also know affectionately as the 'muskateers' from the film Vanishing Kings). On our visit in 2015 we were incredibly lucky to get to see four of the five lions who were lazing around in the Hoanib River eyeing up the passing prey. It was quite a magical encounter.

However in in June 2016 one of them was shot after coming into conflict with local pastoralists. After that the remaining four, over the course of a couple of months killed more livestock and as such the human-lion conflict became unmanageable for the Desert Lion Conservation Foundation (headed by Dr Flip Stander). They decided to relocate the lions but tragically, three of the remaining four were poisoned at the same time just before they were due to be moved. The sole remaining male was darted and relocated to the Uniab River delta, south of the Hoanib area.

So although other lions do survive in the vast area east and south of the camp, sadly the 'five muskateers' are no longer to be found here and sightings of desert lion may be far less frequent as a consequence.


Please note that due to the remote nature of this camp we tend not to get to visit it as often as some of the more accessible camps unfortunately.

Our view
Hoanib isn't for the budget conscious; however, we think that the truly remote location and unique experience that you get here makes it is worth the money (and not the stylish camp itself). The allure of the Skeleton Coast will draw you here but there are many different facets to staying at Hoanib that make for a truly fascinating visit. Tracking desert-adapted elephant (but don't come expecting a parade of animals – this is a tough environment to eek out an existence in!) and spending time in the Skeleton Coast National Park are amongst the highlights.
Geographics
Location: Skeleton Coast & Kaokoland, Namibia
Ideal length of stay: Three nights
Directions: Hoanib Camp is only accessible by light aircraft transfer from Doro Nawas. Travellers on self-drive through Namibia will need to park their vehicle at Doro Nawas and then fly in to Hoanib.
Accessible by: Fly-and-Transfer
Key personnel
Owner: Wilderness Safaris
Food & drink
Usual board basis: Full Board
Food quality: Overall, we found the quality of food to be of a high standard.

For breakfast, guests can choose from a buffet that includes a selection of cereals, yoghurt, fresh fruits, cold meats, cheese, freshly baked warm muffins and bread, with juice, tea and coffee. A hot breakfast of eggs, bacon, fried tomatoes, mushrooms and toast can also be served, cooked to order.

A light lunch is served when in camp, which on our last visit was vegetarian mini pizza served with sweet potato 'chips' and a green salad. If this didn't appeal then ham or cheese sandwiches were also on offer.

On the day trip to the coats a 'picnic' lunch is provided which on our trip included chicken drumsticks cooked in a tasty marinade, pasta salad, mixed salad with feta and selection of other cold dishes.

Afternoon tea always has an small selections of tasty goodies on offer. During our last visit in 2015 we had a delicious apple struddle and mini quiches.

Dinner includes three courses; we were served butternut soup, a choice between a wonderfully tender oryx steak and pork loin wrapped in bacon both accompanies by couscous with red cabbage and broccoli, and for pudding we had cheesecake with fruit compote.

By safari standards when we last visited some commented that the portions sizes for lunch and dinner where somewhat small, however we found them to be absolutely fine. From what we can gather the team here are actively trying to move away from the rather over indulgent excesses that can be found in many safari camps across Africa.
Dining style: Mixture of group dining and individual tables
Dining locations: Indoor and Outdoor Dining
Drinks included: Beers, house wine, local spirits and soft drinks are included. Please note that champagne, imported wines or premium brands spirits are offered at an additional cost.
Further dining info: Room service is available on request.
Children
Attitude towards children: Children aged 6+ are welcome.
Property's age restrictions: Families with children under 12 will be required to book and pay for private activities unless the camp is booked as sole use or fill a vehicle (6 guests). Children between 6 and 16 years must share with an adult/s in the same room.
Generally recommended for children: Expert Africa does not recommend Hoanib Skeleton Coast Camp for younger children – it has a fairly adult atmosphere, with little to keep youngsters entertained.
Infrastructure
Power supply: Solar Power
Power supply notes: Hoanib Camp has a back up generator for emergency use only. Each room also has a solar geyser for heating water. There are plenty of multi-adaptor sockets in each suite. The plug points in the room are 220v and should be used for battery charging only.
Communications: There is no mobile phone connection in camp. There is a computer station in main area including complimentary internet access.
TV & radio: None
Water supply: Borehole
Water supply notes: Hoanib has a septic tank system
Health & safety
Malarial protection recommended: Yes
Medical care: There is an on-line doctor in Otjiwarongo that the staff can speak to. They have emergency evacuation plans in place if needed.
Dangerous animals: High Risk
Security measures: None – miles from anywhere!
Fire safety: There are fire extinguishers in each room and the main area.
Extras
Laundry facilities: Laundry is included when you stay at Hoanib Camp. Weather permitting any laundry left in the morning to be washed will be returned to you on the same day. A mesh laundry bag is supplied for 'smalls' so that guests may place their underwear in this bag which will be machine washed and returned in the mesh bag.
Money: There is a digital safe in each suite
Accepted payment on location: Visa and MasterCard are accepted. Cash payments may be made in Namibian dollars, South African rand, US dollars, GB pounds and Euros but change will generally be given in Namibian dollars.
The information on this page is our report, of what we saw, felt and experienced personally on our visits.
See Info from the owner for the standard information written by the owner about this property.