Tongabezi: Our full report
Set on the steep banks of the Zambezi River, about 18km upstream from the Victoria Falls, Tongabezi has long ...
... been one of the region's most romantic – and exclusive – hideaways. It was founded in 1990, many years before most of Africa's safari lodges, and from the beginning it has been a trend-setter in lodge design. It's still owned and run by one of its original founders, and has continually re-invented itself over the years.

Tongabezi has a very secluded location, amongst dense riverine forest. Indeed floating down the river, you'd scarcely note the presence of the lodge, stretched out along the bank. To understand it, it's worth looking back a little at Tongabezi's history. The lodge was started in 1990 by two well-connected young British men, William Ruck Keene and Ben Parker. Its large, smart rooms all had individual names and were completely open on one side to the river; this was as revolutionary at the time, as it is commonplace now. Following some early press coverage, the lodge started to do really well.

Shortly afterwards, Will and Ben set up two camps in the Lower Zambezi: Sausage Tree, which still exists although now under different ownership and management, and Potato Bush, which stood on the site that Old Mondoro occupies today. With typical tongue-in-cheek humour, together these made a "bangers and mash" combination!

After William died in a tragic accident in 1997, Ben continued to own and run Tongabezi. He is still very active in marketing and overseeing it, although there's usually a manager in charge on a day-to-day basis. Today Ben lives with his family at Tangala House, just up the river – when it's not being rented out by families!

The accommodation that made Tongabezi's name now consists of 11 rooms, including five relatively small
River Cottages – which all share the same design and footprint – plus six individual, separate "houses", each with its own style, character and often a quirky name:
Wherever you stay at Tongabezi, you'll be looked after by your own attendant, or "valet", who will take care of you throughout your stay, organising meals and activities, and making sure that your stay runs as smoothly as possible.

At the very heart of Tongabezi's communal area is the Main Lodge, a substantial, open-sided building under thatch that overlooks the river. Here guests will find both a dining area with long table and a lounge area with comfortable seating. There's a tea and coffee station, too, with stocks replenished throughout the day.

In fine weather, meals at Tongabezi are taken on wooden decking which juts out over the river. While breakfast and lunch are served at individual tables, dinner is usually taken in a group with your guide or the manager. That said, one of the beauties of Tongabezi is its flexibility, and dinner can be served privately in a variety of locations around the lodge.

Aptly named is The Lookout, a multi-level wooden structure built right over the river and housing a couple of breezy lounges as well as a computer room complete with internet connectivity. Guests can request a private dinner on one of the platforms or simply while away the afternoons in the comfort of a gigantic sofa, perhaps with a book from the library.

Close to the water's edge, the firepit is a great place to warm up with a coffee in the morning or to unwind in the evening, perhaps with something a little stronger. Nearby is the lodge's main swimming pool, partially set into the rock and complete with its own waterfall.

For total relaxation, Tongabezi's spa offers a qualified masseuse and treatments that include Shiatsu and reflexology.

As you'd expect from a lodge based near the adventure capital of southern Africa, there's no shortage of activities to do, and many of these are included (at no extra cost) at Tongabezi. Most guests will do a tour of the great Falls at least once in their stay, and having the flexibility of a good vehicle and a guide from the lodge is a lovely way to do this.

Guests can also choose to take canoes out on the river accompanied by an experienced and fully qualified guide, or to enjoy the scenery and a cool sundowner on a sunset cruise; on our last visit here, in March 2011, the guiding on these was excellent (but don't expect to see a huge amount of big game; come instead for the scenery – and the birdlife). You can indulge in an island lunch, or even arrange for a "Sanpan" dinner: a private, candlelit dinner on a pontoon in the middle of the Zambezi, attended by your own personal waiter. In addition, there are visits to a local village where many of the staff live with their families, as well as guided bush walks, museum tours, market visits, fishing trips and game drives in the Mosi-oa-Tunya National Park. Often more than one activity can be combined into an excursion.

An activities centre at the lodge can book any trips and excursions in the local area that are not included in your stay. And, of course, no one at Tongabezi will mind if you decide to spend the day relaxing at the lodge.

One thing that we really notice at Tongabezi is the high level of service, and the very professional management. It's also very notable that the vast majority of the team are Zambian nationals, giving the place an efficient but essentially Zambian feel.

Another key aspect of the lodge is the extensive support that it gives to a local school, which it was instrumental in founding. Originally this was set up for the children of the lodge's team; now it has a much wider admissions policy. It has been hugely supported both by work done by the lodge, and by donations from lodge visitors. The school is also trying to teach its students to "think green", which in practice means trying to save, recycle and re-use resources wherever possible.

Tongabezi is involved in a number of other local projects, and it's good to see that even after 30 years, it continues to set trends.
Our view
Tongabezi provides a tranquil base from which to visit the often crowded and frenetic area around the Victoria Falls. Having gone through an inconsistent patch a decade-or-so ago, the service and food are now top class and we're continually impressed with the constant work that they do to gradually re-invent the lodge and how it's run. If you have two or (better) three nights in the Falls area, then Tongabezi is a great place to stay with an excellent range of range of activities included.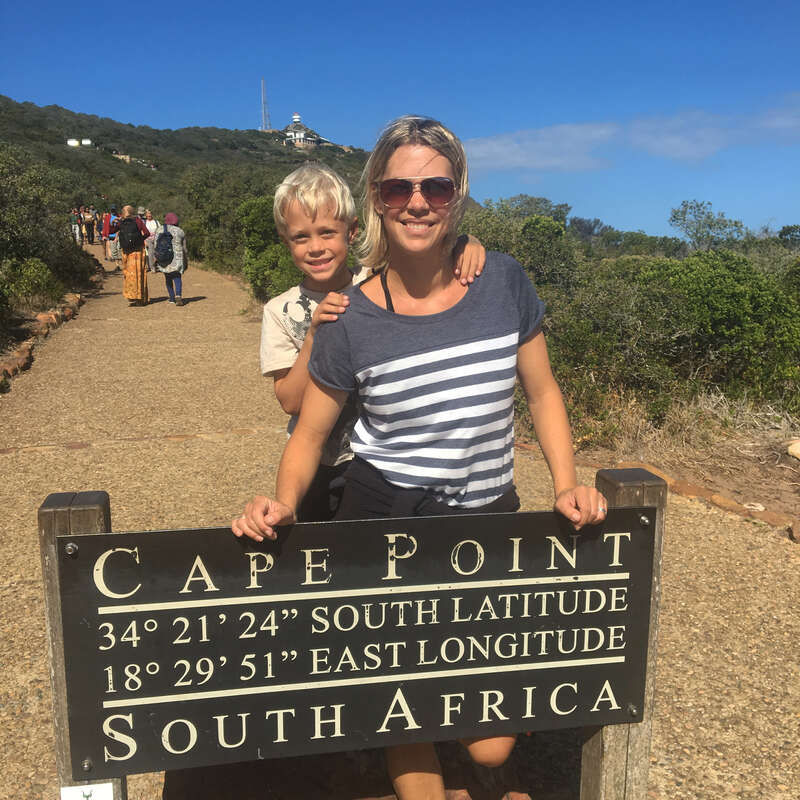 Geographics
Location

Ideal length of stay

Two nights – but three would be much better, allowing you to make the most of the many activities included. Or possibly combine a few nights here with a few on Sindabezi Island, Tongabezi's smaller sister lodge.

Directions

Tongabezi is approximately 40 minutes from Livingstone Airport by road or around 40 minutes from the Botswana–Zambia border post.

Accessible by

Fly-and-Transfer
Food & drink
Usual board basis

Full Board & Activities

Food quality

In our experience, the food at Tongabezi is exquisite.
Breakfast consists of a large buffet with a variety of fruit salads, cereals and yoghurts as well as savory muffins and cakes. There's a good selection of locally sourced fruit juices too. Guests can order a cooked breakfast from the kitchen and on our last visit we had a very tasty breakfast burrito.

After half an hour or so enjoying sundowners around the campfire, our dinner began with a tomato and herb gazpacho soup with freshly baked bread and relishes. The main course was locally caught bream with vegetables and rice in a creamy white-wine sauce. A choice of either profiteroles or a cheeseboard rounded off a very enjoyable meal.


Dining style

Individual Tables

Dining locations

Indoor and Outdoor Dining

Further dining info, including room service

Private dining is available on request.

Drinks included

Soft drinks, bottled water, spirits, local beers and a selection of (generally) South African wines are included. Imported wines and spirits and champagne cost extra – and may need to be requested in advance.
Special interests
Family holidays

Set back from Tongabezi's main areas, the 'Garden House' consists of a double, a twin and a lounge centering around a little garden with its own pool. Set back from Tongabezi's main areas, the Garden House consists of a double, a twin and a lounge centred on a little garden with its own pool. Children, best 7+, often enjoy canoeing, fishing, trips to the Falls or simply the campfires on a Zambia family holiday here.
See ideas for Family holidays

Private villas & houses

Tongabezi's small Garden House is a lovely hideaway, booked exclusively by small groups or families of up to four. It makes a great starting point for a wide range of water- and land-based activities near Victoria Falls.
See ideas for Private villas & houses

Luxury

Tongabezi set the standard for safari-lodge design when it opened in 1990, with a series of individual suites, all half-open to make the most of superb river vistas. Since then, successive upgrades have honed the original, but it remains one of the most luxurious lodges in Zambia.
See ideas for Luxury
Children
Attitude towards children

Children of seven and over are welcome at Tongabezi.


Property's age restrictions

Minimum age of seven.

Special activities & services

Roll-away beds and extra mosquito nets are available for children sharing with parents. The Garden House is specifically designed for families, set back from the river with a private and enclosed garden, an exclusive plunge pool and two en-suite bedrooms.

Equipment

None

Generally recommended for children

Yes, for children aged seven and up.

Notes

Tongabezi sits right on the banks of the Zambezi River. There's no shortage of large crocodile and hippo which often come out onto the banks around camp. The river also flows very quickly this close to the Falls and as such parents should pay particular attention to these hazards.
Our travellers' wildlife sightings from Tongabezi
Since mid-2018, many of our travellers who stayed at Tongabezi have kindly recorded their wildlife sightings and shared them with us. The results are below. Click an animal to see more, and here to see more on our methodology.






Communications
Communications

Tongabezi has WiFi and a computer that guests can use. There is also good cellphone reception.


TV & radio

None
Sustainability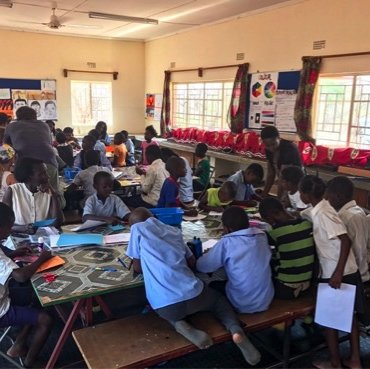 Tongabezi: Investing in children's education
Located in a secluded area along the Zambezi River, the award-wining Tongabezi Lodge earns its renown not only from its luxurious thatched cottages, but also from the positive impact it brings into the community, particularly when it comes to investing in children's education.
With the help of one of Tongabezi's owners, Vanessa Parker, Tujatane School has grown from a pre-school class of 15 children to a primary school with over 240 students. As well as entirely building the school's first classroom, the lodge set up The Tongabezi Trust which made possible the development of the project through the generous sponsorship of worldwide donors. Nowadays, tourists have a chance to visit the school and interact with the students, who are amongst the best performers in Zambia, regularly winning national drama, poetry and traditional dancing competitions.

Building on its reputation, the lodge has extended the reach of its involvement in children's education by donating 10% of proceeds from Livingstone Island to build houses for Mukuni village teachers. As better housing is known to attract higher qualified teachers, the three-bedroom houses that Tongabezi Lodge helps build aim to make schools in the area more appealing to teachers.

To date, 13 houses have been built, along with a water tank and a pump to supply the village. Tongabezi aims to build two houses a year before moving on to designing and building classrooms.
See more great sustainability projects in Zambia
Health & safety
Malarial protection recommended

Yes

Medical care

The nearest doctor is in Livingstone, about 30 minutes' drive away.

Dangerous animals

Moderate Risk

Security measures

The security here is very good – with an electric fence and radio-controlled security gates. Every room has an individual digital safe.

Fire safety

Fire extinguishers are positioned throughout the lodge.
Activities
Birdwatching

Boat trip

Canoeing

Cultural excursion

Elephant encounter

Fishing

Helicopter

Kayaking

Microlight

White-water rafting
Extras
Disabled access

Not Possible

Laundry facilities

A full laundry service is included.

Accepted payment on location

All extras at Tongabezi must be paid for in kwacha. This is the case for all purchases in Zambia (with the exception of visas). Travellers are advised to purchase kwacha on arrival in Zambia (at a bank or bureau de change) or to withdraw kwacha using their debit card at a local ATM.

Room types at Tongabezi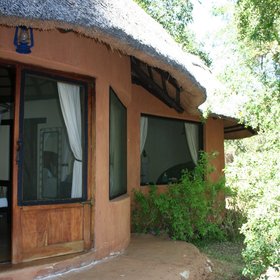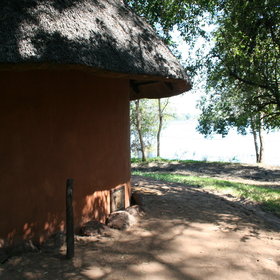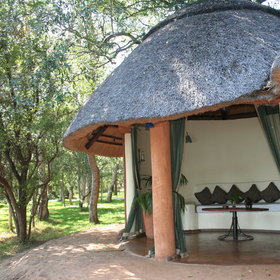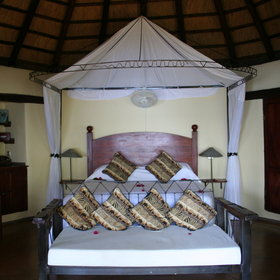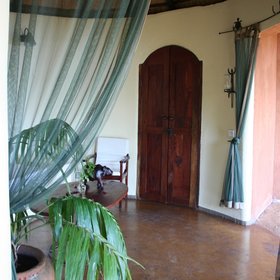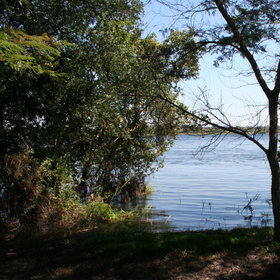 River Cottage
The five River Cottages at Tongabezi are spacious and open. With gauze netting in front of the windows they are perfect for anyone who feels nervous about sleeping in the more open rooms that Tongabezi also offers. Guests are able to listen to the sounds of the bush at night from the comfort of their own king-size bed while a ceiling fan and mosquito net provide sanctuary from both the heat and the mosquitoes, respectively.

The River Cottages are furnished in a modern, tasteful style and each has its own en-suite bathroom.

The River Cottages at Tongabezi have large terraces with comfortable deck chairs facing onto The Zambezi, perfectly positioned for sun bathing or just relaxing in with a good book.
The Bird House
The Bird House is another very airy and open-plan structure with a thatched roof and a king-size bed.

There's a private veranda with a couple of deck chairs where private dining can be organized, but perhaps the most striking feature of The Bird House is the claw footed, open-air bathtub on the veranda – a great way to round off the evening under the African sky after a fantastic meal.
The Dog House
In The Dog House, at the opposite end of Tongabezi, a gigantic wooden door opens on to a view of the Zambezi, which runs past a low private deck in front of the house.

The Dog House at Tongabezi has recently been refurnished and offers many options for relaxation here come in a number of guises: an elevated king-size bed, a sunken bath with views of the river, a dining area, and a separate lounge too. The bathroom contains his and hers basins and a shower.
The Garden House
The most recent addition to Tongabezi is The Garden House, a huge, self-contained suite of rooms that is perfect for a small group travelling with children, or friends who want a separate property to themselves.

Tongabezi's 'Garden House' really consists of three thatched, open-sided buildings which make up three sides of a quadrangle; all face into the centre where there's a garden and swimming pool. One building has a double room with en-suite bathroom, whilst another contains the master bedroom, with a double bed and an en suite bathroom.

Across a turfed area, the lounge is furnished with large sofas, some very comfortable chairs and a coffee table, as well as a dining table and a fireplace for the colder winter months. Meals can be taken privately here, or with other guests in the dining area of the Main Lodge.

The Garden House is set back from the river, and so gives a little added peace of mind to parents of inquisitive and adventurous children. While this means sacrificing the spectacular views enjoyed by Tongabezi's other accommodation, the privacy and exclusivity remain.

It's a very, very smart place for a small family or two couples to stay.
The Honeymoon House
Tongabezi's flagship house is The Honeymoon House, which is all about comfort, privacy and romance. Long ago, in the early 1990s, the Honeymoon House was the first of Tongabezi's spectacular houses; it caught the imagination and was famously described as 'worth getting married for'. It's only got better since then!

The Honeymoon House at Tongabezi stands high above the river, on the top of the bank, and is all on one level. It has a thatched roof and, apart from a few pillars, is completely open on one long side – which leads onto a grassy area and private balcony above the river with stunning views.

Inside the house split into three areas: a lounge with coffee table and comfortable seating; a bedroom with king-size bed; and an en-suite bathroom. An added bonus with Tongabezi's Honeymoon House is a secluded garden area with a central rock feature, a couple of verandas with chairs and an open-air, claw-foot bathtub.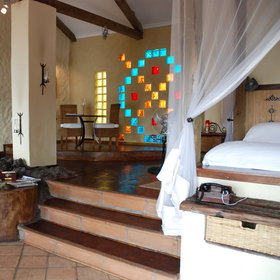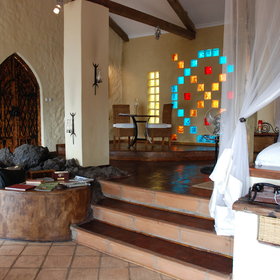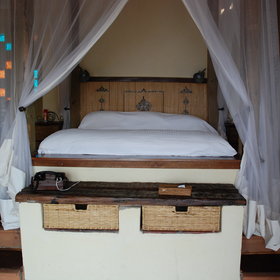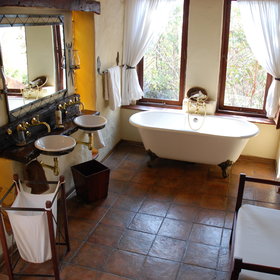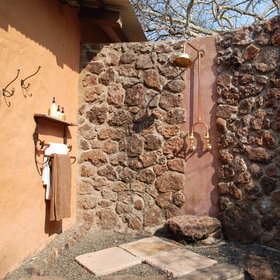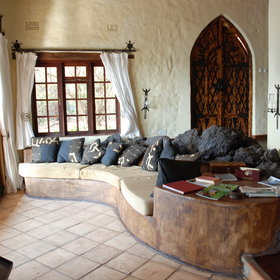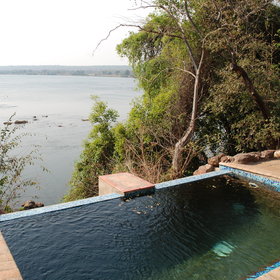 The Nut House
At the very western end of Tongabezi is the Nut House, on of the lodge's more recently built rooms.

It's elevated high upon the riverbank with a spectacular view. Indeed, you can watch the sun set across the Zambezi from your own private plunge pool, which is reached through two sets of glass patio doors either side of a fireplace.

At the centre of the split-level main room of the Nut House is a king-size bed under a ceiling fan within the mosquito net, while other fans are dotted around. On the lower level, a seating area shares the views from a more sheltered position.

One quirky feature of Tongabezi's Nut House is the setting of a few glass tiles into the rear wall which, because the sun rises behind the house, causes the morning light to refract a panel of colours across the floor.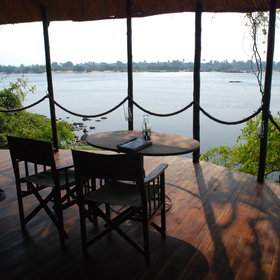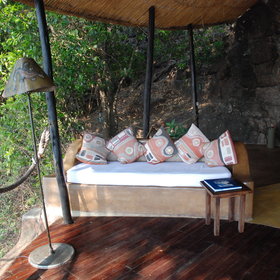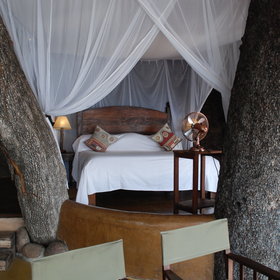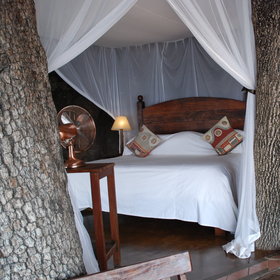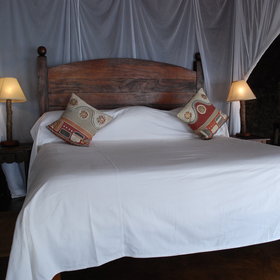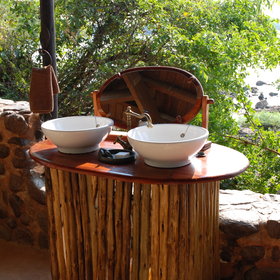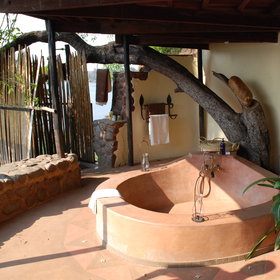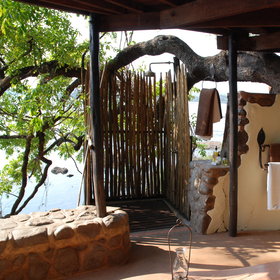 The Tree House
A little closer to the main area of Tongabezi, The Tree House is probably the most secluded of all of the lodge's houses. Reached via a hidden path, it is set further down the cliff face than The Nut House, so that at high water its lower levels are almost beside the water.

The Tree House is completely open-fronted and while a mosquito net helps to keep the insects out, it doesn't spoil the remarkable experience of waking up to the sight and sound of the Zambezi River running past your 'window'.

Constructed on three levels, The Tree House has the bedroom in the middle, with a couple of steps down to a lounge area, complete with reclining chairs and a sofa. A private dinner here is well worth requesting!

The top level houses the bathroom, with a large sunken bath, a shower and his and hers washbasins suspended over the water – not to mention a 'loo with a great view'.

Other lodges in Livingstone & Victoria Falls
Alternative places to stay in this same area.
---