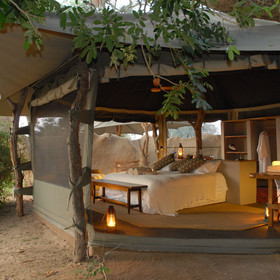 The Albida suite is located on the south edge of the camp…
Albida Suite
In 2007 Chongwe River Camp opened the Albida suite. This is on the south edge of the main camp, and consists of two totally separate, quite modern, stylish, octagonal tents, each with its own adjacent bathroom. Between the two tents is an elegant, open-sided lounge area.
Each bedroom tent is spacious with large open windows giving the tent a light and airy feel with good views of the river. These windows can be covered with mesh to let light and air in, but not insects, or covered completely with solid canvas in case of rain.
Each bedroom has lots of hanging space, a large writing desk, dressing gowns, a very comfy armchair and – in the centre – twin or double beds. The bed-side lights are electric, but paraffin lanterns are dotted around outside at night for atmosphere.
A series of stone walls surrounds the suite, which have been built using the same technique as
Chongwe River House
in order to make them curvy and organic. There isn't a straight line in any of these walls, giving the impression that they were designed by a combination of Gaudi and the Flintstones. (The Albida and
Cassia suites
are both very different in style to the more traditional
safari tents
at Chongwe River Camp.)
Adjacent to each tented bedroom is a bathroom, which is mostly surrounded by one of these curvy stone walls, and partly shaded by a large canvas roof. These bathrooms still feel very open and they look stunning, but may make some travellers feel a little nervous, especially if you need to use the loo at night. Each bathroom has twin sinks, two open-air showers, a flushing toilet and a claw-footed bath.
The two rooms of the
Albida suite
share a comfortable lounge, with a well-stocked bar, dining area, camp fire and a small plunge pool all overlooking the Chongwe River. Meals can be taken here or back at the main camp, which is in walking distance – the choice is yours!
The Albida suite has separate attendants who act as private 'butlers' – briefed to look after their individual guests. On one of our previous visits, Edward checked on us regularly, volunteered drinks whenever we felt like them and gave us complete freedom of where we ate. We felt he seemed to have found the perfect balance of being attentive and helpful, without being intrusive.
The Albida suite could be a superb option for a small family with older children or a group of friends, but can also be used by two unrelated couples if the main camp is full.
Albida Suite | Cassia Suite |