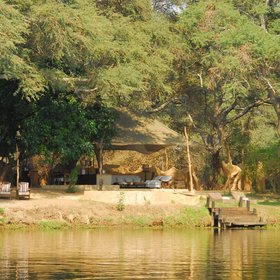 As the name suggests, Chongwe River Camp is right on the banks of the Zambezi River.
Safari Tent
Chongwe has
eight Meru-style tents
set along the banks of the Chongwe River and overlooking the Lower Zambezi National Park on the opposite bank. Shaded by a grove of tall winterthorn trees, each tent is built on a polished concrete and stone base and covered by a separate canvas roof to help keep it cool in the hot summer months.
Each of Chongwe's tents is simply furnished with twin or double beds covered with linens in neutral ivory and brown shades. At the head of the bed, the board doubles as a bench upon which solar bed-side lamps sit. Ceiling to floor mesh windows make up each end of the tent and large windows along either side also help keep the rooms light and airy.
Through a wooden door at the back of each tent is an open-air bathroom, enclosed by a low stone wall and topped by a reed screen. Each bathroom has a sink, mirror, large open-air shower and a flushing toilet screened off for privacy. Tent number 1 also has a small bath.
Albida Suite | Cassia Suite | Safari Tent |