Useful links featuring Oude Werf

Download a PDF...
To read what we say in our brochure, click on the link to download the brochure section including Oude Werf. To save a copy onto your computer, right-click on the link and select 'Save Target as...'.
Useful links...
We want you to understand more about Oude Werf. We're not shy to direct you to their own website as we're confident that a trip there with us will cost you the same or less than booking it any other way, even directly. So follow the links below for more information.
Oude Werf Hotel
Click here to access D'Ouwe Werf's own website for more detailed information.
Oude Werf is often combined with:
Sort by:
Name


|
% of trips


|
Traveller's rating


Phantom Forest
|
40%
|


For those seeking a hideaway, the Phantom Forest is the answer. Tucked away above Knysna in the natural clearings of the Phantom Forest Nature Reserve, this tiny lodge offers total tranquility. Set within 137 hectares on the Knysna River, ancient trees surround individual ...
Read more about Phantom Forest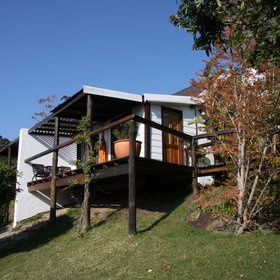 Hog Hollow Country Lodge
|
40%
|

Set on a hillside, Hog Hollow Country Lodge is about 18km east of Plettenberg Bay, overlooking the Matjies River Gorge and Tsitsikamma Mountains beyond. It is well placed to explore this stretch of the Garden Route. Set within the sloping gardens around the main house ...
Read more about Hog Hollow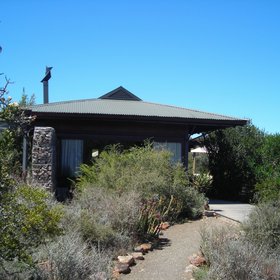 Kwandwe Ecca Lodge
|
40%
|


Kwandwe Ecca Lodge is a small, modern safari lodge in South Africa's Eastern Cape, which has been designed to be chic, luxurious and family-friendly. It is situated on rolling spekboom hills within Kwandwe Game Reserve, one of the top reserves in the area. NOTE - All ...
Read more about Ecca Lodge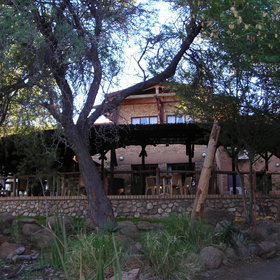 Augrabies Falls Restcamp
|
20%
|

The government-run Augrabies Falls Restcamp is set in very pretty surroundings and offers a friendly welcome. Large and well organised, it is the only place to stay inside Augrabies Falls National Park and so makes a good base from which to explore this lovely park in the northern Cape...
Read more about Augrabies Restcamp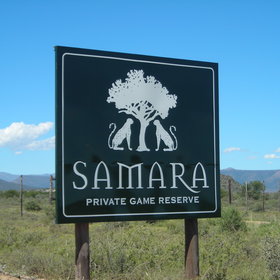 Samara Karoo Lodge
|
20%
|


Karoo Lodge is located in the Samara Game Reserve – which, at 283km2, is one of the larger game reserves in the Eastern Cape. The lodge stands on the edge of the wide-open plains of the Great Karoo, about three hours' drive from Port Elizabeth. It's a restored farmhouse ...
Read more about Karoo Lodge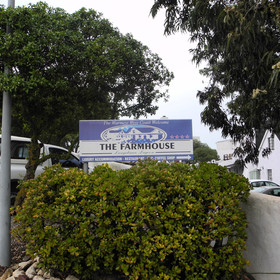 Farmhouse Hotel
|
20%
|

The Farmhouse Hotel is an old renovated farmstead located in the quiet seaside town of Langebaan, 134km's from Cape Town. It is located up on a hill with uninterrupted views of the tranquil Langebaan Lagoon. The Farmhouse Hotel has a total of 16 rooms, most with lagoon views...
Read more about Farmhouse Hotel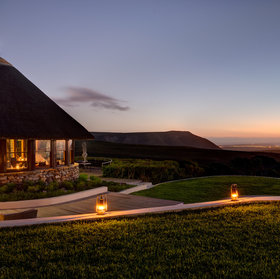 Grootbos Garden Lodge
|
20%
|

The thatched Garden Lodge at Grootbos overlooks the Atlantic coast, just a short drive east of Hermanus. It's set within the beautiful Grootbos Private Natural Reserve, which covers about 2,500ha (2.5km2) of natural coastal fynbos. It promises high-quality family-friendly ...
Read more about Garden Lodge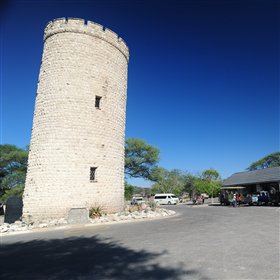 Okaukuejo Camp
|
20%
|

Okaukuejo Camp (formerly known as Okakwiju), meaning a woman who bore a child each year, stands at the western end of the famous Etosha Pan, about a half-hour drive from the Andersson Gate, the southern entrance into Etosha National Park. Although a larger camp than most ...
Read more about Okaukuejo Camp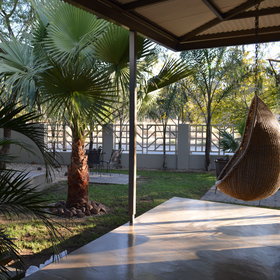 Elegant Guesthouse
|
20%
|


The Elegant Guesthouse is a relatively simple but stylish owner-run guesthouse situated in the residential area of Klein Windhoek. It's just a few minutes' drive from the shops, restaurants and other attractions of central Windhoek. The Elegant Guest House has six bedrooms ...
Read more about Elegant Guesthouse
Central Guest House
|
20%
|

Just a five-minute walk from the centre of Swakopmund, the owner-run Central Guest House is situated in a quiet, residential area. It offers travellers an unpretentious and economical base from which to explore the town and surrounding area. Stop Press we understand that ...
Read more about Central Guest House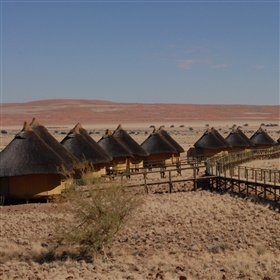 Sossus Dune Lodge
|
20%
|


Sossus Dune Lodge was the first upmarket lodge to be owned and built by the Namibian government's parastatal company Namibia Wildlife Resorts (NWR). Opened in 2007, amidst many questions about the propriety of building within the national park, it was the first, and remains ...
Read more about Sossus Dune Lodge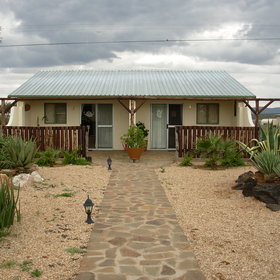 Etango Ranch Guest Farm
|
20%
|


Own by the Grellmann family, Etango Ranch Guest Farm is ideally placed for travellers who wish to be close to Windhoek International Airport. There are six African styled twin rooms, simply decorated but comfortable. Each room has it's own private, small veranda looking ...
Read more about Etango Ranch G. Farm