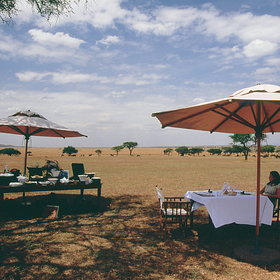 Sabora Tented Camp, in the Grumeti Reserve, is a very stylish Serengeti safari camp.
Tented rooms
The Safari Tents at Sabora Plains Tented Camps are incredibly luxurious, yet due to their understated anitique-colonial style, they don't feel over the top.

Each of Sabora's tents is raised on a wooden platform – and entered through a door at the back. Once inside the tents at Sabora Plains Tented Camp are incredibly spacious, with cream carpeting, Persian rugs across the floors, and an array of antique furniture.

Leather-bound trunks sit at the foot of the vast four poster beds. Old leather directors' chairs and large floor cushions create a lounging area. The electric lights are discretely disguised as brass storm lanterns. To complete the colonial theme – in our room we had an old hat stand, with an antique safari pith helmet hanging from it.

On the coffee table, you will find classic games like chess, draughts and scrabble. There is also the traditional game of Bao which is played across many of the east and southern Africa countries. It is a really fun to learn from one of the team, though be warned they play a tough game. We didn't win a single game whilst we were there!

At the front of each bedroom at Sabora Plains Tented Camp is a veranda furnished with a pair of lounge chairs – this is a great spot to watch out for game. When we were sat here one evening a group of zebra raced passed us, only two or three metres from where we were sitting and completely unaware of our presence.

In addition to the veranda – there is also a comfortable day-bed and deck-chair set on the grass, a few metres in front of the tents – and all shaded by a white parasol.

The rooms at Sabora Plains Tented Camp all come complete with 24-hour electricity, hairdryers, UK-style sockets, wireless internet and an internet phone. Guests can use the wireless and the internet phone to call internationally free of charge.

The en-suite bathrooms at Sabora Plains Tented Camp can be found through a canvas dividing wall.

The bathrooms were our favourite part of these rooms – they are spectacular. The floors are covered with leather tiles and in front of the gauze window in a huge white claw-foot bath. An antique chest of draws sits to one side, with antique silver brushes and mirrors sitting on it. Then a huge freestanding mirror sits to the other. Adjacent to this are his-and-hers ceramic sinks set into a wooden surface.

Through a further canvas door is an open air shower, around which a wall of wooden poles has been cleverly crafted for privacy which still allows you to look out across the plains. Towels sit in a wrought iron towel rail and high-quality complementary toiletries from South Africa are provided.