Guludo Beach Holiday: In full
This Mozambican beach holiday offers a peaceful retreat to a remote and charming lodge, with a strong emphasis on responsible tourism. The Guludo Beach Holiday, set on a beautiful stretch of Mozambique's northern coastline, suits people looking for both a place to relax in the sun, as well as those seeking a more active holiday.
Include:
---
Days 1-6
6 nights at Guludo Beach Lodge (full board) | Pemba & mainland, Mozambique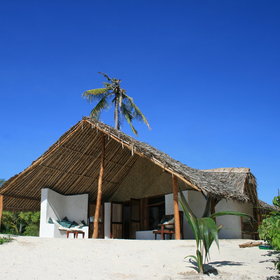 On arrival in Pemba under your own arrangements, you will be met by Guludo and will continue your journey by car onto Guludo Beach Lodge, where you'll stay for six nights. It is usually a three-hour drive, depending on the interesting sights you might come across en route. Enjoy the Adobe Bandas, with high thatch roofs and white washed walls designed to keep the rooms as cool as possible. The owners of Guludo Beach Lodge are committed to ensuring sustainable tourism. The vast majority of the staff comes from the local area, and you feel you're contributing to the community just by staying there. For those it appeals to, there are trips to the local village to learn more about their culture and lifestyle. Activities such as boat trips, day-trips to nearby islands, and scuba-diving are also available, and for those less inclined there are endless and deserted sandy beaches for you to make the most of.
---
Day 7
On your final day at Guludo, you will leave after breakfast for the drive back to Pemba, where you will continue under your own arrangements.
---
See Prices & details for the precise dates/prices for this trip - and all the fine print.