Our best 2 lodges and safari camps in Bushmanland
There are several basic campsites within the Nyae Nyae Conservancy, where you'll find a place to camp for which you pay the nearby community directly.
Sort by:
Name


|
Traveller's rating


|
No. of reviews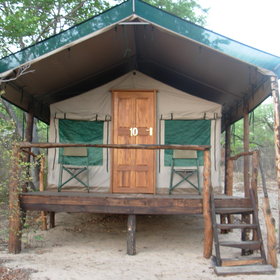 Nhoma Camp
Nhoma Camp is a small tented camp in a remote area of the north-east Kalahari known as Bushmanland which takes its name from ...More about Nhoma Camp
Great entertainment provided by the bushmen who were eager to show us everything while laughing and joking all the time. The local guide, Freddie, was excellent. The camp ... Nhoma Camp reviews...
TUCSIN Tsumkwe Lodge
TUCSIN Tsumkwe Lodge formerly Tsumkwe Country Lodge is situated on the edge of the tiny settlement of Tsumkwe, about 226km from ...More about Tsumkwe Lodge
We wanted to have 3 nights at Nhoma, but could only get 2 nights - so we stayed here as it broke the journey, and meant we could get to Nhama in time for the walk with the ... Tsumkwe Lodge reviews...