Holidays to Lüderitz
These Trip Ideas featuring Lüderitz offer a chance to potter around this quirky and fascinating old German town, on the southern part of Namibia's coastline. Sandwiched between two vast mining areas, there is only one road to Lüderitz; past the famous herd of desert horses, and across the sands of the Namib Desert.

Take in the interesting architecture and colourful buildings; visit the eerie and photographically spectacular ghost town of Kolmanskop, go on a boat trip to see the African penguin colon, or explore the spectacular peninsular of beaches and bays – there's plenty to do on your holiday to Lüderitz.

Sort by:
Name


|
Duration


|
Group or individual trip


|
Cost


Eland Self-drive Safari
|
20 days
|
Individual trip

US$2,298-2,674
This extensive and excellent value self-drive trip spends 20 days on safari, taking in the varied highlights of both northern and southern Namibia. Relish the freedom of Namibia's endless landscapes along often empty roads as you discover the scale of Fish River ...
More about Eland Self-drive Safari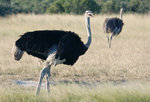 Ostrich Self-drive Safari
|
17 days
|
Individual trip

US$1,893-2,168
Leave the rat race behind on this self-drive safari which spends 17 days in country, taking an offbeat route through the vast, varied and dramatic desert landscapes of Southern Namibia and Northern Cape. From Windhoek you travel through Southern Kalahari and cross ...
More about Ostrich Self-drive Safari
Springbok Self-drive Safari
|
16 days
|
Individual trip
US$2,021-2,099
Created specifically with keen walkers in mind, this varied and scenic self-drive safari spends 16 days in Namibia taking in the magical desert landscapes of the south and the rugged mountain scenery of the Central Highlands. Discover remarkable highlights such ...
More about Springbok Self-drive Safari