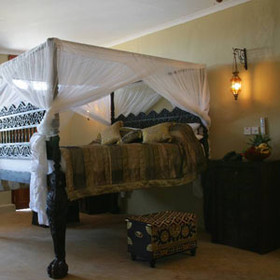 Palace Suite Dunia
Like the Zanzibar Palace Hotel's other suite (the
Palace Suite Dunia
) the
Palace Suite Dunia
stands on the top floor of the hotel, with fantastic views. However, both rooms are very different.
The
Palace Suite Dunia
is a very a large room, full of Zanzibari character and very beautifully furnished. Against one wall stands a wardrobe that's wonderfully decorated with brass detail and intricate carvings; on the other side of the room is a dark and amazingly solid, carved dressing table.
Another part of the room is set aside as a lounge area, with chairs and a table. However the best feature of the bedroom itself is the (king-size) bed! It is really unusual because it is incredibly high: you sleep about 4'6" (1.4m) off the ground, and actually need to stand on a Zanzibar chest to get into it.
From this main room, a set of private stairs leads up and onto the roof of the hotel, which towers above most other buildings around it. Here you'll find your en-suite bathroom, as well as a private sun-deck.
The bathroom has a large bath (with a shower head attached), a flush-toilet and a sink. There is also a separate shower which looks out over Stone Town and the sea beyond. It is covered with a roof and has walls around it which are high enough to mean total privacy (no one can see in), whilst at the same time low enough to offer spectacular views. This bathroom isn't huge, but it is a fantastic feature and plays a large part in making it this suite of the Stone Town's most unique rooms.
On the small, adjacent sun-deck you'll find two loungers and a small table. This is a great place to enjoy a quiet breakfast or a sun-downer cocktail in total privacy.
Luxury Room | Palace Suite Dunia | Palace Suite Sherali | Suite |