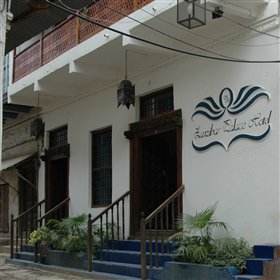 Zanzibar Palace Hotel is in a typical Stone Town street.
Suite
The Suites are the Zanzibar Palace Hotel's mid-range room, though they are quite a step up from the
Luxury Rooms
. Each of the rooms is quite unique in style, though a few do share the same shape and size.
Two of the suites, the
Kinjani
and the
Shaba
have a large lounge/vestibule as you first enter. This is furnished with a beautifully hand-crafted Zanzibari sofa bed and a small table. From here there are two doors, one leads through to the en-suite bathroom, whilst the other leads through to the spacious and comfortable bedroom.
In the bedrooms there is a large comfortable Zanzibari bed with mosquito netting hanging from the canopy above. In the corner of the rooms there is a TV with an array of satellite channels and an inviting sofa which can be made into an extra bed.
The large en-suite bathrooms are reached through the lounge/vestibule, and are absolutely fantastic. They are beautifully tiled and spotlessly clean with a huge 'Sultan bath' – this is a massive stone bath with a shower attachment. There is also a flush toilet and stylish bowl-shaped sink set in an intricately tiled surface.
The
Farizah
and
Sultana
Suites at the Zanzibar Palace Hotel are slightly different. They are large open-plan rooms, with the bedroom, bathroom and lounge area all together. In the bedroom area, beautiful Persian rugs partially cover a highly polished stone floor whilst huge four-poster beds stand in the centre. There are also some comfortable chairs to lounge in by the big windows at the front of the room.
The bath, toilet and sink all sit at the far end of the room. They are slightly separated by being situated up on a slight step - though effectively they are still part of the same room. Both rooms also have a grand 'Sultan bath' like the previous suites, as well as a sink, and a flush-toilet.
Then the
Baina
is unlike all of the other Suites at the Zanzibar Palace Hotel - it is a twin room instead of a double, and has a large balcony. This is a great spot for sitting out and enjoying the sights and sounds of Stone Town passing by beneath you. Inside there are a further two lounge chairs and a small Zanzibari table.
The Bania has a spacious en-suite bathroom with twin sinks, a hot-and-cold shower and a flush-toilet. There is also a fantastic free standing wardrobe in the bathroom – with a full length mirror on the front.
All of the Suites are spacious and beautifully furnished with some of the best quality carved beds and wardrobes we have seen on Zanzibar. Each has its own colour scheme and unique character; all are lovely.
Luxury Room | Palace Suite Dunia | Palace Suite Sherali | Suite |