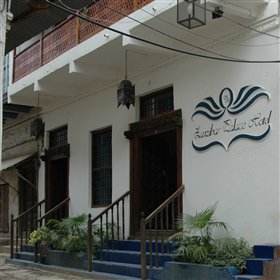 Zanzibar Palace Hotel is in a typical Stone Town street.
Palace Suite Sherali
Like the Zanzibar Palace Hotel's other suite (the
Palace Suite Dunia
) the
Palace Suite Sherali
stands on the top floor of the hotel, with fantastic views. However, the similarity ends there.
The
Palace Suite Sherali
is very different from any other room that we know of in Stone Town. It's a vast room that feels wonderfully bright and airy.
The suite is wonderfully furnished, with a huge four-poster Zanzibari bed and a Moroccan-style lounge area. The lounge area is incredibly inviting, with a layer of soft foam under a Persian rug and a scattering of cushions, all facing a TV and DVD player. Little touches such as tropical green plants are lovely touches and make the atmosphere all the more natural.
Adjacent to this lounge area, between the two doorways into the en-suite bathroom, is a ceramic, free-standing bath – which is probably the first thing you notice when you enter the room. Inside the bathroom there is also a hot-and-cold shower, a flush toilet and his-and-hers sinks.
Luxury Room | Palace Suite Dunia | Palace Suite Sherali | Suite |