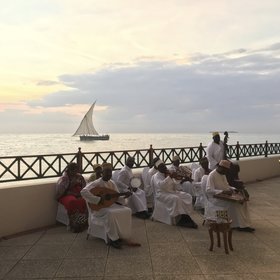 The famous Culture Musical Club play taarab at the Serena.
Prime Room
The Prime Rooms are larger than the
Standard Room
with a much larger balcony - some with hammocks, though they are very similar in style and design. Each of the Prime rooms has a highly polished stone floor, white washed walls and large windows that let in plenty of light.
The rooms are furnished with a traditional carved double bed, a lovely European wooden dressing table and stool, and a comfortable embroidered chair. The beds have high-quality cotton sheets and soft throws, whilst mosquito netting hangs from the canopy. Each of the rooms has air-conditioning and fans, hairdryers, a kettle, mini-bar and satellite television.
The six Prime Rooms also have wonderful large balconies, with comfortable lounge chairs and great views across the sea. These are relaxing places to rest in privacy when you/re not exploring Stone Town.
The bathrooms are also slightly larger than the standard rooms, though they are still decorated with white marble-effect and tile. They have a hot showers, flush loos and wash basins.
Prime Room | Standard Room | Suite |