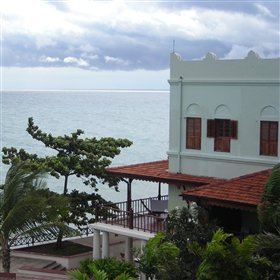 The Serena has one of the best locations in Stone Town...
Standard Room
The Standard Rooms at the Serena Inn are lovely bright and airy, with large windows, white-washed walls, dark Zanzibari furniture and polished stone floors. The rooms aren't huge, but they are perfectly comfortable and each has its own small private balcony with some chairs.
Each Standard Room has air-conditioning, mini-bar, a hair-dryer and satellite television. The beds are draped in mosquito netting, with crisp cotton sheets and Zanzibari throws. The furniture is a mixture of traditional carved Zanzibari pieces and colonial antique-style chairs and dressers.
Some standard rooms are doubles, some twins and some can be used as both.
The en-suite bathrooms are all quite small, though they were very clean and nicely decorated with white marble and tiles. Each has a hot-and-cold shower, a flush toilet and a sink.
Prime Room | Standard Room | Suite |