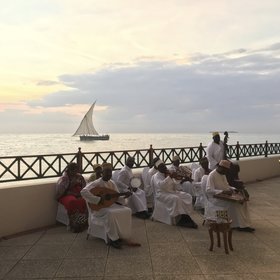 The famous Culture Musical Club play taarab at the Serena.
Suite
There are four suites at the Serena Inn which are the hotel's largest rooms by quite a long way. Each has a reception area where there is a comfortable lounge furnished with antique-style silk sofas and chairs - which look as if they have come straight from an English stately home.
The bedroom has fresh whitewashed walls, polished cement floors spread with Persian rugs and a mix of Zanzibari and European furniture. The end result isn't opulent or especially stylish, but it's charming in a rather colonial fashion: these are beautiful rooms.
Like the other rooms, the suites have air-conditioning and fans, hairdryers, a kettle, mini-bar and satellite television. But the suites are much more spacious and have enormous balconies to lounge around on.
The en-suite bathrooms in the suites are much larger than the other standard of room. Each has twin wash basins, a combined bath and shower and a flush toilet. They are decorated with white marble effect facias and tiles and are spotlessly clean.
Prime Room | Standard Room | Suite |