Camelthorn: Our full report
Hidden in a forest of mature camelthorn trees, which soon gives way to open plains and a network of waterholes, ...
... Camelthorn Lodge is well situated for game viewing. It is set in a private concession outside the extreme south-east corner of Zimbabwe's Hwange National Park, just a ten-minute drive from its own private gate into the park.

Camelthorn, which opened in 2014, shares this concession with its sister lodge, Bomani Tented Lodge, although it is a rather more solid and upmarket prospect. A stay at Camelthorn would combine well with one of its other sister properties within the park itself: Jozibanini Camp and/or Nehimba Lodge.

Given the density of the forest it is surprising to discover that there are eight large forest villas at Camelthorn, each nestled into its own secluded setting, and well separated from the next by thick vegetation. The villas are constructed of concrete with mod-cons such as air conditioning that are often missing from safari camps – perhaps giving a nod to the lodge's aspirations to luxury. Each villa is fronted by a patio, with a couple of iron chairs and a table. A spiral staircase leads up to a cool, shaded balcony where a comfy sofa/daybed is a perfect spot to relax.

Sliding glass and mesh doors open into the villas themselves, revealing a very spacious and comfortable space with high ceilings and plenty of windows letting in both the breeze and the light. A large fireplace helps to counter Hwange's cold winter evenings, with further warmth and colour provided by decorative mats and carpets on the polished concrete floors and dark teak furniture. However on our last stay in November 2017 it was the AC that really came into its own cooling, the villa to a pleasant temperature in the heat of the afternoon.

As well as double or twin beds, each room has a couple of comfy chairs and a coffee table in front of the fireplace set with wildlife magazines. A further thoughtful touch is a wooden cubbyhole built into the wall, with doors both on the inside and outside of the villa. At the time of your morning wake-up call, tea, coffee and cookies will be placed here to help kick-start your day – with no fear of the birds or squirrels helping themselves first!

The villa's en-suite bathrooms are very stylish, their clean lines and rendered finish lending a modern feel. Along with a large shower with very good pressure and plenty of hot water, there's an elevated bath, and his and hers washbasins. The toilet is in a separate room, with a lockable door for privacy. As at most top safari camps, complimentary toiletries are provided.

Overall the lodge has a very solid and permanent feel, no more so than in the main area, which is reached from the villas along a series of sandy pathways through the bush. The centrepiece here is the camp's namesake: a large camelthorn tree, encircled by a platform dotted with tables. Meals are served al fresco under the tree, or in the large dining room housed within a crescent-shaped thatched building. This is also home to the bar and open-plan lounge area, with dark wood furniture and a few comfortable chairs.

Perhaps surprisingly, given its remote feel, Camelthorn is situated just next to the Bulawayo–Victoria Falls railway line, which acts as the boundary between Hwange National Park and the adjacent communal lands – and which explains the subtle railway theme to the lodge. This is most noticeable in the bar where black-and-white historical photographs of Zimbabwean locomotives adorn the walls, along with a few old maps and some fantastic shots of the local elephant population.

As for the railway itself, there is precious little rolling stock moving up or down to disturb the stillness nowadays, but it comes into its own for Camelthorn's Elephant Express, a purpose-built rail-carriage designed to transfer guests from Hwange Town to Ngamo Siding, not far from camp. On one stay we were able to leave the park using this restored tram, which has been built with a high attention to detail; we particularly liked the teak tables and the elephant-head handrails. The Elephant Express makes an unusual and rewarding means of getting to and from Hwange, and works even better in combination with the overnight Stimela Star rail service between Victoria Falls and Dete.

High-quality guiding teams mark out both Camelthorn and its sister camp, Bomani. At Camelthorn in particular, head guide Sibs Sibanda brings an enormous amount of experience to the role, as well as being a very personable and courteous host.

These teams lead all activities at the camp, including 4WD and walking safaris in Hwange National Park, which is reached through a dedicated gate across the railway line. At this point, the thick vegetation soon gives way to the more open Ngamo Plains, where a network of pumped waterholes means that wildlife viewing is generally very good, but especially during the dry season (July to around October).

To make the most of the wildlife, the team at Camelthorn have created an original "look-up hide", made from a sunken shipping container that's been modified to include narrow blinds, enabling those inside to look out onto the waterhole from ground level. Added to this is a clever system of pumped troughs next to the main pan which, by allowing different troughs to be filled depending on the time of day, affords the opportunity to photograph elephants in the best light.

Camelthorn also offers guests the chance to engage in their "pump-run". Pumps at all the artificial waterholes in Hwange National Park require maintenance, but in recent years, many have fallen into disrepair, and as a result the surrounding game has all but disappeared. In this southerly region of the park, Camelthorn has not only taken on the maintenance and upkeep of these pumps, it has turned it into an activity in which guests can participate. A full day is spent travelling by vehicle from pump to pump, spotting wildlife with your guide along the way and taking in a visit to a local school and village. This is a great opportunity not only to get into a more remote area of the national park, but also to contribute in a tangible way to the upkeep of its vital waterholes.
Our view
Camelthorn has a very solid structure, and though it's well designed, it certainly won't suit those looking for a bushcamp. The guiding team is very experienced and knowledgeable and the variety of activities is diverse. We particularly like the camp's unique sunken hide, and the opportunity to take part in a pump run where you will help with the upkeep of southern Hwange's waterholes.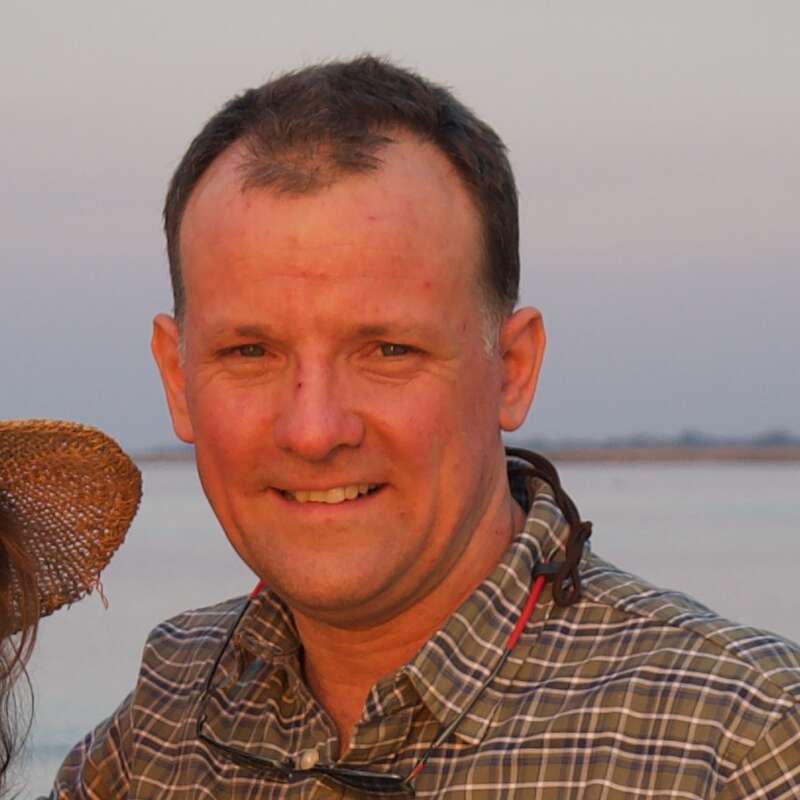 Geographics
Location

Ideal length of stay

We'd recommend a stay of three or perhaps four nights at Camelthorn. It's remote so takes a little longer to get to than many other Hwange properties, and there's plenty to keep guests entertained on arrival.

Directions

Most guests to Camelthorn arrive by road, usually from Victoria Falls or Bulawayo, via Halfway House. This small service station acts as a staging post on the main road between Victoria Falls and Bulawayo, and is where guests will meet their guide before continuing onto camp – a drive of a couple of hours.

Another option is for guests to transfer by road or perhaps rail by way of the Stimela Star to Hwange Town where they board the Elephant Express for the Ngamo Siding, where a game-drive vehicle will be waiting to drive them to camp.

The Express is not recommended for guests with an onward flight connection to catch, but even fly-in guests can still enjoy "game drives" up and down the line on this novel feature.

Accessible by

Fly-and-Transfer
Food & drink
Usual board basis

Full Board & Activities

Food quality

On our last visit to Camelthorn in November 2017, as on previous visits, we were impressed by the standard of cuisine, and we certainly felt well fed throughout our stay.

The day begins with an early breakfast around the campfire. There was a simple but varied spread of yoghurt, toast, cereal and fruit, accompanied by tea, coffee, and fruit juice. Cooked options are also available, with bacon, sausages, tomatoes, and eggs prepared to order.

On return to camp, lunch is served, which for us was a tasty and filling spiced tomato and mushroom chicken, served with salad and pesto pasta.

Before departing on our afternoon activity, we were too slow to the table so missed out on the cake at high tea, but during the afternoon game drive there is usually a stop for some drinks as the sun sets, accompanied by some nibbles although this is flexible and if a wildlife sighting is particularly good then this stop may be missed.

Dinner is usually three courses, although occasionally a South African style braai (barbecue) is put on. On our last visit we were treated to a curried squash tart to start. A generous portion of beef medallions with roast potatoes and seasonal vegetables followed, then for dessert we just about had space left to enjoy a peach and custard sponge.

Dining style

Group Meals

Dining locations

Indoor and Outdoor Dining

Further dining info, including room service

Room service is not available

Drinks included

Bottled water, soft drinks, local beers and spirits, and a selection of South African red and white wines are included. Champagne and imported wines and spirits will cost extra and may need to be requested in advance.
Special interests
Photography holidays

For guests looking to get shots of elephants on a photographic safari in Zimbabwe, Camelthorn's "look up hide" gives great angles for up-close and personal photographic opportunities.
See ideas for Photography holidays

Riding holidays

Camelthorn is one of the few properties in Zimabwbe that offers riding. Explore the open grasslands of Hawange's Ngamo Plain with guides and horses for all experinace levels.
See ideas for Riding holidays
Children
Attitude towards children

Camelthorn accepts children of all ages, but children under the age of seven are only allowed by special arrangement, and may be subject to restrictions such as private dining, and having to book a private vehicle.

Property's age restrictions

Normally no children under 7 years

Special activities & services

There are no special activities and services for children provided by the camp.

Equipment

There is no specialist equipment for children at Camelthorn.

Generally recommended for children

There is quite a mature feel to Camelthorn. The lack of a swimming pool or any other amenities that would appeal to children may also mean this isn't the best camp for a family safari. We would recommend this camp for older children and teenagers rather than anyone still in single figures.

Notes

Although the tick bush around camp mitigates the chances of seeming the most dangerous wildlife here it isn't impossible. As the lodge is unfenced we would recommend adult supervision of children at all times.
Communications
Power supply notes

Camelthorn's generator runs during peak times: in the mornings, at lunchtime and in the evenings. Once all guests have gone to bed, the generator is switched off but each chalet has lights supported by a battery, so you will rarely notice any difference from the camp being on mains electricity.

Communications

There is cellphone signal and limited WiFi at Camelthorn.

TV & radio

There is no TV or radio at Camelthorn.

Water supply

Borehole

Water supply notes

Each chalet at Camelthorn has an ample supply of water. The showers are plumbed and the toilets are flushing.
Sustainability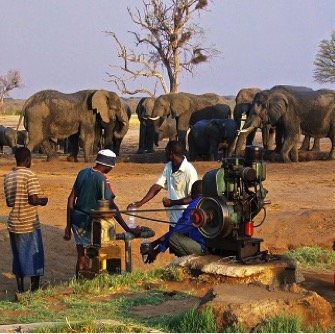 A source for clean water
Camelthorn is located at one of the last remaining well-protected and un-spoilt acacia woodlands in the Hwange National Park. Operating in the only 'Africa's Great Parks' without any major rivers has turned the lodge into a leading example for its water supply programme.
Unfortunately, last year more than 500 Zimbabweans sadly died due to waterborne diseases as a result of a lack of clean water supply. Camelthorn Lodge is working hard to address this issue having already installed 25 village wells and taken over the maintenance of 27 others. This helps provide safe water to many families across the local Tsholotsho community, as well as support wildlife in the area - particularly elephants. The lodge is currently looking after approximately 20- 25% of the waterholes that sustain Hwange's wildlife. Annually, Camelthorn Lodge, through its mother company, spends over $150,000 to operate the water supply initiative. The money is used to supply diesel for engines, oils and filters, and also pay the wages and rations of locals who man the pumps.

During the dry season, guests are encouraged to contribute their efforts to maintaining the pumps. They are invited to visit the waterholes to drop off fuel for the motors as well as rations and supplies for the pump attendants. Tourists can end their pump run with sundowners at one of the waterholes close to the camp before going back to their villa dotted with a small water hole aimed at attracting animals, making the lodge a great location for wildlife photography.
See more great sustainability projects in Zimbabwe
Health & safety
Malarial protection recommended

Yes

Medical care

The guides at Camelthorn are all first-aid trained and there is a doctor in Hwange Town. Medical Air Rescue Service (MARS) is available should evacuation from camp be deemed necessary.

Dangerous animals

High Risk

Security measures

A nightwatchman patrols the camp. There is an electronic safe in each villa to store valuables.

Fire safety

There are fire extinguishers placed around camp.
Activities
4WD Safari

Birdwatching

Cultural excursion

Guided walking safari

Horse-riding

Night drive
Extras
Disabled access

Not Possible

Laundry facilities

A full laundry service is included, except for underwear, for which washing powder is provided in the bathrooms.

Money

No exchange facilities are offered. There is an electronic safe in each villa to store valuables.

Accepted payment on location

Cash payments may be made in South African rand, US dollars, pounds sterling, euros and Botswana pula. There are no card facilities at Camelthorn.

Other lodges in Hwange National Park
Alternative places to stay in this same area.
---