Grootbos Private Nature Reserve: in detail
Grootbos Reserve trips: the full story
Nestled amongst the hills, 20 minutes' drive east of Hermanus, Grootbos Private Nature Reserve is a real gem. It's a small but very well-kept reserve which is dedicated to the preservation and understanding of the endemic fynbos ecosystem – which once covered much of Cape. It's also the location for several first-class lodges.

Grootbos Private Nature Reserve covers about 2500ha (2.5km²), much of which has sweeping views across Walker Bay to Cape Point by day, and at night the twinkling lights of Gansbaai are often also visibile.

The reserve's raison d'être is the focus that puts on its unique ecosystem, from its extensive stands of fynbos, to the ancient Milkwood Forest and the local marine life. The air is filled with the sweet, heady scent of seasonal flowers; the landscape sings with the sound of a million insects and birds; and the vast sky shows an ever-changing display of color and light.

History of Grootbos Private Nature Reserve
Grootbos farm was granted to its first owner, Dirk Cloete, on 18 April 1831, who paid the princely sum of One Pound and Sixteen Shillings Sterling for the property. The farm was then known as
Baviaans Fontein
and was 2,198 hectares in extent. The original farmhouse was built in approximately 1840. Over the following years the property was divided up into smaller portions. One of these parcels was the 123 hectares property, including the Grootbos Milkwood forest, which was purchased by the Lutzeyer family in 1991.
At the time Michael and his wife Dorothee were overwhelmed by the stunning sea views and the idea of family weekends spent on the farm with horses, pigs and fresh veggies, while the pink fields of flowering wild malva convinced Michael's parents.
In 1994 Michael sold his business in Cape Town to focus on a guest farm here, soon followed by his brother and sister-in-law, Tertius and Gabi Lutzeyer. From the beginning, the Lutzeyers based their appeal on the farm's diverse flora and fauna. Over the years, the humble guest farm has become a trio of lodges, and Michael remains one of the most impressive, hands-on that we know of in Africa.
What's in the Name: 'Grootbos'
The name Grootbos, an Afrikaans word meaning Big Forest, comes from the presence of the ancient indigenous Milkwood forests. Milkwood trees are known to live for more than 1,000 years. The tree's scientific name,
Sideroxylon inerme
, derives from the words for 'Iron-wood' in Greek, referring to its very hard timber.
Flora and Fauna of Grootbos Private Nature Reserve
Over a number of years this former farmland has been returned to the indigenous fynbos which was originally found in this area. Thus the private nature reserve which is Grootbos is particularly rich in biodiversity.
The vegetation of Grootbos Reserve
An extensive fifteen-year survey of the fynbos at Grootbos Nature Reserve has revealed a remarkable 765 plant species, 100 of which are endangered and 6 of which are completely new to science! Four of these new species are known to exist only within the confines of the reserve. Two of these discoveries
Lachenalia lutzeyeri
and
Capnophyllum lutzeyeri
have been named after Michael's father, Heiner Lutzeyer.
Fire and fynbos vegetation
Fire plays a highly significant role in the fynbos ecosystem here – which the guides explain as they take visitors around the reserve. This dependence was clearly illustrated after a huge fire on Grootbos in 2006: then plants sprung up which hadn't been recorded here before, and the Reserve's list of the plant species grew by 70, from 680 to 750.
Fauna of Grootbos Reserve
On the whole, Grootbos isn't a place to visit for big game sightings. The fynbos is generally quite dense and tall, whilst most of the fauna here is small. Patient and lucky visitors might glimpse a small antelope or – as we did – a molerat. Six different types of small antelope are found at Grootbos: common duiker, Cape grysbok, steenbok, grey rhebok, bushbuck and klipspringer on the rocky outcrops.
Meanwhile nocturnal roamers include the honey badger, porcupine, caracal, stripped polecat and the small-spotted genet. Troops of chacma baboons are encountered occasionally, we're told that the occasional Cape leopard that still roams through the mountains.
But the majority of wildlife at Grootbos Natural Reserve is of the flappering, chirping, buzzing, crawling and croaking kind.
For example, the Cape sugarbird, which lives in an interdependent relationship with Protea species and is notable for the male's tail which extends to almost 70% of its total length. Similarly, the long, curved beaks of the orange-breasted and southern double-collared sunbirds have evolved to sip nectar from the long, curved floral tubes of various
erica
species.
Overall about 125 bird species have been recorded on the Grootbos Reserve, and some of the specials include paradise flycatchers, southern tchagras, Knysna Woodpeckers, black harriers and southern boubous
A small distance from the reserve – although just visible on a clear day (!) – visitors to Grootbos around July to November can sometimes spot southern right whales in the Walker Bay.
Sustainability and Social Engagement
The Grootbos team take an admirably pro-active approach to responsible tourism. With the emphasis on eco-tourism and community development they promote conservation, rehabilitation and protection of the natural environment (flora and fauna) as well as running research and education projects.
Amongst the local community, Grootbos promotes awareness of the area's unique ecosystems, and is working to help develop 'nature based sustainable livelihoods' for the more disadvantaged communities. They have set up the 'Green Futures Horticultural and Life Skills College' which provides practical training for the unemployed in landscaping, horticulture and life skills. An indigenous plant nursery linked to this college help to fund tuition. Projects have also built a football pitch in
Gansbaai
, and are currently working on building a school for disadvantaged children, and a number of other community and wildlife projects in this area.
Attractions near to Grootbos
As well as activities on the reserve, travellers staying at Grootbos will use it as a base for local excusions.
Gansbaai
, located 5km from Grootbos Reserve, is a fishing town known for whale-watching and its great white sharks – which have made cage diving popular here.
Hermanus
is a busy town just 20km from Grootbos, also known for its whale-watching – and the destination in its own right for some of our travellers. (See our comments on
Hermanus
here.)
Where to stay in Grootbos Reserve
Our suggestions for places to stay in Grootbos Private Nature Reserve
---

Garden Lodge
The Garden Lodge at Grootbos is a high-quality retreat in this fascinating, well-cared-for reserve which caters as well to families with young children as it does for couples and small groups.
---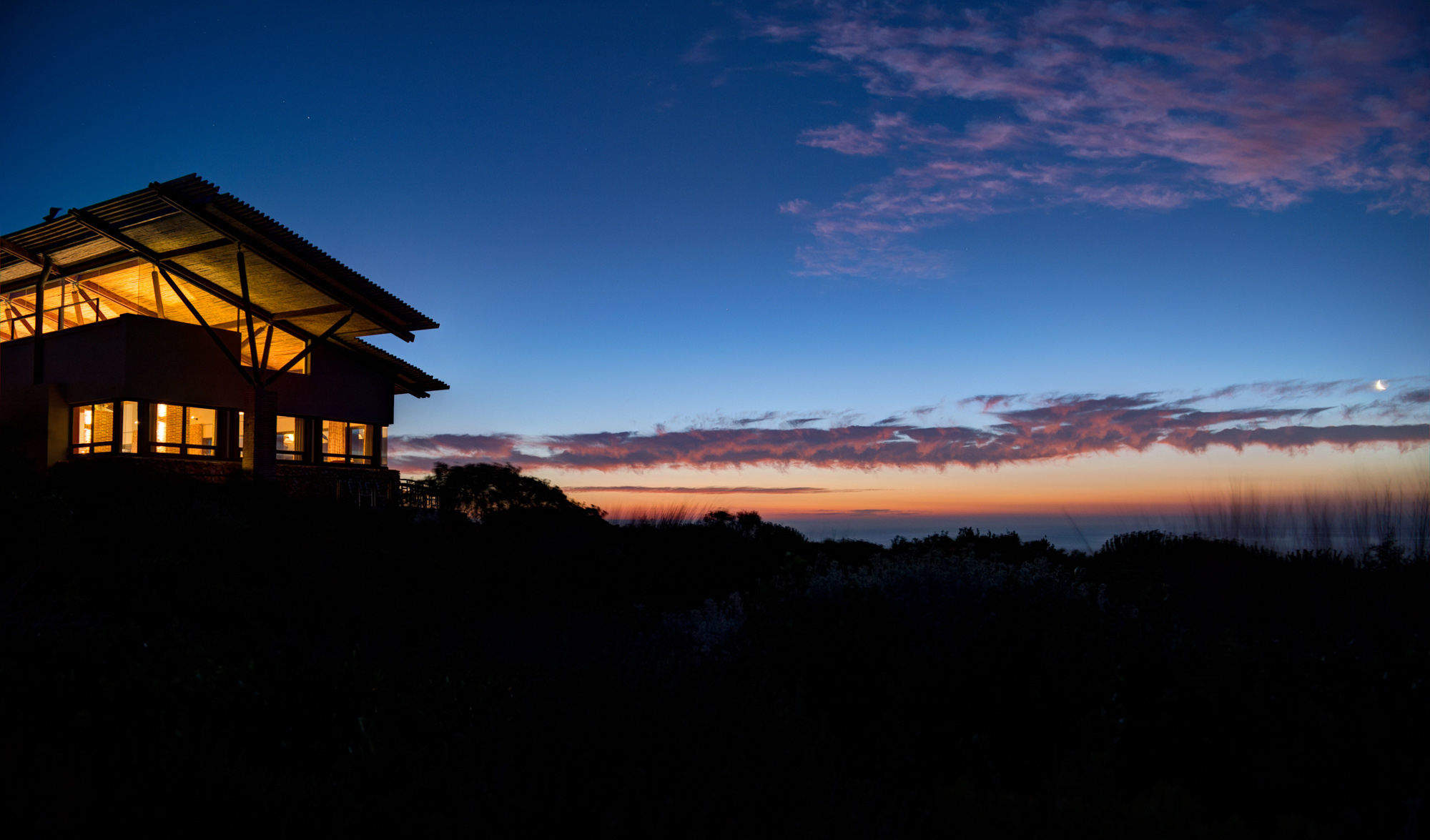 Forest Lodge
Set in a magical milkwood forest, Grootbos Forest Lodge is a well-run modern retreat offering a high-quality environment in which to relax, and to enjoy some of the guided activities on offer.
---
Our travellers' wildlife sightings in Grootbos Reserve
This is their success for sightings in Grootbos Private Nature Reserve.
Click on a species for more detail. How we work this out.
---


Other areas in South Africa
---